Inspired by the considerable success of social networking apps, more and more people go into developing mobile apps like WhatsApp or Kik. The most frequently-asked question remains the same for many years to come - How much does it cost to develop an app like WhatsApp? Because these are the financial issues that distract you from building a WhatsApp-like app (or even a much better social networking app).
Some facts that encourage lots of young entrepreneurs to develop a social app are obvious including 1.2 million of active users, high demand, etc. But along with the benefits, there are some downfalls - financial exposures, poor quality, etc.
Let's focus on your primary concern - the cost required to develop a mobile app.
How does WhatsApp work?
WhatsApp is a messaging service that utilizes the Internet to connect with your friends. It's a cheaper alternative to a conventional SMS messaging service provided by mobile carriers. Internet messengers have become the greatest option thanks to their low cost and accessibility.
In 2014 Facebook bought the app. The app allows not only text messaging but also video and photo sharing. Did you know that WhatsApp handles around 50 million of messages daily  (including sent and received)? And the number of monthly active users has recently reached 430 million.
WhatsApp is a multi-platform app compatible with Android, iOS, Blackberry OS, Windows, PC/MAC, and Symbian. The app is free, but you will be charged for the Internet access.
The registration process is seamless and hassle-free. To create a profile, you need to type in your phone number and set a password. The app will scan your contact list and build an own one for the in-app use.
The messaging apps top the market and win over the SMS service. This is the main reason to develop an app like WhatsApp.
WhatsApp Features
Before estimating the ballpark cost of the app like WhatsApp, let's take a closer look at the features that make WhatsApp stand out from the crowd.
The functionality is a core of every app, and if you're going to build a WhatsApp-like app, the building blocks (i.e., its features) influence the development costs.
Messaging
WhatsApp allows texting your friends, family, and everyone on your WhatsApp contact list for free. With the app, you can avoid SMS fees. Instead of SMS fees, data charges may apply. Even if the users aren't online, they will receive the messages as soon as they go online.
Group Chat
The app allows keeping in touch with a group up to 256 people. You can share messages, photos, and videos within the group. Moreover, you can give a name to your group, customize or mute notifications, etc.
oice and Video Calls
Now you can talk to your family or friends even if you're out of the country. If you lack face-to-face conversations, you can make video calls. WhatsApp uses your Internet connection to make video or voice calls.
Mobile, Web & Desktop
Thanks to the multi-platforms, your conversations will always be with you. The chats will be synced between all active devices. You can keep your conversation going on the device that is the most convenient for you.
Photo and Video Sharing
You aren't limited to messaging when it comes to sharing precious moments. You can capture every breath-taking moment with a built-in camera or send photos or videos from your gallery. It doesn't matter what Internet connection you have, you can send photos even on slow connections.
Voice Messages
Sometimes you can get overwhelmed with the emotions and messages aren't enough. With just one tap, you can record a voice message to say "hello" or tell something really awesome.
Document Sharing
Not every messenger offers document sharing. And nowadays it's vital to have everything at hand. With WhatsApp, you can share PDFs, slides, spreadsheets, and other documents up to 100 MB.
Message Encryption
After Snowden revealed the info about the Big Brother watching you, the security issues became a sore point. Taking into account that lots of personal moments and data are shared on WhatsApp, end-to-end encryption comes extremely useful. Such encryption ensures that only the end user can read or listen to your messages.
These are only the essential features, and the other basic block includes location sharing, registration, notifications, etc. But let's focus on the most sophisticated ones.
Technology Behind WhatsApp
WhatsApp server logic is written in the Erlang language that is ideal for handling massive amounts of data. The other options include Java or PHP that can also ensure sustainable and flawless work of the app.
To ensure extensible messaging and presence protocol, WhatsApp uses a custom version of XMPP.
Other tools and technologies include:
Mnesia for a database

FreeBSD for an operating system

YAWS for a web server

Java/Objective-C/C# for the development of native apps
Note, your developers may use other tools instead of those mentioned above. The choice of a programming language, APIs integration may affect the overall costs required to build an app like WhatsApp
Cost Components
To estimate the ballpark cost of the WhatsApp-like app development, it's better to take a closer look at what the cost consists of. The cost components are backend development, UI/UX design, platforms, front-end development, and quality assurance. The cost greatly depends on the development team. The common practice is to hire:
Project Manager

Business Analyst

Mobile Developers

2-3 Quality Assurance Engineers

1-3 Designers

1-2 Marketing Managers (optional)
Backend Development
Backend makes a skeleton for a functionality of a messaging app. It's a key concern of a development team. The approximate app backend architecture can be explained with the help of the chart above. Cloud media storage options, Mnesia, or PostgreSQL (MySQL) are used for database frameworks. XMPP server is suitable for voice/ video calls as well as messaging providing the smooth user experience. To implement the data managing feature, WhatsApp uses Rest API which allows the user to get, publish, or delete data.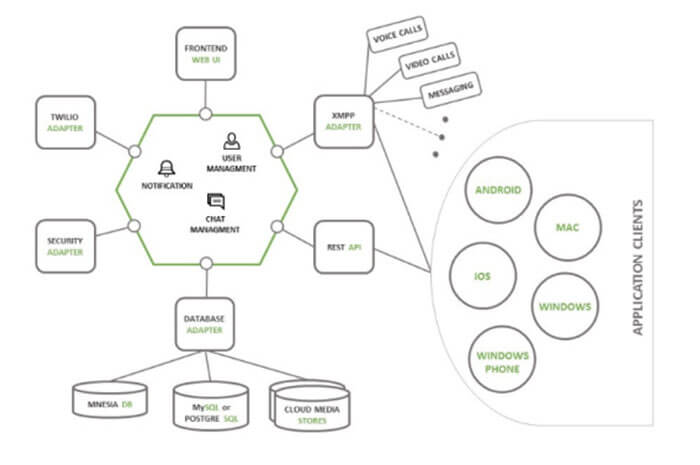 Hardly any messenger can do without notifications. To bring about the notifiers, the developers may make use of Google Cloud Messaging (GCM) or Firebase Cloud Messaging (FCM).
To develop the backend for an app like WhatsApp, the developers may need at least 500 hours.
Native Development
If you have a minimal budget, you can build a single-platform app. It's up to you to decide whether Android, iOS, Windows, Blackberry. Study your target audience and take into account their preferences while building an app like WhatsApp.
Clearly, two major platforms for mobile apps are Android and iOS. And finding developers that can code in C#, Swift, Kotlin, Objective-C or Java won't be a challenge.
Of course, each platform has its requirements for chat SDKs, cloud services, and libraries. But you don't need to go deep if you hire a development agency. Developers know all the angles when it comes to building an app like WhatsApp.
200+ hours are required to build a native app for one platform. If you're going to reach more than one, then multiply the average time by the number of platforms.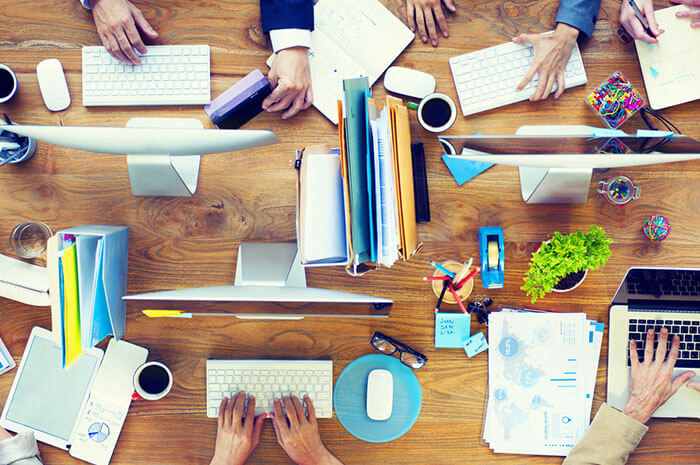 How much does it cost to develop an app like WhatsApp?
Taking into account the fact that the development rates vary widely depending on the location and tech experience.
Central Asia - $20-40/hour

Europe - $40-80/hour

UK - $100-120/hour

US - $130-150/hour
To get ballpark figures, let's take a median $50 rate. Though it doesn't mean that you can't develop an app like WhatsApp for less. You can hire developers at $30/hour and get a top-notch messaging app.
 
iOS
Android
Backend
$25,000
App development
$12,000
$15,000
Design
$8,000
$10,000
PM/QA
$5,000
$5,000
Total
$50,000
$55,000
Summing Up
Taking into account all the data mentioned above, and stressing out that there are a great many of variables, a WhatsApp-like app may cost around $50K at a $50-hourly rate. If you want to reach more than one platform, a multi-platform app will cost minimum $80K.
Short Bio
Hi, everyone! I'm Tasha. I try hard to explain geek news in a plain (and readable) language. Here you can read one of my coverages on the mobile app development. To read more, visit my blog or follow me on Facebook/Twitter