WordPress website development can seem like a difficult undertaking and an overwhelming process if you haven't worked on creating a website before. However, WordPress is popular for its intuitiveness and ease of use.
An internet presence is essential for all businesses, whether they are new and just getting started or established ones trying to expand.
WordPress is one of the most widely used CMS platforms for creating websites because of its adaptability and customization choices.
In this blog, we will walk you through six easy steps to create a WordPress website and help you determine if it is indeed the ideal way forward for your business.
What's Not to Love about WordPress Web Development?
According to Statista, by 2021, it was predicted that the market for content management system (CMS) solutions would increase in size to $43.9 billion. Furthermore, it is anticipated that the market will grow at a rate of 0.7 percent each year through the year 2025.
WordPress is a popular CMS solution that makes creating websites and blogs a relatively easy process.
According to W3Tech, over 43% of all sites run on the WordPress platform. This is due to the numerous benefits WordPress offers website owners.
WordPress allows you to run everything from small companies to online shops. It will be flexible enough to accommodate whatever you decide to accomplish with your website.

WordPress website development can be done in a short amount of time. You don't need extensive technical knowledge.

The platform is free, an open-source CMS platform, secure, versatile, SEO-ready, and makes marketing on social media simpler!

In addition to these benefits, there are still more reasons for businesses, web developers, and web designers to select WordPress, such as the fact that it is mobile-responsive, features an integrated blog, and provides excellent customer care.
It is perfect for small enterprises, owners of eCommerce stores, and independent contractors who have a basic understanding of web design but don't have the skills to create it from scratch.
What's not to love about making the process of building a website easy and stress-free? So, let's go right to gaining a basic understanding of WordPress website development in just 6 simple steps.
All You Need to Know About Building a WordPress Website
Build an 'online' identity: Step 1
The first step is to create an identity by buying a domain name. It's not difficult to get one. Simply visit a domain name registrar, such as domain.com, and conduct a search for the desired address.
Ensure that the name is similar to (or ideally the same as) your company or brand name.

Your customers should find it easy to recall.

Yes, the name of your company will be the most apparent choice. However, you can also choose a word related to the niche you cater to.

Irrespective of what you choose, it should offer brand visibility.
Of course, your address needs a home! Finding a host is easy. There are numerous hosting providers. We've created a list of the top ones that will make it easy for you to pick from. Choose the one that works best for your website.
Remember, your website's performance, security, and dependability are all impacted by the host.
Get up and running: Step 2
You've selected a host and domain name? Now you need to get things going. All you need to do in the second step of the WordPress website development process is install WordPress.
You could look at both options when it comes to installation: The manual way and one-click installation. There are hosting providers that deliver the latter, which makes the whole process stress-free.
As you might have already guessed, installing WordPress manually is not a simple or for that matter enjoyable process. You need to download WordPress to the PC. After this, you must upload it again to the host.
Time to get creative and innovational: Step 3
Give your website the artsy or classy or quirky look that will help your audience to connect with your brand.
The good thing about WordPress is that it has a large collection of themes that are free to use. You even have the premium compilation of themes, which can cost up to several hundred dollars.

Make an effort to choose a theme that complements the purpose of your website, the design, and the information you intend to convey. Select something that will aid in grabbing attention from your customers.

You can check out the official theme directory on wordpress.org to get started. There are options outside this platform as well, which can offer you more possibilities.

The third-party marketplace for themes provides both free and paid options to revamp the website's look and functionality.

It of course preserves the WordPress-based content you desire.
Irrespective of the theme you choose from both free and paid collections, if you happen to change your mind, you can always alter it! Yes, WordPress website development leaves room for enough flexibility.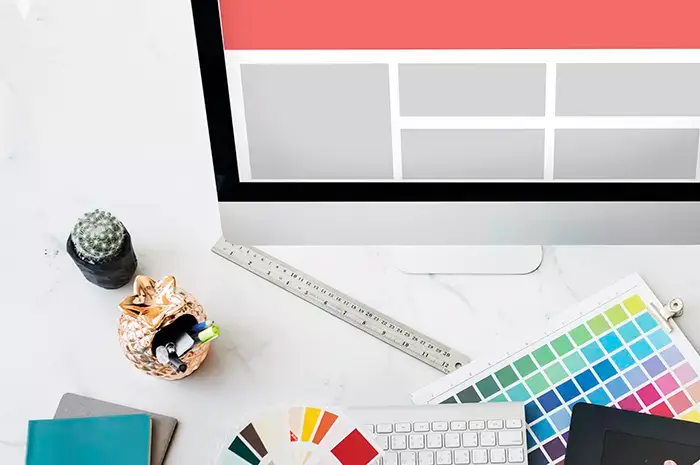 Image by Rawpixel, Envato
Make the website efficient with plugins: Step 4
Plugins are all about adding features and functionalities that WordPress doesn't already have. Imagine them as something like applications. The WordPress catalog has around 58,000 plugins.
It is not mandatory to add plugins; however, if there are features your website requires that will boost efficiency, go for it! This is where custom WordPress development plays a crucial role.
We do have one important piece of advice though:
Don't get a lot of plugins, because this will make your site load slower. It will irritate your visitors, resulting in less traffic, and degrade your rating on Google.
Spruce it up with pages and content: Step 5
Now that your website is ready, you can start creating pages and content on your website.
You would want to begin with the most significant ones, like privacy policy, contact details, about us page, etc.

These are pages that you won't need to update frequently. So, before you work on customizing the more creative and interesting content like the homepage, taglines, and navigation menu, focus on the permanent ones.

Adding them now is simpler, because they assist in safeguarding both you and the site's users from the get-go.
Lastly, don't forget the permalinks and updates: Step 6
In the WordPress website development process, the creation of permalinks is crucial. You must invest time in it as your WordPress website is up and running.
Your website links' appearance depends on their permalink configuration. Consider it a depiction of the architecture of your website. Correct permalink coding is also essential for raising your SEO ranking.
Even if you have the most stunning website, without the theme and plugin updates, it will all be for nothing.
Without acting on significant WordPress updates, chances are high for your website to cease functioning efficiently, and you'll expose yourself to malware and hackers.
There's more!
The next step you should take is to optimize your site for conversions. Start by making your website easier to navigate, paying particular attention to widgets and menus. It's not difficult to notice instant and wonderful results if you keep optimizing and enhancing your site.
During the website development progression, try to consider the viewpoint of your visitors. You'll soon build a devoted following that frequents your website if you keep testing and making improvements to it.
There are a few fantastic platforms like Joomla and Drupal that are available to build your website. Selecting the one that fits your needs is important.
While WordPress is a popular and widely used CMS solution, both WordPress web designers and a WordPress agencies have a love-and-hate relationship with this software for a plethora of reasons. Read more about the good and the bad of WordPress to gain a better understanding.
Conclusion
A fantastic website is important. It's how you establish a relationship with loyal or new followers and make a good impression on potential customers to increase conversions.
In the end, launching your website requires a domain, a content management system, and a trustworthy web host. Your specific needs, abilities, goals, and skill set ultimately determine which platform is ideal for you.
Since developing a website needs systematic planning, teamwork, and meticulous execution, hiring a web designer or WordPress development company is crucial. If you want to create a website that is both safe and easy to use, BluEnt's website development services, and expertise are at par with global standards.
Are you ready to create a stunning site using WordPress? Contact us now!