According to Statista, the market for content management software applications was projected to grow to $43.9 billion in value by 2021. It is also forecasted that, until the year 2025, the market will expand at an annual rate of 0.7 percent.
WordPress is the largest content management system and one of the most widely used online platforms. As the most extensively used content management system (CMS) on the internet, it is anticipated to remain the chief choice in 2022.
Yes, WordPress is widely used and incredibly popular, but it might be difficult to tell if it's the proper platform for your website. The advantages and disadvantages of using any CMS platform should be considered before you hire web developers.
Here, we've outlined the WordPress pros and cons of adopting this platform, whom it would serve best, and who could gain from forgoing it.
Table of Contents:
Getting Acquainted with WordPress
Before we take you through the WordPress advantages and disadvantages, let's get you a bit more acquainted with this CMS platform.
WordPress is a well-liked content management system (CMS) that makes the process of creating a blog or website incredibly simple. Matt Mullenweg and Mike Little came up with the idea in 2003.
It is open-source software that you are free to download, change, and use in any way you see appropriate. Particularly among bloggers and small company owners, WordPress is well-liked for its versatility.

The major factor making WordPress such a popular website-building platform is its unparalleled flexibility. Almost any type of website may be built with WordPress!

It may be used to launch a blog, develop a website for a small business, manage a marketplace, create a membership site, offer online courses, and more.

Chances are, there is already a WordPress plugin (extension) available for whatever type of website you wish to create. If you can't locate one, you can easily employ tens of thousands of engineers to create one for you.
There are alternatives to WordPress. We'll go over the pros and cons of using WordPress to help you decide whether you should join the community of users who already use the platform. You should still be deciding which CMS will work best for you.
We will now dive into the WordPress pros and cons list to give you a better understanding of this CMS platform. Let's start by discussing the benefits of using WordPress.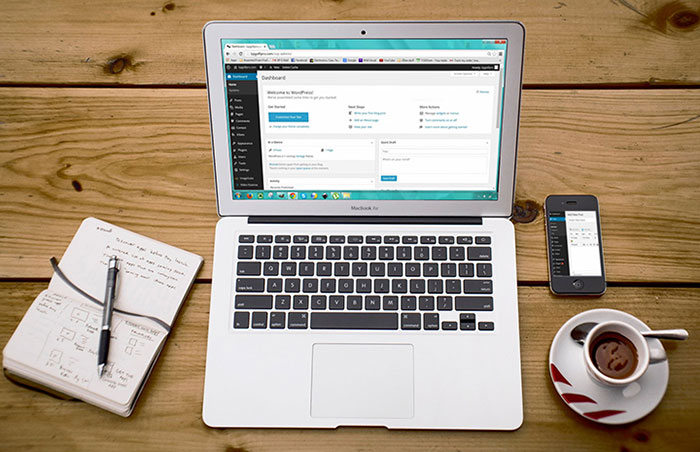 A person using WordPress on Macbook Air by Pixabay
Advantages of Using WordPress
Quite simple to begin with
To create your first website, you don't need any previous web development or coding skills. The majority of WordPress providers currently let you add WordPress with a single click to the hosting account.
Once you've done that, you may utilize the setup wizard on the default dashboard to navigate the system in a smoother and faster way. You just need to give your website a name, choose a color scheme, install a theme, and even add a plugin. Several plugins also instantly redirect you to a setup wizard.

Adding more content to your website, whether as a post or a page, is quite straightforward. An intuitive user interface (UI) is offered by the Gutenberg Block Editor. This interface lets you use content blocks, with which you can create almost any type of site.

It's also easy to add any kind of content, such as a post or a post, to your website. You can quickly and seamlessly create nearly any form of a website using content blocks thanks to the Gutenberg Block Editor's simple user interface (UI).

Once you've mastered the program, moving up the ladder is likewise fairly simple. For instance, purchasing a premium WordPress theme that has extra functionalities and features or upgrading your web hosting plan are both simple solutions.
Plugin options are plenty!
Did you know that there are thousands of free plugins available on WordPress? These plugins can help you effectively customize the site and enrich the experience for your customers.
If you need a plugin to accomplish exactly what you want, we are sure you'll find the apt one. Yes, even if your team needs to make specific changes to your website's functionalities.
A site optimized for SEO
The fact that WordPress is an extremely SEO-friendly platform is another advantage. This implies that any website you create with WordPress will rank better and be easier for search engines to index.

Many WordPress themes are already built with search engine optimization. Additionally, plugins (like Yoast) are readily accessible to speed up the process of optimizing specific pages and blog articles.
A broad range of themes
The platform's enormous selection of themes is one of its greatest advantages. The WordPress authorized theme directory offers thousands of free designs.

When it comes to responsiveness, the range of WordPress themes is extremely unfailing and has a significant influence on the UX. This platform is known for ensuring that your mobile-adaptive site is coherent across multiple platforms.

WordPress was built from the ground up to be flexible and mobile-friendly. Nowadays, all themes accessible in the directory are responsive.

Responsive designs may be produced with the inbuilt Gutenberg block editor as well. All of this means that the website you design will appear nice on any device, adding another plus to the WordPress pros and cons list.

Many WordPress theme developers additionally expand their template libraries with a countless number of starter sites. A ready site will appear when you click "Import." The only thing left to do is alter the content and media to create your individual website.
Often updated and extreme adaptability
WordPress is often updated with new features. It even investigates all the bug fixes and security improvements from time to time. Regular updates result in improved security, quicker load speeds, and a generally positive user experience for visitors to your website.

The majority of the themes in the directory and plugins are constantly updated. Additionally, it implies that you will always have access to fresh tools to help you build the finest website possible.

You may build an eCommerce store, a luxury hotel booking website, a blog site, or an art portfolio on the same platform owing to the freedom afforded by a strong foundation and a limitless assortment of plugins and themes.
WordPress allows you to create nearly any type of website. In all honesty, among the WordPress pros and cons list, that is one of its main appeals.
Integration of social media and online marketing
The production of regular, new content is crucial for promotional activities and online marketing. You may change your content as often as essential with WordPress.

When your website's content is regularly updated, it is easier and quicker to establish high credibility amongst your audience.

In order to fully benefit from strategic campaigns, you can also create a new WordPress site in a matter of minutes.

WordPress enables hassle-free social network integration. You don't have to sign into your social media accounts each time you want to post new content on the page.

Additionally, WordPress offers a high degree of social connectedness which makes it possible for you to update all the social media platforms quickly and easily with a single click.
An uncomplicated transition between different designers
There's a likelihood that when your company expands, many designers would eventually work on your website. Design professionals often have favorite web development platforms which they are most comfortable with.
But because WordPress is an open-source platform, switching between designers is quite simple.
Optimal for e-commerce websites
Today, millions of individuals make online purchases. For entrepreneurs who see prospects in the growth of financial markets as well as the escalating use of the internet globally, this presents a ton of investment options.

WordPress is used by many e-commerce websites. To make sure that your site is effective for eCommerce, the CMS offers a variety of plugins like WooCommerce.
You can easily drive more visitors to your eCommerce site and increase sales and conversion, thanks to these advances.
Now that we have covered the pros in our WordPress pros and cons piece, we will focus on why it could be challenging to adopt this CMS platform.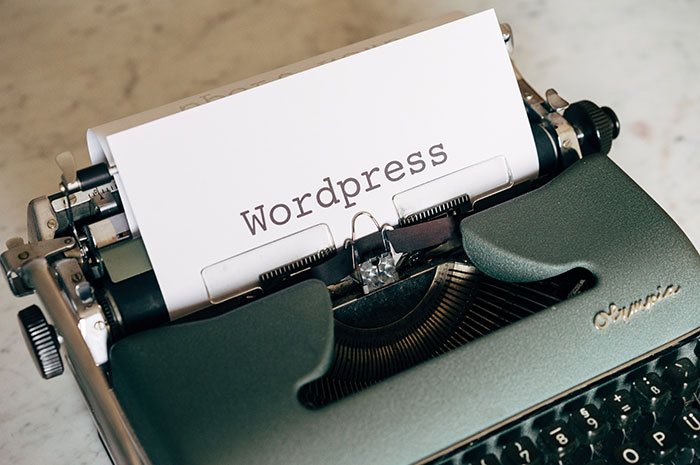 Close-up shot of a typewriter with the word "WordPress" by Markus Winkler
Disadvantages of Using WordPress
Security is still an issue
For many consumers, security is a significant problem, and this is one of the WordPress drawbacks that can be quite overwhelming for the users.
This platform is a top target for hackers simply because it is the most used CMS.
The likelihood of malicious malware accessing your site's functions is additionally increased by its excessive reliance on plugins created by other individuals.
Customization is costly
Although the WordPress platform is free, effective use of it depends on customization through themes and plugins.
The majority of these tools and features that amplify productivity come at a cost. The price of utilizing WordPress increases as you use more of these tools.
Efficacy makes it complex
It isn't sufficient to merely install WordPress. To make sure that everything works properly, you must install a variety of plugins and themes.
The more plugins you use, the more compatibility problems you'll encounter.
SEO can be challenging
WordPress' SEO friendliness might cause issues for users without any prior SEO knowledge. Google detects content in WordPress as duplicate if it is over-tagged or marked into several categories. The SERP rank for your website may be considerably impacted by this.
Too many options make it complex
WordPress is simple to use, but it also has a lot of features that might be difficult to comprehend and learn in order to fully utilize the platform. WordPress can be intimidating if you don't have a clear idea or plan for your site.
WordPress might not be for you if all you want to do is start your site by selecting a few items from a list of options.
WordPress pros and cons 2021 does proclaim that most individuals have been able to effectively use WordPress and find it to be a suitable fit for their requirements.
Of course, it is ideal for small businesses, independent contractors, and proprietors of online shops who have some knowledge of web design but may not have the necessary abilities to construct a design from start.  It's for those who have a clear idea of what they want but who need a few off-the-rack resolutions to put it into action.
We hope this WordPress pros and cons list has helped you to gain some clarity on if it is indeed the right choice for you.
Conclusion
Which platform is best for you ultimately depends on your unique demands, skill, ambitions, and skill set.
Going beyond the WordPress pros and cons list, when developing a WordPress website, we will always urge you to at the very least speak with a WordPress professional. With the appropriate company or web agency administering your website, many of the downsides mentioned above may be eliminated.
Hiring a web developer is essential because website development requires systematic strategy, collaboration, and thorough execution. If you are looking to build a secure and user-friendly website, BluEnt's website development services, and expertise are at par with global standards.
If you need a complete web solution, we're only a click away.
Are you ready to grow your business by creating a stunning website? Contact us now!