A person having tea and working on website development on her laptop by Startup Stock Photos
Due to rising customer expectations, the digital space is always evolving. Consumers are progressively demanding more customized user interfaces, engaging website designs, and improved network connectivity across various devices.
Businesses around the globe are searching for a CMS that can adjust to the rapidly changing digital environment and new dynamic technological innovations.
In the last few years, Drupal CMS has been a pioneer in assisting businesses with their online expansion and growth.
Several CMS programs, including Drupal, experienced revolutionary changes. They accelerated advancements and expansion as a result of the Covid pandemic.
Industries are unsure if Drupal will still be the top CMS in the coming years. It's necessary to gain a comprehensive understanding of Drupal's significance and acquire its validation with your crew.
This blog post outlines the key concepts of this content management system that you need to be aware of before moving forward with website development.
Drupal: An Overview
According to Statista, by 2021, it was anticipated that the market for content management software solutions would increase in size to $43.9 billion. Additionally, it is projected that the market would grow at a 0.7 percent annual pace through the year 2025.
Drupal and WordPress are among the most widely used open-source CMS around the globe. Several web developers prefer using Drupal CMS over Joomla and WordPress, since it is a reliable framework for managing a large volume of content on websites.
It is utilized in more than 200 nations, is accessible in 182 lingos, and powers close to 400,000 online platforms.
Many huge international companies effectively utilize Drupal CMS as their content management system since it is a solid CMS with limitless potential for development.
The popularity of Drupal among web designers and developers is largely due to its numerous sophisticated capabilities, but like every content management system, it also has certain drawbacks.
To assist you to decide if you should choose Drupal CMS for your upcoming endeavor, we have listed the advantages of adopting this platform.
Is Drupal CMS Still Set to Lead in the Coming Years?
According to Statista, in 2022, it was predicted that revenue in the category of content management software will be 18.91 billion US dollars. By the year 2027, The CMS marketplace size is anticipated to reach 26.13 billion US dollars, with revenue estimated to expand at a 6.68 percent annual rate.
Did you know that Drupal has over a million global consumers? It is one of the most preferred CMS programs for both big and small commercial enterprises.
This open-source content management system comes with several capabilities for building engaging websites of all types. A few of its potentialities include
Websites, both personal and business

Social media platforms

Directories of resources

Websites with multimedia, portfolios, and blogs

eCommerce platforms

Global websites in several languages

Forums and Intranet

Community websites
There are several reasons why millions of enterprises, governmental organizations, and other types of businesses like Drupal.
We will list and examine the most significant benefits of using Drupal CMS in a more intensive way.
User experiences that are personalized and consumer-focused
We started this blog saying what consumers are looking for in websites today. Your eCommerce site should cater to the requirements of your consumers, helping them make that crucial buying choice as soon as your website and landing page load.
Hence, offering an exceptional experience is one of the most significant advantages of Drupal.
It features several components for content customization that offer consumers a fitting experience. Its improved caching abilities increase the effectiveness and rapidity of loading the page on any device.

The construction of landing sites and the reutilization of content for various marketing promotions are both made simple by the layout implements and tools. Furthermore, the Drupal CMS UX is extremely attractive, effective, and friendly.
According to Forrester, utilizing a customized and consumer-focused approach helps in giving consumers the impression that their time spent on your website has been specifically personalized to address their unique requirements across a variety of networks.
The priority is always unwavering security
Of course, security is the primary need for any website on the internet today. This is where Drupal CMS makes the most impact. It provides unwavering security which makes it the most preferred choice when it comes to business enterprises and government organizations.
The security department at Drupal is committed to locating and evaluating possible threats in every aspect including the core code and contributed units.

Before broadcasting or making anything public, the security division rigorously assesses every contributed unit.

Additionally, Drupal services offer frequent security updates to protect webpages from misuse and vulnerabilities.
Extensible through APIs
A contemporary content management system must have access to reliable APIs in order to improve and amalgamate with all phases of the consumer experience with the product. Numerous of these APIs were introduced with the debut of Drupal CMS 8 and 9.
RESTful Web Services API - It enables connection with online facilities, a decoupled site, and interaction between Android applications, iOS, and the Drupal website.

Translation API - According to the consumer's geographic location, translation API changes the Drupal site's language.

JSON API - For interaction and serialization on the site, this unit utilizes JSON.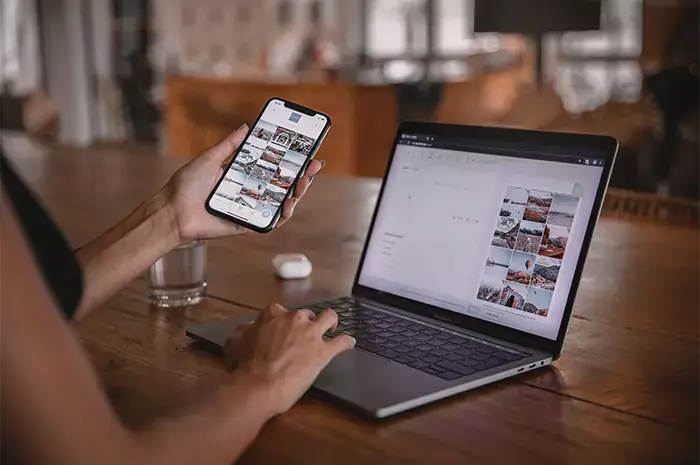 A person using both mobile and laptop when working on web development by Plann
Integration of marketing channels and high-level accessibility
Businesses are always searching for competitive and dynamic content for all the digital channels prevalent in the market today. Their requirement for a content management system that keeps up with the emerging sales and user engagement and interaction technologies is indispensable.
This content management system shines in the domain of eCommerce platforms.
Drupal CMS provides a variety of content generation components including adaptable designs, multilingual capacity, and the WYSIWYG tool.

With the help of the Drupal Google Analytics segment, you can gather crucial consumer information, make necessary adjustments, and maximize how effectively the Drupal website interacts with the defined target audience.

To provide an inclusive and comprehensive environment for all consumers, Drupal is devoted to user-friendliness and accessibility.

Drupal's structures and capabilities follow ADA, WAI-ARIA, and WCAG standards.

To increase sales via enhanced customer engagement, companies like IBM, Magento, Tesla, Puma, and others have successfully and effortlessly incorporated this system into their Drupal e-commerce websites
A flexible content management system
Several web developers consider Drupal to be one of the most adaptable CMS in the market today.
On Drupal CMS, an extensive range of content channels, including podcasts, blogs, infographics, and videos, are simple to generate and manage.

It is ideal for developing content-rich pages for business and marketing purposes due to its adaptable design framework.

Additionally, Drupal includes an intensive script that offers superior editing power and endless design options.
SEO-friendly
The goal of promoting your website and content online is to reach out to a wider audience and enable more conversions on the site.
It is indeed the greatest technique in the market named Search Engine Optimization (SEO) technique that can be used to achieve this goal. This engine is imperative and cannot be eliminated if you are looking to expand your company.
Yes, Drupal SEO is at par with the requirement!
This platform offers itself as a fantastic instrument for optimizing your website for search engines to increase organic traffic.

It offers a collection of already-installed SEO tools to assist you to manage every aspect of the company's site. This characteristic propels it to the top of the search results for content management systems that are SEO-friendly.
Known for its performance and scalability
The site's speed begins to decline as the business becomes bigger and gains more traffic. This is quite unavoidable. Users must therefore continually adapt. But with Drupal CMS, that is not the case.
Drupal is built in a way that it expands rapidly. The webpages can grow in number, let's say to 80 pages, it won't have to be modified to function optimally.

The traffic on a Drupal website can also be scaled. Compared to the other content management systems available, Drupal can effectively manage the abrupt increases in traffic.
To conclude, Drupal is a highly flexible CMS program that has developed consistently with cutting-edge tools and features, which is extremely essential in this competition-driven environment of a demanding clientele.
If you are keen on adopting this CMS platform, the next best step for expanding your company is to outsource Drupal development services. Not to forget, Drupal CMS has dominated the market for the past ten years and will continue to do so.
Conclusion
Even though you now have clarity on Drupal's strengths and values, which can make it a preferred CMS for your company, the platform that is best for you ultimately depends on your unique demands, ambitions, and business objectives.
Going beyond the advantages Drupal provides, we will always advise you to consult a professional at the very least while creating or improving your website. Many of the drawbacks might be avoided if the right web agency helps with the development of your website.
Of course, if you are set on Drupal, BluEnt is a chief Drupal development company that offers a wide variety of Drupal solutions which help you to expand your company.
Hiring both a web developer and web designer is crucial as developing a website needs methodical planning, teamwork, and meticulous execution. If you are looking to build a dynamic, secure, and SEO-friendly website, BluEnt's website development services, and expertise are at par with global standards.
Ready to build a striking website to help your business flourish? Contact us now!