According to Statista, in the past ten years, the value of the global video game industry has grown dramatically, and it is anticipated to continue to rise in the years to come, crossing 200$ billion in 2023.
The number of video game players and the amount of time they devote to playing has greatly increased over the past ten years. Therefore, there is unquestionably a vibrant marketplace for fresh and intriguing games.
A game engine is a structure that makes it easier to create games utilizing a variety of tools specifically made for game development. These tools referred to as APIs or tool nodes, contribute to enriching the experience of developing the games.
Any game engine must enable game developers to effortlessly carry out a variety of development undertakings and turn their game strategies into masterworks.
In this blog post, we'll demonstrate the best game engine in the market for game development.
Table of Contents:
What is a Game Engine?
A game engine is an exhaustive software architecture that creators utilize to develop unique video games. The engine consists of game libraries and programs that assist in executing a game efficiently.
The developers utilize game engines to construct video games that work on several types of computers as well as on gaming consoles.

Both in terms of their functionality and how those are demonstrated, every prevalent engine offers tools that might differ greatly. They help in alleviating some of the tediousness of production and hence the game developers can't do without them.

Some of the remarkable features and functionalities include scripting, artificial intelligence, streaming, localization support, rendering 2D-3D graphics, video support, memory management, sound, etc.
And you're all set. You know the basic workings of a game engine. So let's jump into some of the best gaming engines that could boost your sales.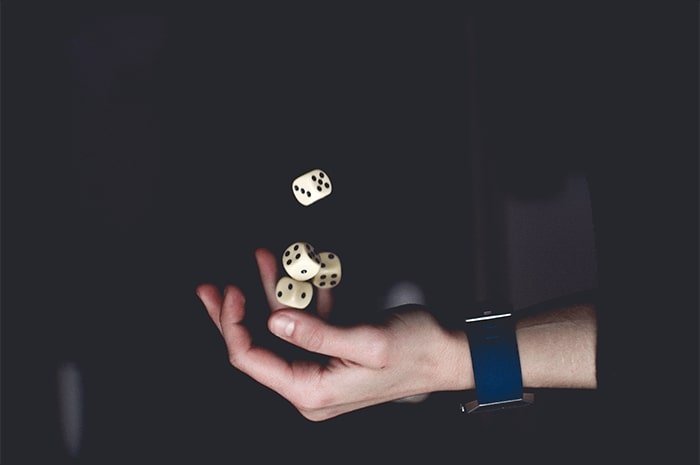 A person about to catch four dices by lilartsy
The Best Game Engines in 2022
Unity
The game engine, Unity, was created in 2005 and up till now, it has undergone several updates. A number of unique significant features are introduced every year.
It is known for creating all types of 2D and 3D video games. Developers also use it for developing virtual reality and AR games by building fitting SDKs for Unity.

This game engine comes with an interface that is user-friendly and diminishes the requirement for any kind of guidance or training.

You will find many paid and free packages in its Assets Store. One of the most convenient features of Unity is that the engine can run on multiple platforms such as Android, Windows, Mac, iOS, Linux, etc.

It can be used for console, mobile, web, VR, AR, and PC games.
A few best unity games that were developed with this game engine are Assassin's Creed Identity, Rick and Morty, Cuphead, and Temple Run.
Unity is among the most popular game engines and holds the capacity to develop several types of games.
Unreal Engine
Epic Games developed the Unreal engine in 1998 and initially could only be used for PC games. In the last several years, it has undergone countless updates and today Unreal supports various platforms including mobile, virtual reality, console, and desktops.
This is one of the best game engines for graphical potentialities. The latter is reflected in the shaders, lighting, and other illustrative dynamics.

The unreal engine has been used for the development of the most prevalent triple-A games in the market. This engine is open source and each year it demonstrates a lot of enhancements.

Since it's been extensively used for the creation of such dynamic games, unlike the other engines available in the market, it is able to effortlessly and effectually navigate through a series of complex tasks.

This makes it more fitting for bigger projects. Given that this engine's program is very hefty on the graphics and deals with complicated tasks, to use it, you need a larger team and very powerful desktops.
A few examples of the games developed with this engine are Batman Arkham City and Fortnite.
Amazon Lumberyard
Amongst the best game engines in the market, Amazon Lumberyard has gained quite a solid reputation. It was developed by Amazon and is currently widely used to develop 3D games and hence is established as the best 3d game engine in the market.
Amazon Lumberyard backs visual scripting, and virtual reality preview mode and offers great assistance with various integrations like Adobe Photoshop.

The game developers find it useful to create multiplayer games. This game engine works with C++ programming language and delivers assistance for P2P and Client topology.

Lumberyard allows the game engineers to use source code and modify the program for enhancing the game development experience. To scramble the gameplay, the engineers can even modify the whole source code.
It is one of the best free game engines that require no licensing fee and developers don't need to buy the software. They have the liberty to use it to build local multiplayer games or even one-player games.
If you build a game with Amazon Lumberyard, it holds the potential to reach a wider audience as it is highly compatible and can be easily integrated with AWS (Amazon Web Services).
GameMaker Studio
If you are looking for one of the top game engines that can be used without any programming knowledge, GameMaker Studio is an excellent choice.
This game engine comes with a highly intuitive interface and developers don't need to code in native languages to build an awesome game.

You don't need to be supremely skilled in developing brilliant 2D games to use GameMaker Studio.

The process is relatively faster and with striking features such as drag-and-drop and efficient workflow, it makes the whole development a seamless one. It can be used on Windows phones, Tizen, iOS, PS Vita, Android, Amazon Fire, and iOS.
However, one of the downsides is that developers work with quite a few limitations and hence need to design the game keeping those in mind.
A few games that have been developed using GameMaker are Super Crate Box, Hyper Light Drifter, and Hotline Miami.
CryEngine
Yes, CryEngine is one of the best engine games that offer a license-free platform. It is known for providing learning resources that are again free of cost. Though how great are these learning resources is questionable.
The CryEngine market arena gives the game developers the choice to buy in-game resources which are known to reduce the time it takes to market the developed product.

A few strengths of this game engine are the spectacular visual potentialities, remarkable VR assistance, and a great interface.

A revised version of this gaming engine is maintained by Ubisoft named the Dunia Engine which is used to make modifications to the brilliant series called Fry Cry.
Godot Engine
Godot Engine is tagged as the best 2D game engine for developing mind-blowing 2D and 3D games. It offers a wide array of tools that are easy to use and also allows developers to build their own customized tools.
If developers have the required knowledge, they can modify and build features in the engine. It is also considered to be the best game engine for beginners.

Of course, one of the best features of this software is that all that is built through Godot is royalty-free. It gives the company and developers complete ownership of whatever is created in the project.
This best game engine is a terrific software choice if you are beginning your gaming endeavor and want to ensure that you receive everything you labored for.
The top six game engines listed above are just a small selection of the best software for game development that is accessible for game development.
Also, it completely depends on what you and your game developers are planning to create and how you'd want to market and use the game. For instance, the Godot engine may be far superior and appropriate to Unity if you are looking to develop a 2D game using the free 2d game engines.
Naturally, all of them have advantages and disadvantages but they have weathered the competition and continue to be marked as the most popular game engines.
Yes, as per our research, they are among the top candidates for the title of the best game engine in 2022.
Conclusion
To construct a game, you must have a game engine. There is no other way to do this.
It is absolutely not a concern if you use one of the available best game engine options in the market or come up with your own software, but you need to choose the apt one. Experience is what gamers are looking for and selecting the wrong engine can ruin it for you and your customers.
BluEnt focuses on experiential solutions. We want to understand how your company operates so that we can create a strategy that supports your 'gaming' goals and enhances its value.
To help you develop the best minimal viable product, our team uses a rapid and efficient coding method. Outsourcing software development and collaborating with a seasoned professional like BluEnt can help you lessen risks, complications, and downtime.
Please browse to learn about our enterprise software solutions, game development services, technology and software consulting, data insights solutions, and software development services
Let's envision your gaming product journey together. To get started, contact us now!