Online presence for any business, big or small, is of great importance in today's digital era. That's how people know who you are and what you do, and can connect with your brand. Website design plays a significant role in attracting potential clients and aids a company's growth.
Choosing the right web designer to develop or renovate your website can be tedious. There are countless designers around the globe today and it seems like almost everyone has the capacity to design a website.
However, not everyone can craft the right design for your specific business needs. Let us take you through all the factors you should consider before selecting a web designer.
Why Do You Need A "Right" Web Designer?
If you search on Google alone for web designers or web developers, it will show you around 1.8 million search results.
Globally, we have first-class web development companies, one-person businesses, and startups offering web design services. Here is what you need to know about website design and its impact.
There are several businesses that have incredible website designs that have facilitated high visitor traffic and retention rates.

Your website needs to meet your business requirements so that it can attract the right set of customers and reduce the bounce rate.

Building an interactive, aesthetically pleasing and functional website can be a difficult process. It is imperative to do thorough research and hire the right professional web designer who can help make your business an online success.
In this blog, we will learn how to select a web designer effectively by narrowing down the countless choices and options available.
You can begin by listing what is most significant for your website development. Timeline? Budget? Latest design trends? Long-term support? Expertise? Prioritize this list once you are done.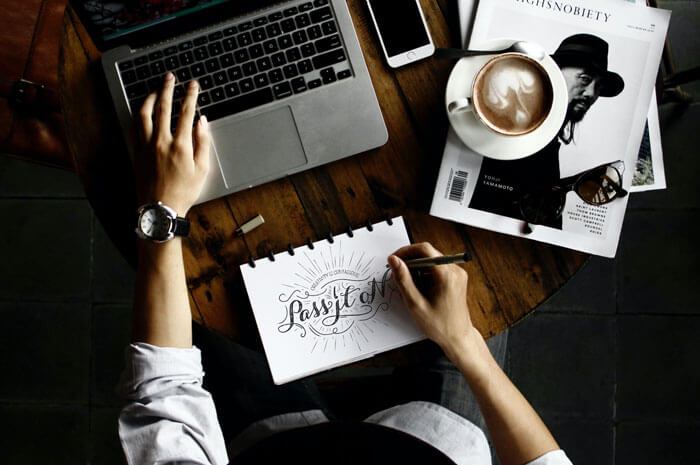 A person sitting facing laptop computer with a sketchpad by Ovan
Start With Reviewing Portfolios
Browsing and reviewing portfolios is how you initiate the research process.
While portfolios don't offer a comprehensive understanding of all that a developer or web designer can do, it still helps you factor in what works for you and what doesn't.
Portfolios throw some light on the style and functionality of a website.

It gives a better understanding of past experiences and the potentialities of what they can do for your website.

You will have a clearer idea of what the firm or developer's primary personal style is. Anything they create may be developed along those lines.

Visiting live websites the designers have worked on rather than depending on the screenshots will help you go beyond the design and style. It will help you answer the following:

How well is the website flowing?

Are they well-equipped with responsive web design?

What does the footer contain?

Do they include SEO optimization strategies?

How does it look on both mobile and laptop?

How have they incorporated the additional functionalities?

Think like the company's target audience. Are you impressed enough by the website to connect with the brand?
However, you can't completely depend on the portfolio alone. There are a few reasons for this.
The websites shown on the portfolio shared might have been updated by other designers.

Web designers are also given the task to create someone else's idea on branding or design so going beyond the portfolio is mandatory.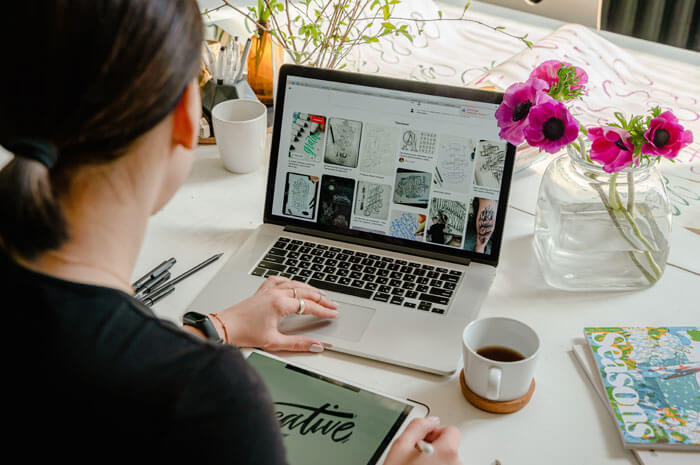 A person using the laptop for browsing designs by Antoni Shkraba
Testimonials And Reviews
Gathering testimonials and reviews from people with whom they have worked will help you plenty to understand their level of functionality.
It will help answer questions like how easy was it to collaborate with them, did they understand the ideas well, did they complete the project on the budget and time provided, are offering long-term support?

It's not just the skills that are important but whether they can collaborate with you effectively and help you accomplish goals.

For best results, read reviews for the developers on third-party websites, not just on their own. This will help you gain a more balanced and neutral understanding of their skills and competence. 
Accentuating Their Skills And Expertise
Let's get technical. Reviewing different kinds of material or work that clearly defines a web designer or agency's industry knowledge or skills can make a huge difference.
Checking out their work and user reviews on social media or their own channels and page can accentuate a web development company's expertise.

You can understand their reputation in the market and the overall purview of the kind of projects managed by them.

Facebook, Yelp, and Google are great sites to study the in-depth reviews left by brands they have worked with.
Budget and Scope Of Work
Every web developer or web design company have their own quoted fee. Understanding what the fee incorporates and if it matches your budget is mandatory.
It is essential that you decide on the budget before approaching the designers. When it comes to web designing, pricing can differ considerably. All web designers have a different structure.

Few might offer additional skills that can be quite useful in the long run so even if the cost is too high, you know the elements that make it worthwhile.

You might come across web designers who also include the set-up of email marketing campaigns for the new web design or logo design or designing an eCommerce website. If that's one of your crucial design requirements, then it can help you significantly.
Don't Overlook Soft Skills
Soft skills may not seem like an important factor when choosing the right web designer. However, we consider it to be one of the most critical points; it can prove to be a game-changer.
The comfort you feel in sharing your ideas and opinions with the web designer matters! Do they really listen to your ideas and vision for the website? Do you feel heard?

How often do they contribute and offer exciting ideas for your web page design? Are they comfortable with more than just nodding their heads at everything you ask them to do?

Do you find them to be dependable? Are they confident in the expertise they bring to the table? Are you getting your money's worth?
Having a two-way communication process can facilitate seamless and successful collaboration.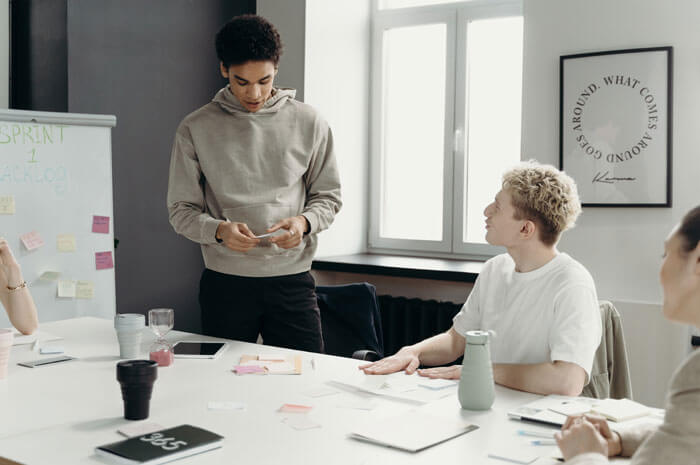 Man in gray sweater standing in front of his colleagues having a discussion by Cottonbro
Your website is the window for most of your potential customers and audience to connect with you. Do you only need to work on the web design? Are the designer or company supported by a marketing team as well?
Having clarity on what you want for your website and business can assist you in choosing the right web designer.
Conclusion
Finding a great web designer who can incorporate the latest website design trends and bring your vision to life requires a lot of research and groundwork.
You want someone who can offer a holistic approach and makes sure that your web page design is user-friendly, secure, well-maintained, quick, optimized for SEO and elevates your conversion rates.
The overall website design and development process involves creativity, structured planning, seamless collaboration, and meticulous execution. If you want to develop an exceptional web design, BluEnt's website development expertise is on par with global standards.
We are just a click away if you require web design services. Contact us now!
Maximum Value. Achieved.