The eCommerce industry has been evolving to meet ever-changing consumer requirements and online shopping trends. Those who do not keep up to date with these trends will find themselves staring at a distinct disadvantage and potentially millions of dollars in losses.
Let's learn more about what these trends are and how you can make appropriate changes to your eCommerce website to attract shoppers.
Impact of Emerging Trends and Covid-19 on Online Sales
Since the pandemic, a lot has changed in the shopping sphere as people have been forced to stay indoors. In the year 2021, online sales increased to almost 14.2% irrespective of consumers getting vaccinated.
According to Statista, the total number of eCommerce buyers increased to 2.14 million in 2021. The reason for the same is endless and includes elements such as exciting shopping events, enhanced internet connectivity, online shopping accessibility, and convenience.
The ever-changing online shopping trends and the digital landscape have dramatically affected businesses. Let's explore the latest eCommerce shopping trends that can help you evolve and gain a competitive advantage.
The 10 Significant Online Shopping Trends
1.

Technologies transforming the online shopping experience

The technologies such as Augmented Reality, Artificial Intelligence, and Machine Learning have recently gained prominence in the eCommerce industry. They are being aggressively used by businesses and have proved to be a game-changer.
AI is currently implemented in various aspects of business such as customer sales, marketing, and customer service.

It helps in offering a customized online shopping experience and gives sharper product search outcomes and recommendations.
2.

Delivering more customizable products

Machine Learning and other such technologies are helping businesses to provide a more individualized and personalized shopping experience.
There's been a surge in the way the packaging is customized, content is made more interactive, and services or products are more personalized.

Online retailers are acquiring meaningful insights into what their consumers need and studying their patterns and behavior. This is done through surveys and quizzes.
3.

The requisiteness of mobile sites and apps

Both small and large businesses are providing mobile ecommerce shopping experiences to their customers to increase sales and conversion rates.
A lot of people today are using mobile-friendly sites and apps to shop online. Online retailers are utilizing smarter tools for mobile shopping to make the experience more relevant and seamless.

Using a mobile-friendly and responsive website is another online shopping trend that's becoming a popular and mandatory practice.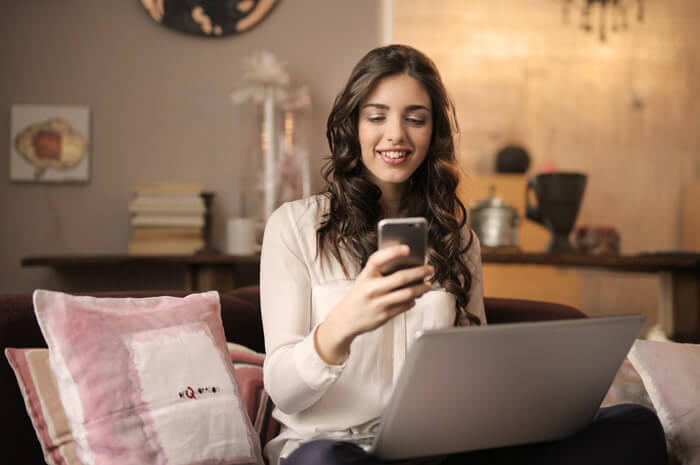 Woman sitting on the sofa while looking at the phone by Andrea Piacquadio
4.

Introducing multiple payment options

Covid led to the relevance of a contactless payment option and this, in turn, facilitated other ways of making more flexible transactions.

Buy now pay later has been one of the most popular trends. According to EMarketer, by 2025, the total number of buy now pay later customers are likely to increase to 76.6 million. In 2021, there were 45.1 million BPNL users.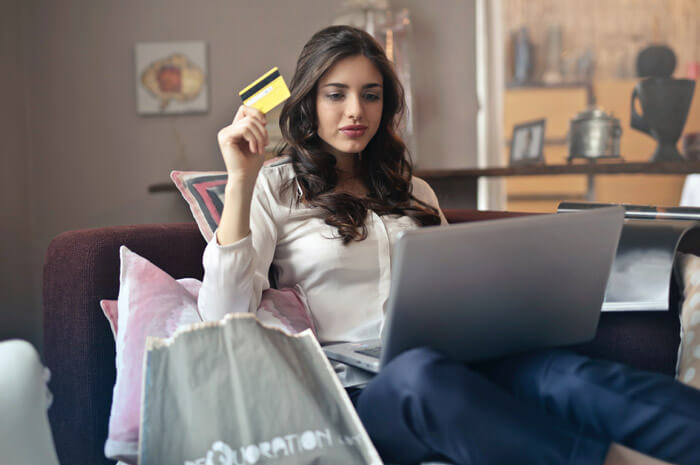 Women holding a card while shopping online by Andrea Piacquadio
5.

Eco-friendly initiatives making brands more 'likable'

Yes, brands are certainly preferred if they have invested in creating or building more purpose-driven products.
Sustainability is one of the hottest online shopping trends that makes a company more fancied even in the online sphere.

According to the research article by Stifel in 2021, 71% of the adults in the US, aged between 18-and 55, have an enormous preference for sustainable products. It seems to be stated as one of the most prevalent eCommerce trends 2021.

Making the online content more focused on the manufacturing practices or methods and the use of sustainable elements in the products is helping online retailers target more environmentally conscious customers.
6.

Visualizing products through Virtual Reality

While multiple technologies are changing the online shopping experience, virtual reality provides unmatched success. It is currently one of the most dynamic online shopping trends transforming the way consumers shop online.

One of the biggest challenges of online shopping would be the huge difference between the product pictures and the actual product. VR has significantly helped in closing this gap.
Before purchasing the product, through augmented and virtual reality, a buyer can visualize what the product looks like in the real world.

Businesses are incorporating this online shopping trend into their website and facilitating a unique shopping experience for their potential customers.

They make better purchasing decisions by getting a more intimate understanding of what the product looks like in real life.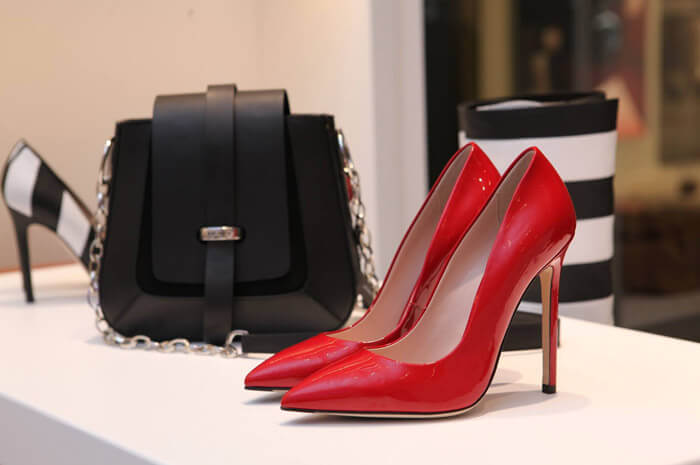 A close-up of shoes and bag by Alexandra Maria
7.

Chatbots offer a 24/7 customer support system

Chatbots are becoming one of the most increasingly popular online shopping trends as they are making the online shopping experience more personalized and unified.
Quite a few retailers have started to use chatbots to offer sharper and relevant recommendations to their potential customers.

It has also helped in reducing the pressure and load faced by the customer service department that needs to deal with thousands of customer requirements daily.
Customers don't need to wait for office hours to connect with a customer representative. A chatbot is accessible to assist whenever required, making the experience grander.
8.

Optimized websites equal higher conversion rates

Online retailers are diligently working towards building a highly optimized website for a seamless online shopping experience.

Creating a competent website requires the implementation of A/B testing that assists in understanding components that work and ones that don't.

All website details including page load speed, color, or layout matter to make a customer's online shopping experience an outstanding one.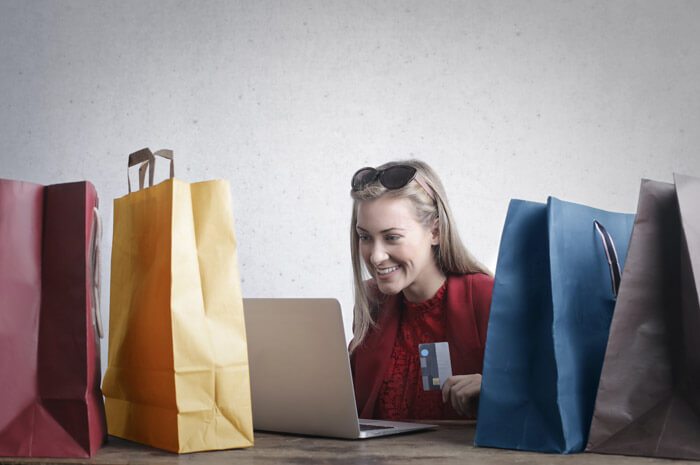 A woman shopping online at home by Andrea Piacquadio
9.

Engaging and dynamic marketing practices

One of the most evolving online shopping trends is prevalent in marketing. There are multiple ways in which brands and retailers are promoting their products today and adopting the eCommerce industry trends.

Companies have been using video marketing, social commerce, and even live streaming commerce to help audiences interact with their products and brands.

According to EMarketer, the US generated 30$ billion in sales through social commerce in the year 2020.
Social commerce incorporates paid advertisements, influencer marketing, and videos on social media channels.

Videos help the brands to showcase their products in a more detailed way helping the audience to understand every minute detail of their products.

Swipe up to buy now is also becoming a relevant online shopping trend globally helping customers purchase the product immediately without having to think twice.
10.

The exclusivity of the voice search option

This eCommerce trend is gaining huge significance and does set a brand apart and helps in staying ahead of the competition.

Voice search is a smart tool that is available through smart speakers and mobile devices. Online retailers use the common details and information that their potential customers often look for to incorporate into voice search.
What Does This Mean for Your Business?
Yes, there's a lot that is happening in the online shopping world and it is indeed an ongoing process. Embracing these latest online shopping trends is helping retailers and brands to keep up with the ever-changing demands in the eCommerce world.
Adopting these eCommerce trends will not only help you stay ahead of the competition but also allow you to reach superior heights and attract potential customers.

The strategy is to observe your competitors. Analyze if they have jumped a trend and how has it turned out for them.

It's not about adopting every online shopping trend but becoming aware of what could work for your business and drive grandeur success.
Defining which of these trends work best for your business and integrating them into your business model can facilitate a greater impact on your growth and reputation.
Conclusion
What you need is a web development company that is an expert in building eCommerce websites!
You need to find a great web or mobile developer who can integrate the latest online shopping trends and drive your concept to life needs a lot of exploration and groundwork.
BluEnt has been developing eCommerce websites for years and can provide a holistic approach to ensure that your web page or web application development or mobile app elevates your conversion rates.
The overall process for both websites and mobile app development involves structured planning, seamless collaboration, creativity, a great web designer, and meticulous execution.
If you want to develop an incomparable eCommerce website or mobile-friendly site, BluEnt's website and mobile development expertise meet the highest standards.
Need help with adopting the latest online shopping trends? Contact us now!
Maximum Value. Achieved.