According to Business Wire, the estimation of the global impact of AI in fintech was USD 6.67 billion in 2019 and is anticipated to reach USD 22.6 billion by 2025. The CAGR was predicted to be 23.37% between the period 2020–2025.
Several finance companies have been adopting AI that offers an interactive customer platform. AI in fintech facilitates an enriched customer experience that affects interactions between the company and customers to an outstanding level.
AI's Impact on the Fintech Market
Yes, both AI and Machine Learning are seen as the next big thing in the tech industry. The use of artificial intelligence in fintech has been enhancing customer experience and business results and has become a serious game-changer.
According to the McKinsey Global Institute, both these technological advances in the banking industry could spawn at least $250 billion in value in the financial market.

Many Fintech firms have already been profiting and witnessing improved results by incorporating artificial intelligence and machine learning in their processes.

Digital transformation and automation are even reshaping how the banking sector derives data insights and uses them to enhance its operations and solutions.

There are other digital interventions such as robotic process automation, big data analytics, and blockchain that are also responsible for the fintech revolution.
We understand that quite a few companies are still hesitant to adopt AI because of the regulatory, potential financial, and reputational fallout. However, quite a few are gaining a competitive advantage by utilizing AI for service operations, sales or marketing processes, and risk analysis.
While AI for fintech is just starting to show its gigantic potentiality and capabilities, it has only just scratched the surface.
It has successfully brought back a personal connection between the company and customers, even while serving a large consumer base. AI fintech companies have been able to deliver maximum results and gain a higher level of customer satisfaction.
There are many more benefits of AI in fintech market, however, we shall understand in what ways it has been adopted and how it is fairing so far.
Let's study the potential uses of AI in fintech, its impact on the banking industry, and how your company can benefit from it.
Adoption of AI in Fintech and its Advantages
Artificial intelligence and fintech have ushered in a new era and with the pandemic changing everything, companies are rushing to adopt AI at a greater pace. This is what artificial intelligence and its impact look like.
Accuracy in decision-making: Machines over human experts
Yes, AI in Fintech is responsible for constructing better decisions that come from machines rather than humans.
The leaders and agents ask relevant questions to the machine. With all the information the machine has, it analyzes them and comes up with the best possible answers and solutions.

The decisions made are data-driven which makes the entire process more cost-efficient. The recommended results by AI are not only extremely efficient based on all the important data but also highly accurate.
Customers' need for constant support: Hello Chatbots!
You must have come across several customers needing support at odd hours, irrespective of your service operation timings. The requirement required companies to shell out a lot of money to ensure customers get 24*7 support.
This has completely changed with the advent of chatbots and their human-like experience. AI is playing a huge role in both internal and external communications offering expert-level advice at a lower cost.

The financial sector is utilizing AI Chatbots or AI-enabled voice systems as a self-service tool for customers. It can help the latter resolve any issue or gather any kind of information at any given hour.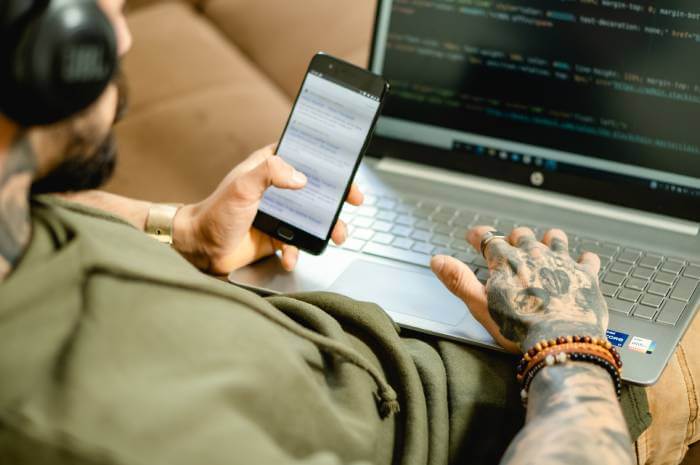 Hello Chatbots! A person holding a smartphone by Olha Ruskykh
Detecting fraudulent attempts: Tracking behavioral patterns
Fintech deep learning capabilities with AI tools have been transformative in a massive way. The evidence collected and analyzed through the analytics tool is used by AI in fintech to understand and monitor the behavioral patterns of every user.
This helps in identifying any kind of fraudulent attempts and incidences. The algorithms in AI assist in detecting the patterns to identify the fraudulent claims in the system.
Machine learning in fintech is used in the various stages of the claim handling mechanism. Artificial intelligence manages a large amount of data and helps insurers to automate this system.
AI is also responsible for minimizing the processing time and the handling costs which in turn augments the overall customer experience.
Artificial Intelligence has a self-learning capacity that, over time, familiarizes itself with fresh undiscovered instances and cases furthering the augmentation of the detection process.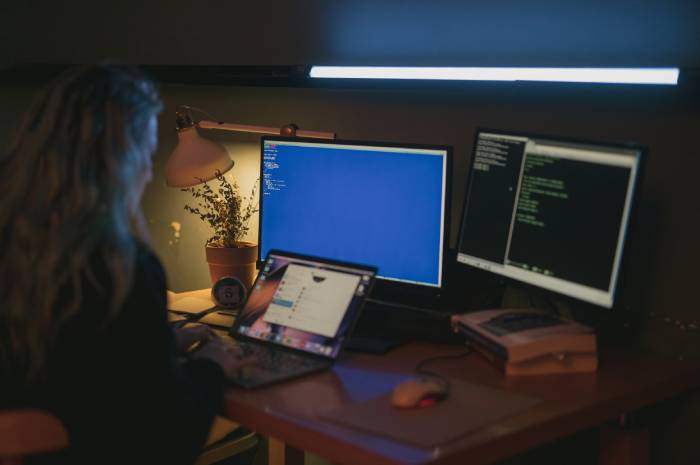 A person using a computer and phone by cottonbro
Robo-advisors: Offering virtual financial assistance
Everyone wants to make the best financial decisions possible. This is where Robo-advisors play a significant role in financial planning and assistance.
AI in fintech is reliable for monitoring stock price, finance-oriented events, bond price patterns, and trends based on the user's portfolio and specific financial goals.

The digital advisors then make recommendations on which bond or stock should be bought and sold to make it the most profitable investment.

It offers them enough freedom to make significant development decisions based on their learnings.

Lean software development aids in building a collaborative environment, keeping the members motivated, and eliminating micromanagement.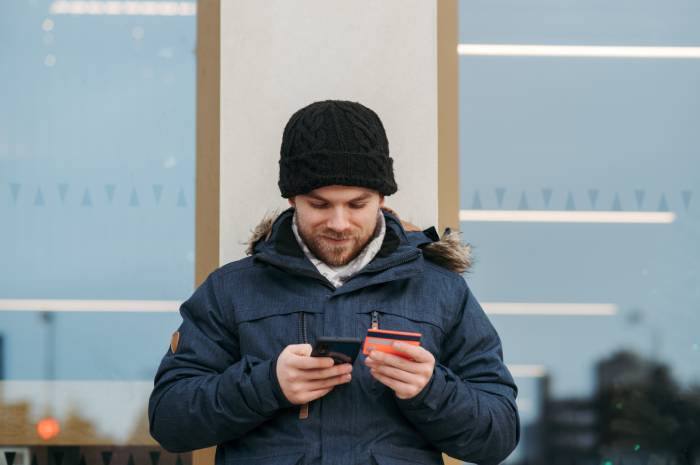 A person entering details on a smartphone by Anete Lusina
Predictive analysis: Boosting the overall business
If you've heard of how machine learning has proved to boost predictive analytics, then you already know some of its impacts.
Financial institutions have witnessed a massive change in their sales revenue generation, growth, use of resources, and their whole business strategy.
The analytical tools are put to work in harmonization with the establishments that cater to different industry verticals. This helps in gathering and producing effective data and unique, perspective, and consequentially actionable insights.

Predictive analysis is known to deliver an accurate calculation of credit scores that helps in the prevention of bad loans.

This is what you'll gain insights on through this analytics system: what all products and services are your customers likely to purchase, how often will the customer default on the payment, how long will your employees stay in the company, etc.

Predictive analytics can prove to be revolutionary by boosting your business operations, streamlining internal processes, and outdoing competitors.
Yes, AI in fintech promises significant potential benefits by ensuring it delivers an enhanced customer experience at minimal costs.
The fusion of AI and other technologies is helping companies not only gain a competitive advantage but allowing them to reinvent themselves by eradicating the traditional limitations.
Irrespective of the large consumer base or heaps of company data, artificial intelligence can help in making you one of the major financial players.
Conclusion
Without a doubt, this revolutionary technology offers a grandeur promise for a fantastic fintech future. There are several financial institutions and even other businesses that are leaning toward artificial intelligence and winning this race to reach the top.
It is making the accomplishment of their business goals and objectives uncomplicated and easy. If you want a more thorough comprehension of how AI in fintech can help your business, then connect with our experts.
To fuse AI in your fintech business effectively, you need to work closely with a qualified app development company. to develop your own fintech app or fintech software for internal or external purposes.
BluEnt has an efficient team of developers, coders, and designers. We can help you to understand the newer concepts of AI, analyze them, and help you develop and market your product.
Are you excited to grow your business with AI technology and our app development services? Contact us now!
Feel free to browse through our case studies or touch base with our team to learn more about our services and how AI can transform your Fintech startup and business.