The integration of enterprise business intelligence benefits organizations in countless ways. According to Mordor Intelligence, in 2020, the business intelligence domain was estimated to be valued at around $20.516 billion.
This is a massive number and signifies the impact of business intelligence (BI). It is predicted that between 2021 and 2026 this marker will escalate to $40.50 billion, evolving at a 12% CAGR.
Business Intelligence can facilitate growth in significant ways. We will help you understand what the purpose of enterprise business intelligence is and if it is the right approach for your unique needs.
What Is Business Intelligence?
Enterprise business intelligence is a data-driven business solution that consists of applications, technologies, practices and tools. BI software assists in gathering, consolidating, analyzing and presenting the organization's raw data to create actionable insights.
Enterprise intelligence platforms have played a crucial role during the pandemic. As per Datanyze, there are 236,320 global companies in the business intelligence industry and around 273 organizations developing business intelligence tools.
Enterprise business intelligence tools have helped organizations to become resilient to the devastating impacts of Covid-19.

The project management and data sharing solutions simplify the team coordination process. This enables organizations to facilitate teamwork and productivity even during work-from-home.
If you are struggling to make your day-to-day business decisions or gain valuable insights into future profits, BI can be an asset. Business intelligence software can steer both strategic groundwork and operational decision-making in your organization.
Let's look at how efficiently your company can operate and grow with enterprise business intelligence.
The BI System: A Holistic Approach
Enterprise analytical tools are being adopted by organizations around the globe to drive better performance and gain a competitive streak.
Yes, enterprise business intelligence tools can help your company to run efficiently, generating a high profit and revenue. Here are a few ways in which it can impact your business health.
An unbeatable analytical process
Business Intelligence tools come with advanced statistics and analytics capabilities. There are a few strategic decisions that your team needs to make within minutes.
Having access to granular details can be monumental as decisions made can be more data-driven and strategic.
These analytical tools simplify analyzing of data by making it an intuitive process. This enables non-tech-savvy team members to work with data without learning the code.

The dynamic BI reporting mechanism empowers everyone to analyze the data and develop personalized reports

Overall, business intelligence facilitates the establishment of business objectives and targets.

The processing, scrutinization and evaluation of heavy-duty data gathered from multiple resources help in taking rapid and coherent decisions.
Did you know that PepsiCo used Tableau and Trifacta to reduce data analysis time by 90%?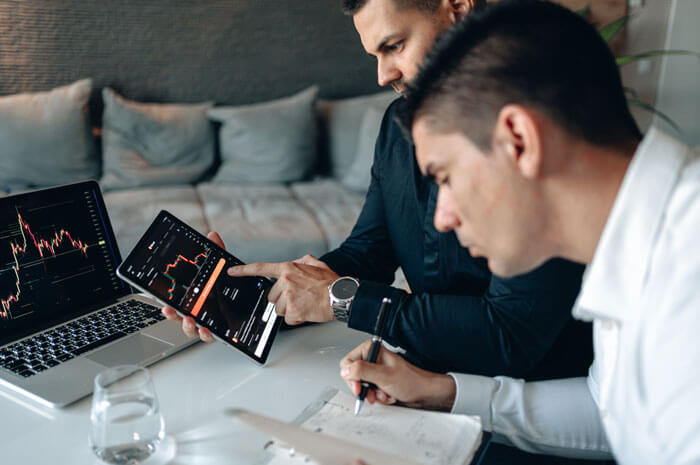 Employees sitting around and discussing data by Kampus Production
Boosts customer experience and business operations
What do customers look for from a company? An exceptional experience, isn't it? Offering a delightful experience to your clients requires efforts to keep improving the service.
Enterprise business intelligence delivers valuable data insights that can allow your company to find loopholes in your processes and take actionable measures.

If a vast number of clients aren't purchasing after adding your products to the cart, the team can figure out the reason through the enterprise analytics tool and act on it.

BI tools can massively influence customer satisfaction by continuously recognizing opportunities to enhance customer service.

Keeping track of customers is effortless and impactful with BI systems such as CRM software (Customer Relationship Management).

It can help you to track and maintain your loyal clients, discover newer customers, and offer exceptional customer service.

The BI system can also help in reducing the number of customer support calls and empower members to focus on more strategic goals and planning.
Augments internal processes
When valuable data is available to your entire organization, it can transform the way your team functions. Centralization of data and automation of processes through enterprise business intelligence can amplify productivity and efficiency.
Team members don't need to depend on others for procuring data or insightful reports. They can access data and conduct analysis whenever they want.

Reduction of time on manually analyzing data and holding endless meetings to make key decisions leaves room for innovation and improvement. They can use the time to take creatively strategic actions and keep the business profitable.

The team can use data to work on innovative strategies, newer products and programs that can drive growth and profits.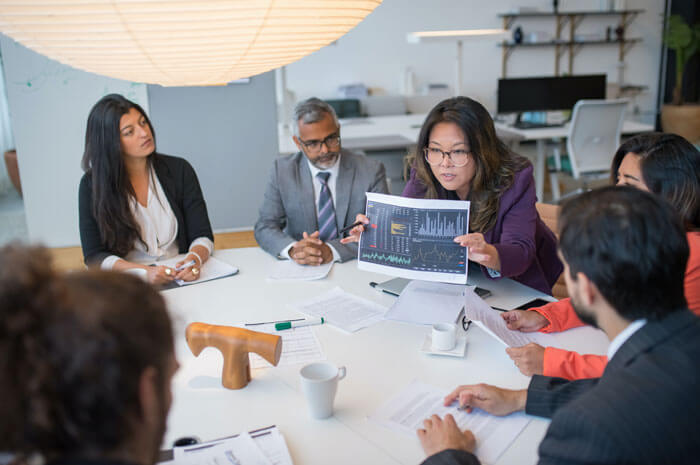 Employees sitting and discussing notes by AlphaTradeZone
Gaining competitive edge
Today a lot of businesses have access to ways in which they can stand out and keep ahead of the competition. However, accessibility alone doesn't provide the surety of top-notch success rates.
Enterprise business intelligence empowers organizations with tools that make it easier to stay ahead.
The ability to identify and incorporate the key market trends helps businesses to understand the evolving needs of their customers, study seasonal changes and keep pace with them.

Organizations can explore what the competitors are up to enabling them to curate their business goals accordingly and make informed decisions.

As your company evolves, spotting problems along the way and addressing them immediately can help to scale fluidly.
Business Intelligence tools can benefit your company in several ways. If you are looking to improve business performance, make your operations more productive, generate higher revenue, deliver effective marketing and gain competitive advantages over industry rivals – this solution is for you!
Conclusion
There was a time when companies were mostly dependent on their gut feeling or knowledge accumulated over the years through experience to make key decisions. Enterprise business intelligence has transformed the way businesses strategize, operate and perform.
Organizations are putting immense trust in enterprise intelligence platforms to unravel efficient actionable insights and address the constantly evolving consumer needs.
Before hiring a bi developer and to understand more about how the combination of data analysis, visualization capacity and reporting dynamics can be a valuable asset to your organization, connect with our experts.
You can even browse through our portfolio to know more about our software development services, data analytics services and data insights solutions.
The BI tools available in the market can reduce the requirement for manual consolidation, enhance productivity and gather powerful insights. Our team can help your organization fully leverage any business intelligence platform that you choose.
Are you ready to employ a business intelligence solution? Contact us now!
Maximum Value. Achieved.