If you took a stab at when the term "business intelligence" was first used, you might not guess that it was in 1865.
Richard Millar Devens presented the term in the Cyclopædia of Commercial and Business Anecdotes. The context was this: A banker, Sir Henry Furnese, had gathered and made use of information about his environment before his competitors got around to it.
The core of the idea has remained the same. Today, business intelligence, or BI, refers to a set of technologies and processes that convert data to actionable insights.
The findings are presented in charts, graphs, reports, dashboards, and summaries.
These help businesses make better decisions and gain an edge over their competition.
BI can also refer specifically to business intelligence tools, which provide easier access to such insights based on available data. They help make businesses more self-sufficient. Benefits include creating KPIs, identifying business problems, visualizing data, and setting benchmarks for processes.
Furthermore, they can be used by small and medium enterprises – big players aren't the only ones with access to analytics. In 1968, only people with specialized skills could think of dabbling in anything as complicated as translating data. Fast-forward to today, and you have business intelligence tools at the ready whether you're a funded startup or fortune company.
Here are the highlights of three popular BI tools to help you decide which one works for your business.
Let's jump in. Power BI, Tableau or Quicksight?
Power BI
A lot of people automatically reach for this platform because it's Microsoft. Which is fine. Here's why it might be right for them.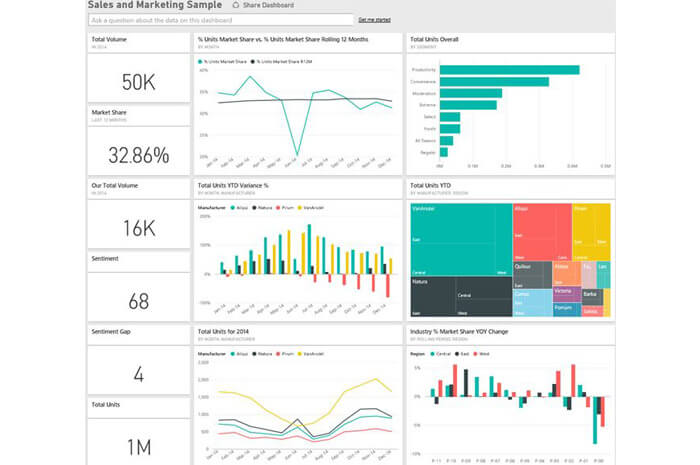 Power BI's core functions are dashboard creation and visualization, and it's a good business intelligence platform to start with. Its ease of use gets it major points. It's not meant so much for data analysts as for general users.
Intuitive features combined with drag and drop are used to create visualizations. It's also convenient to integrate if you already use Microsoft's products.
It also gains an edge with its natural language query tool. You can ask questions such as "How much did we sell last week?" or "Which country do our highest paying customers live in?" and get your answer.
Additionally, it boasts a focus mode. This permits a user to zoom into and interact with any visualization that they want to get a closer look at. Subsequently, insights are more in-depth.
Power BI has capacity for a data volume of 10 GB, which can be upgraded to 100 TB via a Premium account.
Go for this if: You are a small business with limited resources, or if you need data analytics but don't want to get a degree in the subject.
Price: You have two options:
Power BI Pro ($9.99 per month, and you can try it for free). Main features include ad-hoc analysis, sharing, collaboration and publishing.

Power BI Premium ($4,995). Main features include big data analytics, enterprise business intelligence, and cloud and on-premises reporting.
Tableau
In terms of capability and speed, Tableau is a great choice.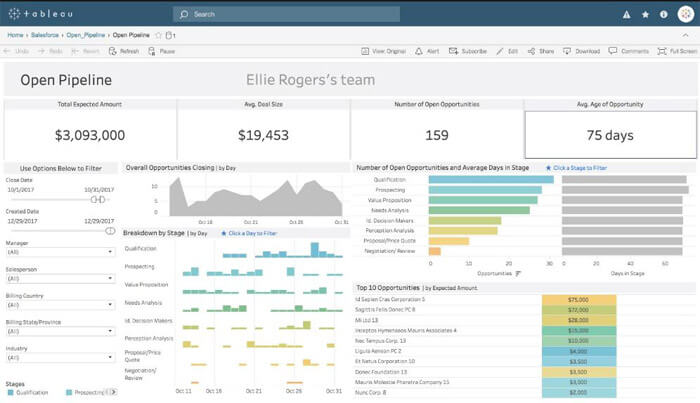 It sets no limits for data points, thus enabling people to make dashboards of any size. (Comparatively, Power BI has a capacity for only 3,500 data points.) It's also better at handling big data sets. Similarly, Tableau doesn't have a limit for data volume.
Another thing that makes Tableau a cut above the rest is its "What if" feature. One of the most common tasks in data analytics is trying to determine a potential outcome. Tableau lets you ask, "What if I made this decision and not that?" and so on.
If Tableau has one thing that's off-putting, it's the fact that it's not very intuitive. It's not terribly difficult, however, if you're willing to do some studying or are already familiar with the data sets.
Go for this if: You are an enterprise or medium-size company with data analysts.
Price: Tableau has various packages and an option on its website to ask about how much you'll be paying. It is not unreasonable, though it is on the more expensive side.
You can get a free version, but its capacities are limited.
Amazon Quicksight
Amazon's Quicksight presents itself as a tool that is easy to use, like Power BI. It's lightweight, serverless and integrates into other AWS services.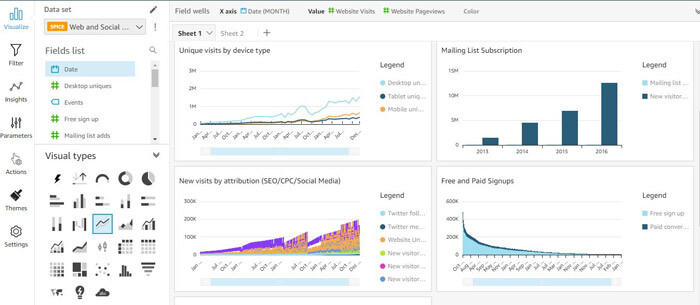 It allows users to source data from both cloud data and on-premise sources, and requires no prior setup, which means activation is easy and quick. One of its best elements is visualization recommendations.
As with any tool, it's not all rosy. While Quicksight has good visualizations, its options for picking charts and graphs are limited. It is also a relatively new player, and there have been issues reported about security, database reporting, and functionality.
Go for this if: You have a limited budget, or you have a lot of customers but few employees.
Price: It is more cost-efficient than Power BI or Tableau, since it charges based on usage. That is, it has a pay-per-session model, going from $5 per user per month to $250 per month for 500 sessions each.
Conclusion
Each tool's usefulness depends on the needs and capacities of your set-up. And it's always a great idea to roll up your sleeves and dive into researching a tool's website before taking out your wallet.
We can save you the trouble, though. Choosing the right business intelligence platform for your organization isn't an easy task. BluEnt will simplify the process for you.
We serve fortune companies, energy companies, funded startups, homebuilders and mid-size consulting firms. Contact us today to know more about BI or hire us for big data analytics and insights!
You can also always be up to date on the best practices for your business by subscribing to our newsletter.
Maximum Value. Achieved.