How the Fastest-Growing Web Apps of 2016 Won Customers Over
The results are in for which web apps skyrocketed in 2016. Will 2017 be able to top them?
Toronto, ON – January 9th 2016: Now that 2017 has arrived, the IT industry has a chance to look back at 2016 as a whole to gain insights on what worked and what didn't the past 12 months. Zapier's latest report, Web Apps That Ruled the Workplace in 2016, provides key findings on the fastest-growing new and established apps from last year. Here are BluEnt's key takeaways from the report on what app developers need to know moving forward in 2017.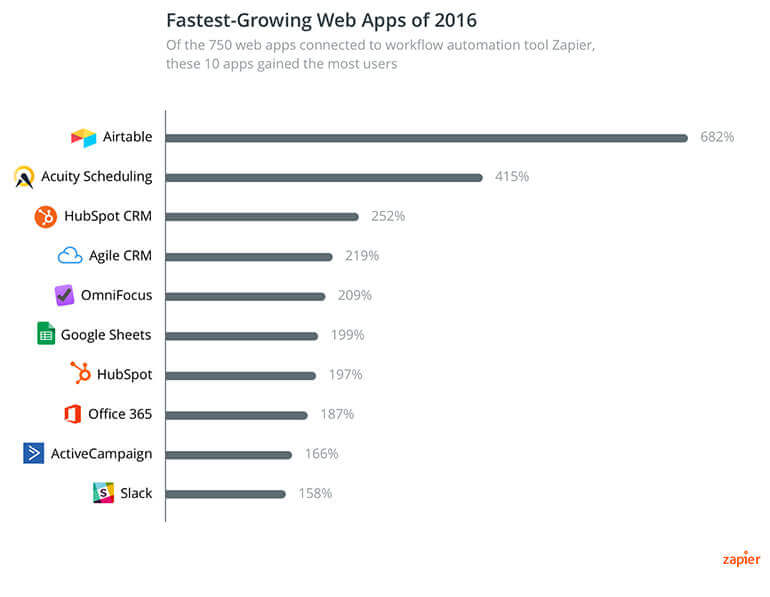 Slack, Google Sheets and Office 365 each managed to impressive user growth despite their already large user bases. HubSpot also made the list with two apps: their 2-year-old CRM app and marquee marketing automation tool.
As for new apps, the leading application was Facebook Lead Ads, which lets businesses send out a form to interested users so they can directly send marketing messages to their contact information rather than their newsfeed. Like HubSpot, Facebook had a second app make the cut through Chatfuel for Facebook.
New names on the list of the top 10 fastest-growing new apps included Calendly, MeisterTask, ClickFunnels, Kajabi, and Convertkit. Well-known web apps Google Forms, Excel, and Basecamp were also featured through releases of new versions or APIs (technology that keeps data synced between different apps and automates repetitive tasks).
Now that we know which web apps topped the charts, let's take a look at what made them so popular in 2016.
Modernizing & Simplifying the Workplace
One trend Zapier identified was apps concerned with modernizing and simplifying workflows. Web applications like Airtable and Excel make it easy for employees to organize their data through spreadsheets and databases and run reports. The latest additions have streamlined the process of finding, syncing and sharing information more quickly. As a result, AirTable took the lead of established apps with an astonishing 682% growth.
Not far behind was Acuity Scheduling, a tool focused on booking appointments as efficiently as possible, which has had a profound impact on employee workflow and resulted in 415% of user growth.
The Cloud Computing Takeover
Another trend in the fastest-growing web apps was traditional desktop software giving way for cloud computing. Office 365 has embedded collaboration in its functionality, allowing users to share emails, calendars, and all other core apps to an entire team in seconds. The user-friendliness of their design is the backbone of its 187% growth.
In a similar fashion, Google Sheets (199%) enables companies to move spreadsheets to the cloud and OmniFocus (209%) allows team tasks added to the app to be tracked through personal to-do lists.
Automation throughout the Marketing Funnel
Modern CRM apps and ad-tracking tools are extremely powerful. The latest features can give you stats on who has viewed your site, which ads they saw, who to contact and what their contact information is with the press of a button.
All the marketing apps presented in Zapier's report like ConvertKit, ClickFunnels, Kajabi and Facebook Leads have to do with automating aspects of different stages in the marketing funnel. For example, Agile CRM helps to reach out to customers, ActiveCampaign restructures email campaign workflows, and HubsSpot's CRM helps you track all of your marketing strategies' performance. These apps enjoyed a user growth of 219%, 166%, and 197% respectively over the past year.
BluEnt's Response
BluEnt's IT services are aligned with Zapier's findings going forward into 2017. We specialize in custom application development that enhances enterprise productivity and efficiency. This includes tools that automate general workflows such as enterprise timesheet management systems and Outlook plug-ins, but it also extends to marketing software.
From customer relationship management apps to automated software for newsletters and campaigns, we create solutions that enable your marketing department to make the most of their time effectively.
We also provide cost-effective cloud solutions that focus on enabling small to medium organizations accelerate business operations and maximize net profit by controlling administrative, operational and IT infrastructure costs throughout the organization. BluEnt's team of developers has years of professional experience overseeing existing IT environments, analyzing the cost of integration with current processes and systems, and offering support in the cloud environment to bring technological innovation into the workplace.
About Us
Formed in 2003, BluEnt specializes in proving custom websites, mobile apps, e-commerce, and internet marketing services for companies running an online dependent business or looking to develop tools to efficiently automate and monitor active processes in their organization. With 11 growing offices situated around the world, BluEnt is respected globally for its consistent quality of services and timely delivery of projects. We use our experience across industries and software applications to help enterprises derive maximum value out of their resources and investments.