Web-based applications have become indispensable for several businesses. In some cases, they have gained more prominence than companies' official websites by delivering substantial growth in market share.
Today, many businesses aim to grow globally, and web appshelp make this possible with their remarkable features. If you don't have a web-based application yet, let's explore how it can be instrumental for your business.
What is a Web-Based Application?
A web-based application, also known as a web app, is a kind of software that allows users to connect with a remote server. This is achieved through a web browser interface and doesn't require the installation of additional software.
To build a web application, developers rely on templates instead of the software development kits used for mobile apps. The development process is not as time-consuming or costly, making the development of web apps a lucrative deal for all businesses.
Web-based software has largely replaced desktop applications in recent years for numerous reasons. It has impacted both small and large businesses around the globe by enabling them to meet industry standards.
The advantages are many, from portability to cross-platform compatibility to severely low maintenance costs.
Let's discover how your business could benefit from a web-based application and why you should embrace it.
Benefits of Web Apps for Business
1.

Compatibility Across Multiple Platforms

Did you know that mobile apps can be cumbersome for developers and users in comparison to web-based apps? Here's why.
For the same application, developers need to write multiple versions for the different operating systems.

Users need to install this software to access any data. Without it, the app isn't accessible.
However, web-based apps can make life a lot easier for your customers by making the software accessible on any device with an internet connection. The user's only other requirement is to have a web browser, and of course, there are a plethora of browsers that can be used.
Google Chrome, Opera, Firefox, Safari and many others are good web browsers. Irrespective of whether your customers are using Windows, Linux or Mac OS, they can still use your web-based application.

Web apps, in general, consume fewer bytes when people use them to browse or load any information.
This means your business can have a larger consumer reach, as it is likely to attract more customers who are unable to use a mobile app.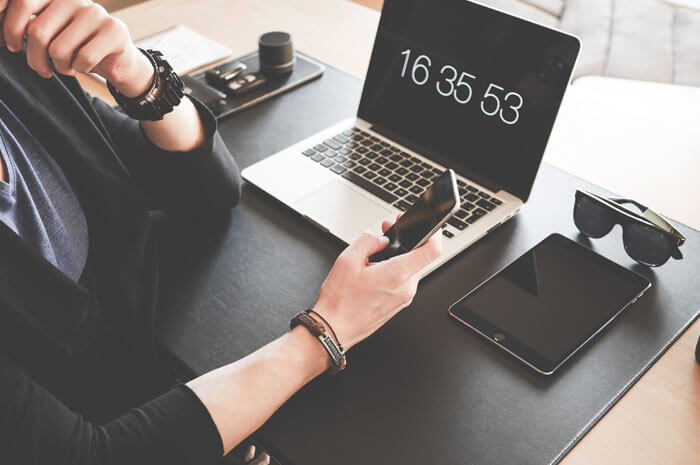 Woman using a smartphone while fronting a MacBook by Picjumbo
2.

Amplifies Global Presence and Consumer Engagement

The global internet penetration rate sits at 59%. Northern Europe ranks at number 1, with a whopping 95% penetration rate. Other countries with high internet penetration rates include Denmark, South Korea and the UAE.

This means that, through a web-based application, your business can acquire global visibility. This incredible feature of adapting to any device with an internet connection makes your app available to billions of users, making it highly scalable.

Note that updating your information regularly to interact with the global market is essential. It is easy to tweak or update information on web apps as, unlike mobile apps, they don't incorporate multiple versions.

Frequently updated sites help in offering a seamless experience to your global users, promoting a higher level of consumer engagement.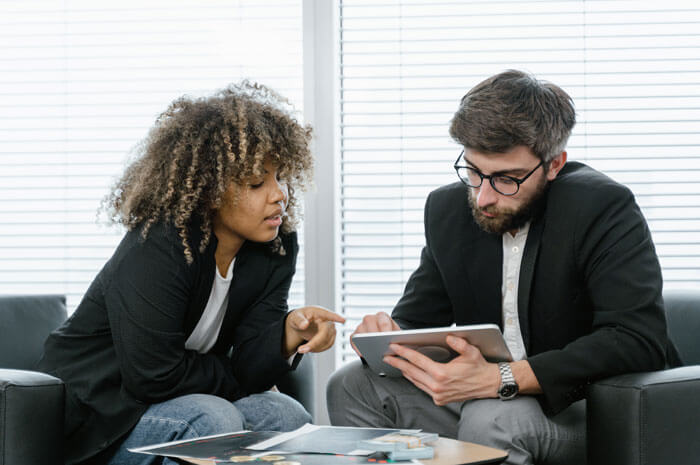 Man holding a white tablet by Tima Miroshnichenko
3.

Web Applications Deliver Higher Security Standards

We live in a digital era where users worry about their personal data being misused. Even businesses are on edge to prevent information leaks.

A web-based system offers that additional layer of privacy and is more secure than mobile or desktop applications.
The use of dedicated servers and regular monitoring of these servers help in preventing errors or leaks.

Web-based applications enable the consolidation of complex systems carrying heavy data, diminishing the requirement for separate systems. This aids in eliminating access to data and back-end servers, thus offering a higher level of security.

The constant monitoring of web apps by professional web administrators or IT professionals allows for immediate resolutions to any intrusions, leaks or errors.

In a web-based application, sensitive corporate data is held in a secure central location rather than local client PCs, making it more secure.

Web-based software allows employees to access data even when they are away from the office.

Sharing data and collaborating on projects is smoother, since data is stored in a central location.
4.

Powerful for Accessing and Storing any Data

Imagine all your data floating around in multiple databases. While it doesn't pose a massive problem, it can still have an adverse impact on your business. Here are a couple of problems with mobile apps:
The performance can become slow, leaving your users frustrated and unlikely to return.

With multiple devices and different operating systems accessing your data sets, it can lead to corruption and severe errors.
This is not an issue when it comes to web-based applications. In web apps, your data will be secured in a powerful server that helps in the effective management of information. It shall also promote the quick distribution of data when requested by your users.
Don't forget that servers are more reliable and reduce the chances of all your information being lost in case of a hard disk failure.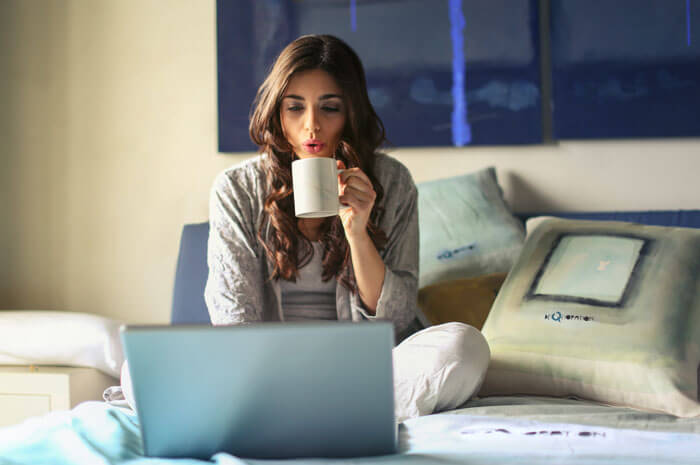 Woman sitting on bed using grey laptop by Andrea Piacquadio
5.

Web-Based Software is More Affordable and Manageable

Web applications require reduced support and maintenance. This not only drastically lower the costs but also makes the updating and maintenance a lot simpler.
A web-based application is used across multiple device types. While it is tested on different browsers, the elimination of testing it on different operating systems makes the development process a lot simpler. It also reduces development costs.

It is quicker to build in comparison to mobile or desktop applications.

Web apps consume minimal space to store data. Frequent updates rolled don't require human intervention. This makes the maintenance of web-based applications simple.

Since a host server is used to run web applications, the software upgrades are done centrally. Users are simultaneously on the same version of the web-based software.
Conclusion
Web-based applications are valuable tools that are steadily becoming more popular than mobile and desktop applications. They have a promising future by offering a competitive advantage over the more costly traditional software-based systems.
Web-based app development involves organized planning and meticulous execution. If you are looking to build a top-notch web application, BluEnt's web application development expertise is for you.
Ready to boost your business with web-based app development services? Contact us now!
Maximum Value. Achieved.