Businesses, large and small, are embracing the mobile-first strategy to drive growth and success. There are countless applications today, and according to Statista, app downloads were expected to increase to 310 billion by 2021. That is indeed a large number and supports the fact that people spend 90% of their mobile time on apps.
There are three types of mobile applications in the market today: hybrid app, web app, and native app. Our focus is to help you understand the advantages and limitations of hybrid app development and if it's the right approach for your business.
What Is Hybrid App Development?
Hybrid App Development is a mobile application that is developed by blending features of both web apps and native apps. It is built on CSS, HTML 5 and JavaScript and is highly compatible with multiple operating systems including iOS and Android.
Hybrid apps are most apt for cross-platform requirements and it offers an impactful cost-effective solution for businesses.

The Hybrid app development framework facilitates a high-quality user experience via its non-compromising performance, interface & functionality.

Gmail, Instagram, Uber, and Twitter are a few examples of companies that deliver exceptional user experience through their apps.
However, hybrid apps come with both advantages and limitations. Yes, it may be the best option for some businesses but not all businesses. To understand whether it's the right fit for you, you need to learn about the pros and cons of a hybrid mobile app.
Before we dive into an in-depth assessment of hybrid mobile app development, let's quickly understand the basic difference between the 3 types of mobile applications.
Native App Vs. Web App Vs. Hybrid App
This mobile application is developed to perform on specific platforms. It can be downloaded on App Store or Play Store.

A couple of popular native apps include WhatsApp and Facebook.
Web App
A web browser is used to run this software app. It is built through powerful programming languages that include Python, C++, Java, JavaScript.

A couple of popular web apps include Google and Microsoft 365.
Hybrid App
As already covered, a hybrid app is a combination of both native and web apps. This app runs as a mobile app and on web browsers.

Most of the retail apps are hybrid apps to make the user experience a lot more seamless and enjoyable. According to research, In the US, 74% of iOS retail apps are hybrid apps including global players like Walmart, Nike, Etsy and Amazon.
Is Hybrid App Development Right For Your Business?
There are a plethora of parameters that you need to consider before choosing the mobile application for your business. To begin with, you need to evaluate your business objectives and other technical needs.
It is imperative to know that your decision will have a massive impact on the cost, development time and lifecycle of the app.

Start with defining the purpose of the app and who will be the target audience.

Budget, level of urgency and the nature of processing are also important to consider.
Let's deep dive into the pros and limitations of hybrid app Development to throw more clarity on whether hybrid app is the way forward.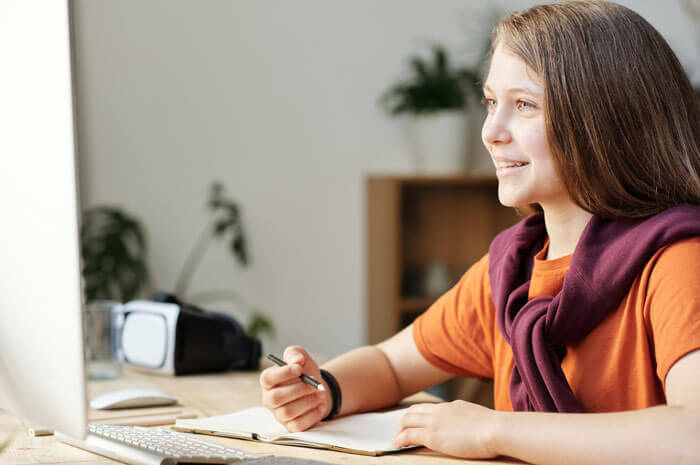 A girl working and have a discussion by Julia M Cameron
Advantages and Limitations of Hybrid Apps
There are a few major benefits that can prove to be a game-changer for you.
Cost-Effective and Saves Time
In a Hybrid app, you don't need to create different versions for multiple platforms.
This helps in saving time and the cost of production is lower in comparison to developing a native app.

The hybrid app development process is quite uncomplicated as the hybrid developers do not need to sustain varied codebases for different platforms

Since it's not platform-specific, Hybrid apps do not need to be tested or certified before launching it
With the code being written once, the development time and costs are low. Native apps require several code duplications, making it a longer process. Integrating a hybrid app with third-party libraries is also a lot simpler.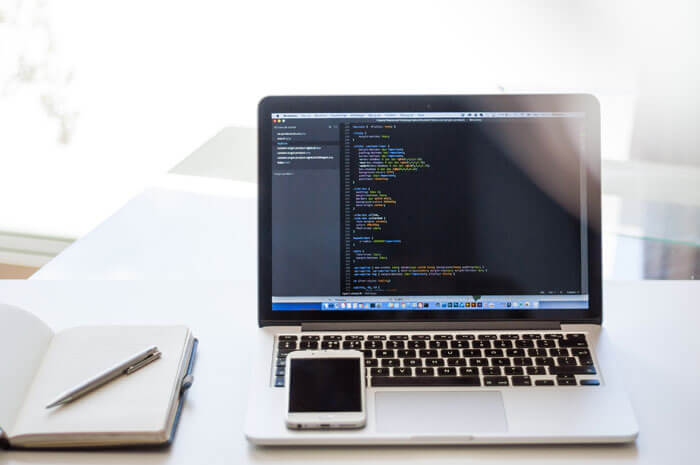 Macbook, phone and a notebook by Negative Space
High-Speed Capacity
Hybrid mobile application surpasses mobile apps and websites in terms of speed. Irrespective of the operating system and content, they work well. Twitter has a hybrid app that relentlessly manages gigantic traffic volumes with high speed.
Engaging UI/UX design
Hybrid apps not only look appealing but also offer a predictable experience to the users.
It facilitates an efficient and fast download of designs and other elements.

The transformation succession to other screens is way quicker. This results in a swifter display and effortless content streaming
Enhancing Accessibility and Usability
Not everyone has access to the internet and even when the internet is easily available, a few do encounter connectivity issues. This is where Hybrid app development plays a crucial role.
Even when the connection is spotty or lost, it offers offline support allowing users to access a few elements of the app.

It updates the data immediately after the user is back online.
Apps that require real-time data usage cannot function at all without online connectivity. Hybrid mobile apps, while allowing effortless access to some components without the internet.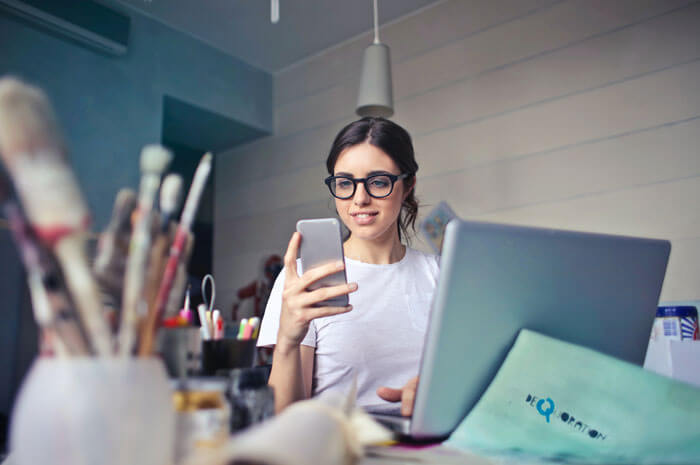 A woman holding a smartphone by Andrea Piacquadio
Low Maintenance Cost
It is a lot smoother and quicker to introduce innovative features or upgrade the app in this mobile application. Hybrid apps, having a single code base, make it easier for the hybrid developers to upgrade or make changes to the app. It is as easy as editing the content on the website.
Hybrid App Limitations
While there are great advantages, there are a few limitations that you need to take into consideration before choosing this kind of mobile application.
Yes, hybrid apps offer great speed for certain types of businesses. It has, however, acquired a negative record for slow performance. This occurs due to the gap between the source code and operating systems. However, if the app is simple, this difference in performance is hardly visible.
If you are looking at integrating complex features and functionality, a Hybrid app might not be the right fit at all.
Adding support to new features released by Apple or Google can also be quite time-consuming. It's quicker on native applications as they are given SDKs instead of cross-platform frameworks.
So, if your app mostly offers a variety of content without the inclusion of complicated animations or graphs, hybrid mobile app development will help you grow your business exponentially!
Conclusion
Before approaching a hybrid mobile app development company, choosing the right framework is significant. So, which mobile application is the right choice for your business? If you are looking for a smoother development approach that is cost-effective, hybrid apps might be the right fit.
Mobile app development involves thorough research, structured planning and meticulous execution. An in-depth understanding of what the app truly needs and effective implementation of mobile application development can prove to be a boon for your business.
Excited to grow your business with hybrid application development? Contact us now! Feel free to touch base with our experts to learn more about which application will be best for you. We are always happy to help.
Maximum Value. Achieved.