Smart strategies for growing your app business with ads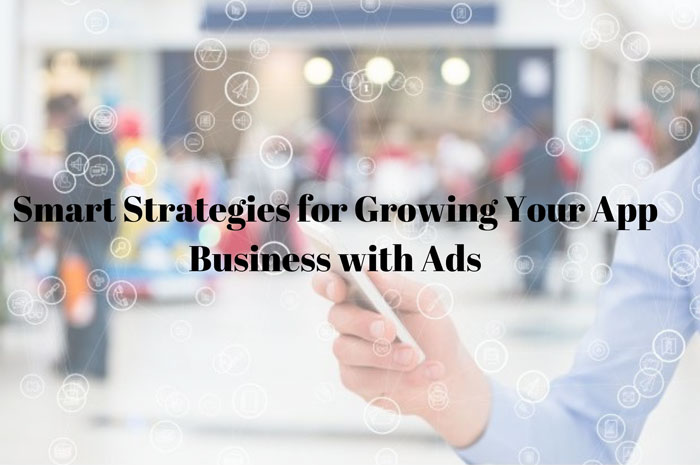 At present mobile applications have delighted a number of people by offering everything on their phone with a simple touch. Mobile applications have become an integral part of our day to day lives. The number of people using them regularly and frequently is increasing day by day. This is the reason for which it is preferred to promote your app as best as you can.
Every business platform needs to consider their app revenue if they are in an ultimate need to increase the profit margins for their business. These mobile applications can be used to a larger extent to provide scalability to business platforms. In this article, you will learn the mandatory strategies on how to promote your app with ads. User acquisition begins initially with reaching to the people and improves their engagement with your application. Next five minutes, you will be exploring the smart strategies for increasing the popularity of your application and augmenting the curiosity among the prospective users. So, let's take a look:
Find the authentic audience
For the mobile app developers, it is very important to acquire a specific group of users or audience. Initially, you have to reach out to the people you find are highly engaged with the application. The extent of their engagement with your application will help you generate a larger amount of revenues. By prioritizing the essential goals in advance you can include the rest of the expectations in alliance with the cost of installation.
Prefer user-friendly ads
Always make sure that the advertisement format which you have chosen is attractive and significant. For example, you can consider below-mentioned types-
Rewarded ads - It is almost a winning situation for you if users of your application are valuing your initiatives considering the adventures bounded by your application. You have to take care of the brands representing their products and revenues.
Interactive ads - In this case, it is presented as a source of entertainment or game where the viewer does not actually understand its actual impression. It also prevents you from the image of selling something and they can playfully spend their time over the app. Eventually, this will help them complete the entire purchases.
Native ads - It includes the advertisements which can easily complement the form of your application. This will also enable you the secure chances to enhance the consumer engagement and interest for your services. Mobile app development companies prefer this one indispensable.
Never miss retaining the attention
If you have to reach the desired group of customers then bidding can be an amazing lever. Once you are done with it you have to grab their attention as finely as you can. With the help of relevant advertisements, you can utilize mobile app development for your platform. This is the most efficient way where you can generate major advertisements for your users or customers. It will also be a relevant step highly depicting your creativity. Consider the platforms-
YouTube - If you have at least one video and landscapes then you are qualified by default to promote your application in 2 new placements on YouTube. The first and second placements followed by it are YouTube home page feed and in-stream videos.
Ad groups - The number of Ad groups can be settled in similar campaigns and assets can be tailored easily. It is done in every ad group with a different theme.
Conduct the research over your targets
If you are keen to grow your business application with advertisements then it is very important to define your targets first. Your approach must not be done for everyone rather you have to be selective towards it. For instance, create a profile that suits any particular group of users or consumers and makes research over their interests. You can also define minute details over psychographics, lifestyle, demographics, nature, etc. If your target is clear then you don't have to waste unnecessary time over the mob.
Click Here
Give us a shout!
Start blogging
If your emphasis lies to promote your app for business development then you have to let the audience know about your process. With the help of blogging, you will be able to develop interest among users and it will also enhance your search visibility. All you have to do is collecting all the keywords, create magnificent content and at last linked them to the influences that can increase your search engine's ranking.
Monetize conveniently
In order to promote your app, it is essential to monetize the application. It is actually tough in this process to maintain balance and this is the reason why AdMob is preferred. The investment in the automotive solutions will enable you to earn increasingly from your application along with delivering better user experience. There are a number of other reasons for which AdMob is considered better to grow the business.
Image search - it is the latest search tool that helps to detect the ads following their size, rotation, and campaign. In context to the image search, it refers to the screenshot of the corresponding ad. Good or bad ads can be identified very easily with it.
Maximum ad - with the help of content rating irrelevant or inappropriate ads can be prevented for the display. It can also be done to keep young viewers aside.
User metrics - any changes to the volatile association strategies quickly influence the indicators engaged with it. It also helps to enhance the overall value of the users throughout the resources of the revenue as in ads, in-app purchase or commerce. Contact us to know more about Mobile Applications sales@bluent.net +1 832 476 8459 Request for Services
Final Thoughts:
Mobile app development companies are actively increasing their revenue with the help of strategies and techniques. This is eventually done by browsing through the number of solutions available and it also helps to focus over the required moves. For mobile app development, it is required to opt for the best practice but it is also essential to choose the perfect strategy matching your audience's requirements and ground-breaking strategists. BluEnt is a renowned company with a list of successful apps in its portfolio due to its potential team of IT. You can also give a chance to the preferences by analyzing all the calculated details and adopting the strategy.