Your business growth is heavily dependent on the analytical outputs drawn from data. Organizations use multiple data sources to facilitate the analytical process, and these sources include data warehouses, data lakes, and databases.
However, these sources do not make the analytical process interactive or comprehensible enough. This is where business intelligence solutions play a significant role.
Amazon QuickSight is a popular business intelligence tool offering a variety of dynamic features. In this blog, we will deep-dive into the advantages and disadvantages of QuickSight.
What is Amazon Quicksight?
Amazon QuickSight is a powerful cloud-scale business analytics service that promotes an immersive dashboard, magnificent visualizations and faultless machine learning insights.
It is an Amazon Web Service (AWS) platform that enables businesses to create data visualizations for people they collaborate with, no matter where they are. There are several success stories of how this serverless BI has helped businesses around the globe.
The major competitors of QuickSight are Tableau and Microsoft's Power BI.
QuickSight AWS claims to offer a quicker, easier-to-use business intelligence solution compared to its competitors in this market.

It is also deemed to be more cost-effective, with cheaper pricing per user.
QuickSight helps organizations be more in sync with their data, simplify interactions, and pin down business trends. This helps in addressing loop-holes and streamlining business operations.
It is serverless, which means it doesn't require an infrastructure to scale to many users.

This tool makes the creation of data and interactive dashboards a lot easier and is accessible on any device
Of course, there are many more advantages and a few drawbacks that you should consider when employing this business intelligence tool. Let's take a closer look at these pros and cons of Amazon QuickSight.
The Undeniable Advantages of Amazon Quicksight
Uncomplicated set up and ease of use
You can set AWS QuickSight more quickly than other business intelligence tools. It takes less than an hour to set it up. All your team needs to do is activate the SPICE Engine and amalgamate data.
Flexibility
One of the best features of AWS QuickSight is that it doesn't have a conventional cloud design.
The team is allowed to dabble with the gigantic data sets without immersing in the behind-the-scenes components.

The visualizations can be created through the dashboard within minutes of logging in.

The flexibility of Amazon QuickSight escalates with every use because of its cutting-edge technology and countless documentation processes.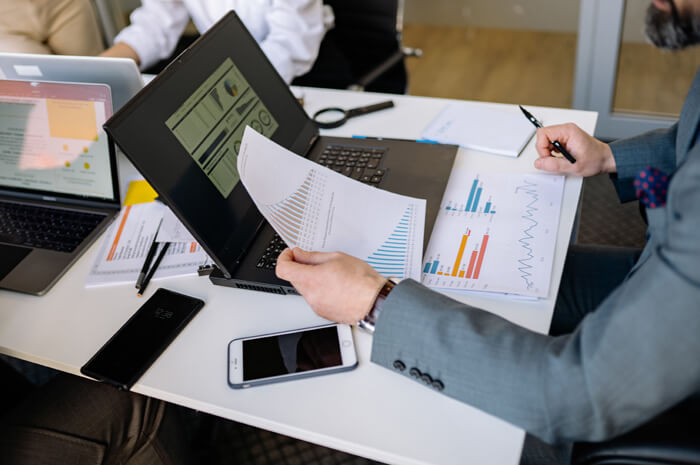 Business Charts on computer By Pixabay
High Data Source Compatibility
It is effortless to merge data with different data sources. The different data sources include Amazon Redshift, SQL servers, Amazon Aurora, Presto, Apache Spark, Amazon Athena, Amazon S3, local Excel files, and many more.
The data sources can also be accessed by importing or linking them. If the data can be accessed online, QuickSight AWS can be used.
Easily Accessible: Anytime, Anywhere
In short, Amazon QuickSight is portable, which makes it a useful tool for all business leaders.
The app can be installed on all devices, smartphones, tablets, desktops, or laptops.

It supports the current versions of web browsers, including Internet Explorer, Safari, Mozilla Firefox, and Chrome.

Amazon QuickSight offers on-the-go access to data via the app for both iOS and Android users. This makes it easier for businesses to have all-time access to dashboards, insights, stories and analysis.
Spectacular scalability
One of the most impressive benefits of using this business intelligence tool is how it can manage multiple business domains and at the same time, independently compute the business metrics.
If you have ten thousand users or need to sift through gigantic datasets, QuickSight is the tool for your organization. This means that all your users will be able to access and work on the datasets simultaneously without any hiccups or delays. The avant-garde data engine technology makes it possible for them to work with massive data sets.
Beautiful visualizations that are smart and interactive
Businesses find the quality and presentation of Amazon QuickSight to be quite impressive.
QuickSight can produce a plethora of suggestions through the built-in-visualization tool.

The "Autograph" is featured to be extremely unique with the set of algorithms used to understand and learn the business data.

Its ability to predict data analyses accurately based on the analytical patterns is uncompromising.

Autograph also suggests relevant graphics to ensure the team is choosing the finest visuals and analytics for the problem.

The SPICE calculation engine aids in replicating error-free processes and recovering the needed data more swiftly than usual.
Challenges Of Quicksight
Yes, QuickSight isn't without a few cons, and it's important to learn how these disadvantages can affect your business before opting for this tool.
Limited visualization options
While the built-in-visualization engine is brilliant, it does come with a few limitations. Businesses have found QuickSight to be challenging as some beneficial and necessary visualization types are not available.
This includes the options for charts and graphs such as Gantt charts, candlestick charts, high and low close charts.

The other business intelligence solutions excel at offering the provision to make group bys, custom fields and even plain tables.
However, Amazon QuickSight is still evolving and developing as a service. As it relentlessly continues to grow, we are bound to see new features being integrated.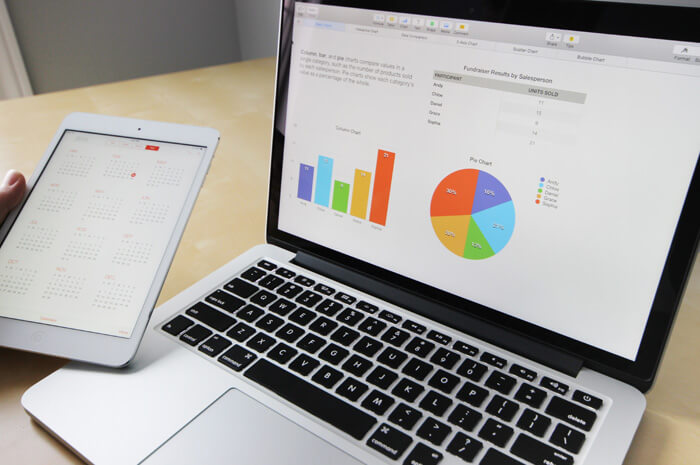 Person holding data papers by Yan Krukov
Refreshing SPICE data sets is yet to be automated
Currently, through the selected edition subscription of Amazon QuickSight, the dashboard can be automated to revive every hour. To build a real-time dashboard, the team will need to use the event-driven-based system to automate this process.
QuickSight AWS is still evolving
This business intelligence tool, while quite fascinating, is still developing and evolving and it might take some time to be at par with the other tools available in the market.
Nevertheless, the biggest benefits of it being the most cost-effective solution make it a favoured BI solution.
Conclusion
Amazon QuickSight is deemed to be a quality business intelligence platform and it has a great capacity to manage massive data sources. With this BI tool, you'll be able to diminish the requirement for manual consolidation, enhance productivity and gather powerful insights.
QuickSight can give your business an unparalleled edge over your competitors helping you to convert the gigantic unorganized data sets into actionable intelligence.
Our team can help your organization to fully leverage Amazon QuickSight depending on your portfolio, operational design and product strategy.
Are you excited to employ this business intelligence solution? Contact us now to learn more about QuickSight and our AWS alliance.
Maximum Value. Achieved.