Responsive Website Design

Use responsive web design
to get more leads & more customers

Achieved.
Inside Responsive Web Design
How may we help you?
Responsive Website Design
Get a responsive website tailored to your business needs.
Responsive websites need minimum resizing and scrolling, and work efficiently across a wide range of devices (mobile phones, tablets, laptops, and desktops).
They will get you more leads, more customers, and more connections. Here's why
Easy to navigate and read
Reduced bounce rate
Structured flow of content
Increased interactivity
Requires fewer clicks to reach desired page
Clean and contemporary design and flow
Fast loading
Positive user perception of products and services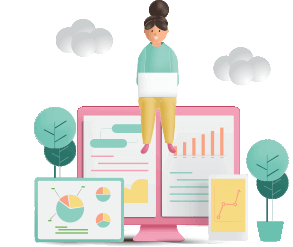 The user is the focus of our design process. Our UI and UX experts follow a user-centered design (UCD) methodology, which mixes intuitive navigation, visual appeal, logically organized content, web technologies, and scripts.
Games and game dynamics (gamification), storytelling and interactive narratives, and social spaces are incorporated to enhance meaning, motivation and engagement.
Our website development experts will also help you move your traditional website to a responsive one without any downtime and at an affordable cost.
How We Develop Rich UI
Step-1
Creative head and information architect work closely with the client to gain a deep understanding of the purpose of information.

Step-2
Information architecture and UX experts define the appropriate taxonomy structure, logic and relationship between terms.

Step-3
Information architect and designers design and develop information architecture and send it for review.

Step-4
User testing conducted early in the process to determine whether users enjoy the experience.

Our designers are experts in methods such as user research, personas, conceptual/ideation, sketching, wire-framing, IA/systems design, UI and visual design, prototyping and all phases of user testing.
We are committed to developing accessible applications that create an unforgettable experience for all users. Some of the enterprises we have worked for include GreatSkin, Reward Networks, Sears, Citrix, and SunPower.
InfoCentral is StatLink's state-of-the-art management software platform. InfoCentral allows for real-time remote communication,

Learn more

Gearbox Software is an award-winning developer of interactive entertainment based in Dallas, Texas.

Learn more

Horses for Sources (HfS) Research is a leading independent global analyst authority and knowledge community

Learn more
Community Musician is a mobile app for musicians to connect online and interact with musicians in local communities.

Learn more

Eve & Max is a fashion brand that follows a quality-over-quantity approach to design.

Learn more

Counterpart Communication Design is an award-winning marketing communications and web management firm located at Memphis

Learn more