Customer expectations are growing every day. Some field service businesses are coping with it through predictive maintenance.
These organizations are equipped with connected asset tracking, which offers them a competitive edge, increases their revenue streams, and helps them gain operational efficiency.
Let's explore how predictive maintenance can help your field service business to achieve unparalleled excellence.
Predictive Maintenance: Let's Talk About It!
Predictive maintenance is a system that incorporates data analysis techniques and tools that identify irregularities or defects in your operations, processes and equipment. This allows you to fix these defects before they result in a breakdown and impact your business.
With predictive maintenance, the frequency of upkeep is low, as it prevents accidental reactive maintenance.
However, not many field service businesses have adopted this system – several are still dependent on the old-school manual setup.
Manual setups don't allow these organizations to transmit the relevant resources at the right time. They fail to meet the customer's requirements.

The absence of IoT predictive maintenance does not allow the technicians to detect or prevent machinery failures. They are only able to resolve the issue after there's been a failure.

According to Finances Online, 52% of organizations are still dependent on manual methods for structuring and tracking field service tasks.
Unpredictable downtime and breakdowns can stir frustration in your customers. Predictive maintenance can help in preventing such dissatisfaction by increasing your workforce expertise, streamlining processes and procuring accurate and timely data.
Access to Accurate Asset Data
It's in the name! A predictive maintenance system comes with a bunch of facets that moulds sensor information into projections of the mean time between breakdowns.
The availability of this data equips the field service businesses with the ability to proactively govern the right time to repair or replace worn parts.

It will save you the cost and impact of planning expensive maintenance ventures and prevent the degradation of equipment quality in the long term.

IoT-directed software will allow your team to gather and interpret data from multiple sources. This includes equipment sensors that enable diagnostic checks and ensures analysis of data in the relevant context.

It can be tricky to depend on one sensor-driven input. To collect accurate insights, blending this input with various results is mandatory.
Maximizing Workforce Productivity
Field service management software can enable your team to dedicate more time to critical maintenance tasks. With the software analysing the sensor data through an IoT-driven system, your technicians won't need to spend time gathering this information manually.
Traditional setups are bound to create several emergencies and this leaves the engineers only focusing on fixing them. However, predictive maintenance can enable your team to work on more important tasks regularly.
Keeping Your Customers Delighted
Customer satisfaction means great ratings for your business. Customers like to know what to expect from you. This allows them to work out their involvement.
The role of predictive maintenance is massive as it aids in interpreting a high volume of data and sharing insights or trends that isn't possible for humans to identify.  This is done through predictive analytics tools equipped with advanced algorithms that can be extremely beneficial for a field service business.
The chances of emergency interventions become low after gaining clarity on the service trends for every location.

Predictive analysis will enable you to consider a customer's requirement and create a schedule that works for them.

Overall, not only will predictive maintenance keep your customers delighted but also provide operational stability.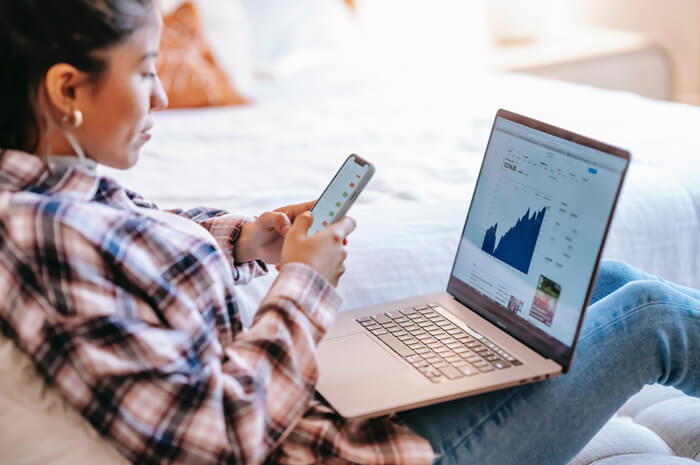 Checking analytical data on the laptop and using a smartphone by Liza Summer
Cost-Effective Investment
A research paper by the US Department of Energy talks about how predictive analysis is a cost-effective investment. An organization equipped with the field service management solution can receive exceptional financial gain with a remarkable ROI, 70%-75% lesser failures, 35%-45% downtime elimination and 25%-30% decrease in maintenance costs.
You must be aware of how the old school system is probably costing you five to six times more because your team is only able to fix or repair the damaged parts after it has broken down.
Using predictive maintenance can help you respond to failures before they even occur, saving you both time and money.
Lowering of Unscheduled Downtime
The most difficult challenge that field service businesses need to navigate through is unscheduled equipment downtime due to breakdowns.
It impacts the performance of engineers and technicians hugely and also leads to severe costs and expenses.

The proactive approach through predictive maintenance allows early predictions and engagement.

This approach aids in avoiding any unexpected downtimes and allows the team to plan interventions.
Incorporating data-based solution software can allow your technicians to optimize equipment conditions. This can have a minimal to no dreadful impact on both the business and the customers
Why Should You Adopt a Predictive Analytics Strategy?
Yes, the old-school setup allows heavy information flow to plan field service then why make this transition?
You might have noticed how despite the influx of data, the managers and technicians struggle with meeting crucial milestones or deadlines frequently. This leads to machinery failures and unplanned downtime.

According to the Wall Street Journal, these unexpected breakdowns and downtime cost the manufacturing industry $50 billion annually.

It's clear from the data that companies are still moving at a slow pace to adopt predictive maintenance. Though it won't take a lot of time before they start embracing the highly efficient field service management solution.
This is where a great predictive analytics strategy can give your business an opportunity to get a head start and stay ahead of the game. There is still time to set yourself apart by adopting predictive maintenance and gaining utmost customer satisfaction and loyalty.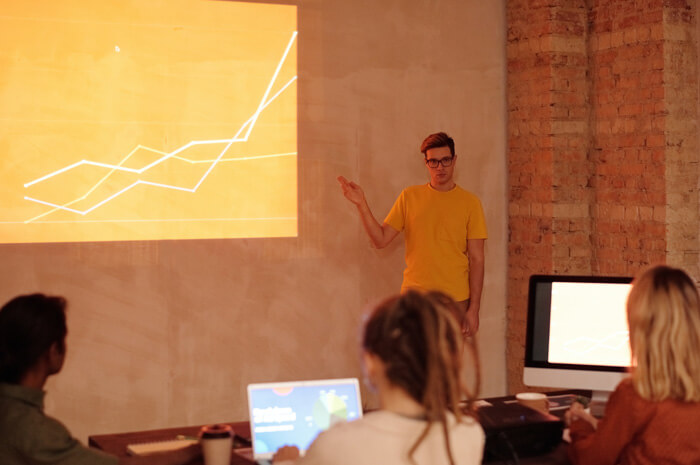 Man giving a presentation by Mikael Blomkvist
Conclusion
Predictive maintenance solutions have irrevocably helped in reducing the automation gap in field service. Your organization's worth and value are measured by the quality of service you offer your customers.
Advanced digitization is making it easier for several businesses to understand customer data through statistical analysis. Predictive analytics can become a unique selling point that will help your team to accelerate the efficiency of field service.
To take advantage of the slow-paced competition and know more about how predictive analytics tools can transform your business, connect with our experts. You can even browse through our portfolio to know more about our software development services, data analytics services and data insights solutions.
To streamline and make your field services more efficient, you can opt for field service management solutions. This will increase your competitiveness and enhance your revenue through customer satisfaction.
Ready to make your customers delighted with field service management software? Contact us now!
Maximum Value. Achieved.