Opponents of newsletter marketing argue that it's an outdated model. It's too time-consuming to write, it goes unread by most, and it probably ends up filtered into spam folders anyway.
However, email marketing has an ROI of 42 USD for every 1 USD spent. It improves customer acquisition and retention, and is more likely than social media marketing to increase your sales.
Here's our take on why newsletter marketing won't be dying out any time soon.
Table of Contents:
Introduction
An email marketing strategy promotes services and products through emails. It can also be used to reach out to potential customers and strengthen relations with current ones.
This form of digital marketing keeps your customers informed of any relevant developments, information or offers.
The average open rate of emails differs by industry, with architecture & construction at 22.51%, business & finance at 21.56%, beauty & personal care at 16.65% and e-commerce at 15.68%.
A low open rate is usually indicative of irrelevant or uninteresting subject lines, a wide variety of subscribers, or too many or too few campaigns.
Customers who purchase products marketed through email spend 138% more than those who do not, according to Convince & Convert. All the more reason to take advantage of emails for a successful marketing strategy.
Newsletter marketing is the practice of sending newsletters to an already interested audience. Newsletters used to be sent through the mail, but most companies today use email.
Newsletter content need not be limited to sales or products. Many include the latest industry statistics, industry news, "How To" articles, and so on. The idea is to provide high-quality, relevant information on a consistent basis to engage your audience.
While run-of-the-mill newsletter marketing is certainly dying, smart newsletter marketing is thriving. Here's why.
It builds community
Newsletters do not exist in a vacuum. They are a perfect place to link back to articles, press appearances, podcasts, and websites that you've appeared on.
Whether it's alerting your subscribers to new blog posts, announcing the start of a webinar to reminding them of an approaching event or offer, newsletters are an excellent method of facilitating meaningful brand interactions.
While social media marketing can also be used to direct your customers to different touch points, the advantage of newsletter marketing is that it has a longer shelf life.
Consumers have the flexibility of choosing when to read your marketing message, perhaps returning to it multiple times to refer to different pieces of information.
However, that doesn't mean that newsletter marketing and social media marketing can't work together. In fact, it is the opposite.
Recommended Reading:
One of the biggest challenges in executing a social media marketing strategy is growing your audience, and email newsletters are an effective way of building up your online community from the "inside out".
Think about ways to establish a trans-medium dialogue. Create quality engagement via your customers' inboxes and lead that conversation over to social media channels like Facebook, Twitter and LinkedIn.
This will begin a loop of brand awareness and brand loyalty cycling from email to social media and back again.
If delivering a double-dish of newsletter marketing and social media marketing would be too time consuming for you, you can always reach out to your local digital marketing agency.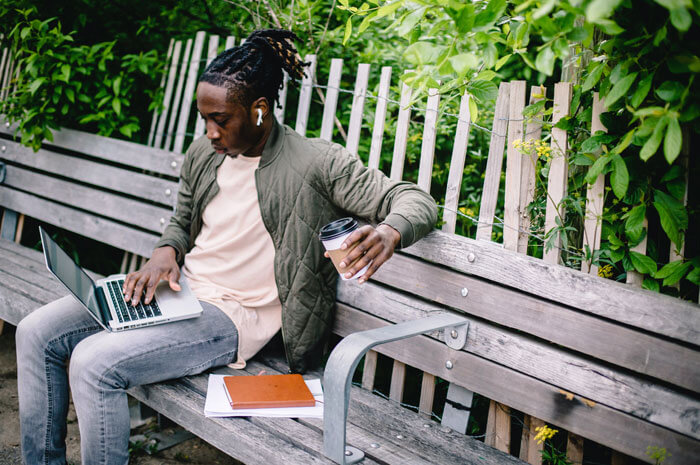 Credits: Ketut Subiyanto, Pexels
There's less clutter
The trouble with the current state of the Internet is not obtaining information, but sorting through source after source to find quality content.
If your subscribers rely on your newsletter for that quality content, you've got your hands on gold.
The beauty of gaining the trust of your target audience is this: when they view you as an authority, they start to pay attention.
According to Quartz's Global Executives Study, 60% of executives rate email newsletters as one of the top three news sources they check daily—that's nearly twice as many as those who use news apps.
Even if your subscribers don't open every newsletter you send, just seeing it in their inbox at a regular time interval helps keep the brand in the back of their mind.
And if the content you're providing them is interesting and insightful, they'll be happy to check back in whenever they have a moment to spare.
Recommended Reading:
Quality customers at a high ROI
Most consumers only sign up for newsletters from brands that they enjoy, meaning that they already have an interest in the products and services those brands offer.
What's more is that consumers know that they can unsubscribe at any time and that ultimately, they are in control. If the experience doesn't provide the connection to your business that they're looking for, they won't hesitate to end it.
However, don't let this fact discourage you. Customers want to connect with their favorite brands just as much you want to connect with them.
Newsletters are an ideal way of creating a personal yet professional relationship. When done correctly, it creates long-term loyalty that pays off.
The reason for this is that when you consistently deliver quality content, consumers respond when you highlight products and connect them to a point of sale. This is the reward for the trust that you've established.
Still uncertain of how to go about it? Go for high-quality email marketing services.
Conclusion
Because email marketing is so affordable in comparison to other tools like advertising, newsletters are ideal for experimenting with different campaign ideas.
But we understand that you may not have the time to slog through strategy and execution. That's why BluEnt does all the heavy lifting for you with our newsletter marketing services, tailored to your business needs.
To help you fully align newsletters with your other marketing strategies, BluEnt's digital marketing services include CRM and newsletter marketing software.
Ready to get more customers with a thought-out newsletter marketing strategy? Contact us now!
Maximum Value. Achieved.