When starting an ecommerce business, it's almost too easy to fall flat. Much of that comes down to your website design.
The history of ecommerce goes further back than you might guess, beginning in the 1960s with Electronic Data Interchange (EDI). But the ecommerce you are familiar with started in 1991, when the Internet threw its gates open to the public. The first recorded online transaction was in 1994 – the sale of a Sting CD.
Fast forward to today, and ecommerce market revenue is expected to pass 2,723,991 million USD in 2021 and a staggering 3,477,296 million USD by 2025. We've come a long way.
For developed countries, the market has hit its maturity, and competition is intense and can be expensive. Certain companies such as Amazon are thriving, while several stand-alone retailers are scrabbling for a USP and are losing loyalty and sales as a result.
There has, additionally, been a shift in purchasing power to Southeast Asia and China, powered by the increasing number of Asian consumers who have access to ecommerce thanks to internet penetration and more purchasing power.
We'll give you the lowdown on how to build an ecommerce website that gets (and keeps) customers.
Table of Contents: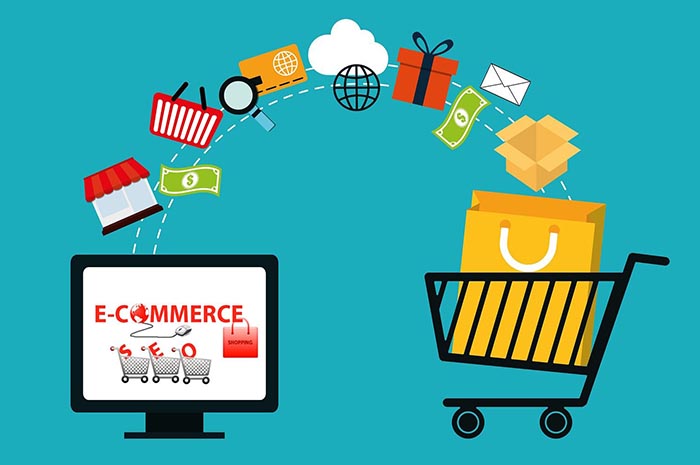 Introduction
If you are starting an e-commerce business, remember that your website is much more than just an amalgamation of Instagram-worthy product pictures and a cart.
You have to explore the experiences you are giving to your customers.
There is no sure-shot design or feature that will guarantee your online shop's success. Experts disagree on the numbers, but between 78% and 97% of ecommerce startups fail.
Don't be discouraged! There are several essentials of e-commerce website development that will significantly increase the chances of your business being profitable.
What is ECommerce?
Ecommerce, short for "electronic commerce", is the selling and purchasing of products or services through the Internet. (E-business, on the other hand, refers to operating an online business.)
The top ecommerce companies include Amazon, Alibaba, JD.com, eBay, and Rakuten. While there is dispute over which one is the largest, you can count on seeing all of them in any list about the biggest ecommerce organizations.
Of these, eBay and Amazon are responsible for revolutionizing ecommerce as we know it today.
Types of ecommerce models include Business to Consumer (B2C), Business to Business (B2B), Consumer to Consumer (C2C), and Consumer to Business (C2B).
Feeling a little daunted? Don't be. A trusted ecommerce development company should be able to answer any questions you have.
The Must-Haves For Any Respectable ECommerce Website
Smartphone-friendly

With mobile devices accounting for approximately 60% of e-commerce website visits, ensuring your e-commerce site is mobile friendly is crucial in today's age.

Creating a website that is easy to navigate on mobile devices like smartphones and tablets will maximize your potential customer base.

Mobile users will often have different expectations from the desktop users. Make sure that your checkout cart is tailored to mobile and that the navigation on mobile is simple to use.

Free shipping, freebies and deals

Millions of people buy products just because they are on sale.

That's why an effective way to grab customer attention in a matter of seconds is to offer shopping deals. Discounts and deals are usually things that visitors look for in online shopping sites.

Tempting promises and unique prices entice visitors to grab what they really want. Therefore, it is essential to place eye-catching banners with discounted offers on the upper part of the store homepage.

In addition, you are now selling to the world and not just your local market. Free shipping is a customer favorite, so you should consider that cost.

Many online stores regulate the minimum order price to include the shipping costs to save them from unnecessary shipping expenses. This also results in the customer buying either a major or multiple purchases.

However, there is cause to implement this tip with care: Frequent and deep discounts can decrease your profit margin, attract the wrong customers, and even decrease the perceived value of your products and services. (You may be seen as "cheap" and miss out on more lucrative clients.)

Make sure the discounts suit your ecommerce business!

Product pictures and detailed descriptions

Product pictures are a crucial part of your e-commerce website. They are the first impression a customer will get about what your store offers.

Include high-quality images (1500x1500 pixels) with excellent lighting. It may be worth hiring a professional photographer if you don't want to get into any copyright scuffles over images you found on the Internet.

Also, include more than one angle of the products wherever appropriate. It will help the customer gain an understanding of the product and decide about the purchase accordingly.

A light box or zoom version will let customers see the image more closely for details.

Along with the photographs, it is essential to give a precise and clear description of your products.

The description acts as the store's sales staff, so it needs to be informative and easy to understand. Include content about the size, texture, dimension, weight, material, warranties and colors.

Clean design and easy navigation

Your e-commerce website design should immediately describe who you are and what you offer. For this, you should have a clear idea of your categories and the structure of your store.

Make sure your ecommerce website developer understands how your website template should be designed, how the products are categorized with instinctive navigation, and labeling that will be clear to your customers.

Security features

As an e-commerce business comes with online transactions, it is crucial that the sellers protect customer information and takes strict steps to ensure privacy.

Get an SSL certificate, which will establish a secure connection between a user and the website. A two-factor authentication will add an extra layer of security. Also, use a firewall and address the website's privacy policies in the footer.
Bonus Points to Keep in Mind
Ideally, your items should be seasonal or perishable, since products can reduce cash flow if they are slow to shift.

You should also include a live chat feature so your users can get the help they need, quickly.

There should be a guest check-out option. (Nobody likes signing up for a new website!)

And last but not least, allow and encourage customer reviews so you appear transparent and trustworthy. (And don't jump on the fake review train. Just don't.)
Conclusion
Ultimately, starting an ecommerce business is all about making the user experience as simple and enjoyable as possible. For this, the steps we listed are a great starting point. And if you want to delve a little deeper? You can explore the best platforms for your ecommerce website design.
But creating an ecommerce website can still be a daunting task. Luckily, BluEnt is here to do all the heavy lifting for you.
Our ecommerce web development services will give your customers an effortless online shopping experience. The best part? You'll get a high degree of customization and security.
Don't take our word for it, though. Check out our portfolio to see if we can meet your expectations.
Ready for industry-specific content, higher customer loyalty, and lower shopping cart abandonment? Contact us now!
Maximum Value. Achieved.