You are a business.
You offer great products or services.
You have a loyal client base.
You decide to hop into mobile marketing, thinking of expanding the business outreach.
You do your research, read around on iOS, Android and Windows business mobile apps, weigh all their merits and demerits and consult mobile application development companies like BluEnt and outsource mobile application development. Within some time, you have a beautiful mobile app. You are excited. There are newsletter campaigns, mass emails, flashy Facebook, Twitter and Pinterest advertisements announcing the newest member of your marketing family. There are steady downloads too. Things are okay.
Except they are not. Users download your app, install and hardly use it. And, to your horror, after some time, they UNINSTALL it.
So much money, time and resources – all gone down the drain. What hurts the most? The slow, dying dream of penetrating the mobile market.
Sounds familiar? This may or may not be your story. But mobile engagement crisis is a harsh reality for many business owners today.
Don't believe this? Here are some statistics for you to come to terms with:
Localytics released a report in 2016 on what happens after your business has a mobile app. They dug into their user base of nearly 37,000 applications and here are the findings:
23% users abandon an app after a single use. If you're counting, it is 1 in 4 smartphone owners.

62% users used an app less than 11 times.
Is this for real? What should I do now? Is there a way out of this?
Fortunately, we at BluEnt have your best interest in our hearts and we are very happy to tell you that yes, there is indeed a way out of all this. Or rather, a way to prevent it from happening in the first place.
Enter MOBILE ONBOARDING.
What is mobile onboarding and how can it increase user retention?
Mobile Onboarding is sort of like the orientation for freshers. After users download and install your business mobile application, you would want them to know their way around. Successful mobile app onboarding will help customers get acquainted with your app.
Sounds simple enough? It is. All you need are some changes in your app interface, which we are happy to help you out with at BluEnt and everything is all set.
Effective mobile app onboarding is critical. A good onboarding experience will not only lower attrition rates for your app but will also influence long-term success metrics including lifetime value of a user.
We have compiled the best practices for creating a great user onboarding experience which will give you a highly engaged audience. Read on to find out more about these practices:
Creating easy to use mobile applications for business

Remember the thumb rule of marketing: simply is effective! The simpler it is for users to explore your app, the more is customer engagement and retention. There several roads you can take for making onboarding easy. Your iOS business mobile application and Android business mobile application might offer terrific services and amazing products, but without users, it will not hit the mark. Depending on the nature of services you intend to provide, your app's onboarding process can be:

Benefit-oriented: This communicates the app value

Functionality oriented: This will highlight the chief and salient functions of your app

Progressive: This type of onboarding will educate the users through guided interactions

Hybrid: The Onboarding involves any two or all the above features.

Irrespective of the approach you take, your business mobile app should ultimately aim to make it easy for all users to get going with your app.

Easy Sign Up and Quick Log-Ins

On small screens, such as those of mobiles, long sign up forms are a bad idea. It is preferable to give users the option to sign up from single fields like social media or email accounts. In case you have a service-based mobile application, try collecting essential information only. If you still need to gather more data, break the process into multiple screens, so that the user does not feel overwhelmed in the signup process itself. The login screen should also be simple enough. One click sign-ups are hassle-free and popular among users.

Too much information is recipe for disaster

Your users are more likely to engage with focused and precise information. Ensure that the onboarding screens have minimal information with interactivity, if possible. Infographics and animations work wonders to attract eyeballs.

User-Guided Interaction to acquaint users

If your app has a lot of functionalities, it is better to use a progressive onboarding approach. In the simplest of terms, it's a tutorial for the first-time users. Give your customers the fun of discovery with user-guided interaction. With directed interaction, the users are free to look around by themselves, rather than getting flooded with information on what to do. This is very popular in video games and is benefitting mobile application developers as well.

Leveraging Animation for user retention

Rather than dull text transitioning in and out of the screen, use animations.

A screen lit by animations will:

Draw attention to elements

Give feedback on actions taken (for instance, positive reinforcement)

Ability to present new content to the user in an engaging manner

However, use animation sparingly. The animations should attract and not irritate your customer.

Take feedbacks seriously

For better engagement and user retention, make sure your app is tried and tested for, again and again. Listen to the pain points of consumers in their feedback, identify points of friction and work on improving your onboarding process. This will not only increase the efficiency of your app but also make your customers valued.
In conclusion:
Mobile app onboarding is imperative for encouraging engagement and reducing abandonment rates. Another statistic by Localytics found out that the app abandonment rates reduced to 9% after proper onboarding experience.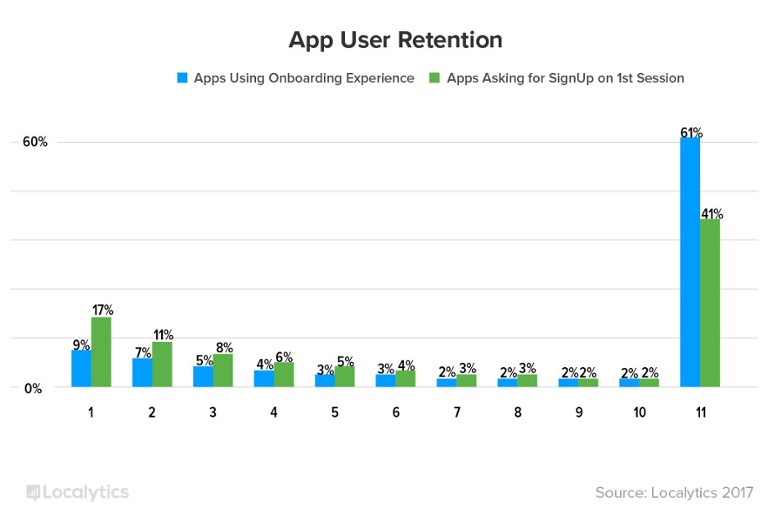 Proper Onboarding Strategies led to reduction in App Abandonment
Maximum Value. Achieved.