Cardiovascular disease is one of the leading causes of mortality across the world. Alarmingly, one in every four deaths in the USA happens because of heart illnesses.
While heart ailments can be attributed to several lifestyle choices & genetics, high blood pressure is one of the leading reasons for it. Stress, if continuous, can be a big contributor to high blood pressure.
We tend to ignore daily stress as part of life. But constant anxiety of any nature –financial, emotional or, professional – is dangerous.
One of the most overlooked stress types is work stress. Acknowledging work pressure is often perceived as weak or unprofessional. However, recognizing and managing work stress makes you happier & more productive.
It can be dealt with by making minute changes in daily routines & some thoughtful lifestyle adjustments.
Ever since Coronavirus has hit, the entire work culture paradigm has changed. Remote work culture has become popular. Consequently, a lot of the time, work tends to get mixed with family life. This often creates complexities for work life balance, resulting in stress.
Here are a few techniques to help manage professional stress, whether you are working from home or office:
1. Prioritize & Organize
List out your tasks & rank them according to urgency. Set achievable timelines for all the tasks. This will help plan out your day or week. Keep breathing space between jobs, so that abrupt unplanned assignments can be incorporated if needed.
Keep your work organized. Focus on one task at a time. Multitasking is good but mostly results in time mismanagement. Save files & documents with names that can easily be remembered. Keep these in appropriate folders with logical paths. This will help save a lot of time wasted in searching. Make sure that your workspace is orderly and neat so that any required stationary is readily available.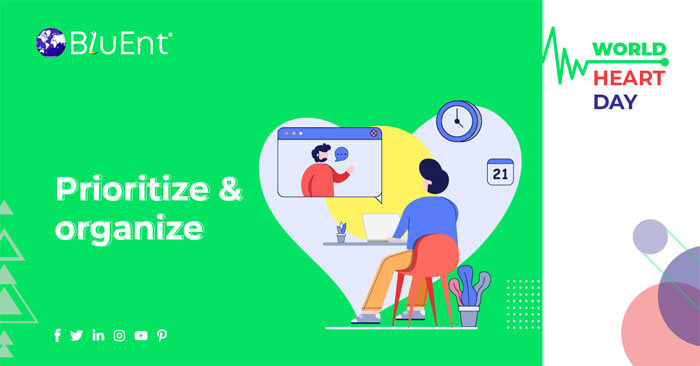 2. Take Breaks & Vacations
Taking short breaks in between work is good for your mental & physical health. Have a cup of coffee, chat with colleagues, or take a 10-minute walk. If working from home, interact with family, and spend 10 to 15 minutes in a balcony or garden.
Keeping your mind off work for a while induces fresh energy & enhances productivity.
Indulge in short vacations every 3–4 months. A weekend getaway, a short trip, or a planned holiday at home for 3–4 days increases overall happiness and wellbeing.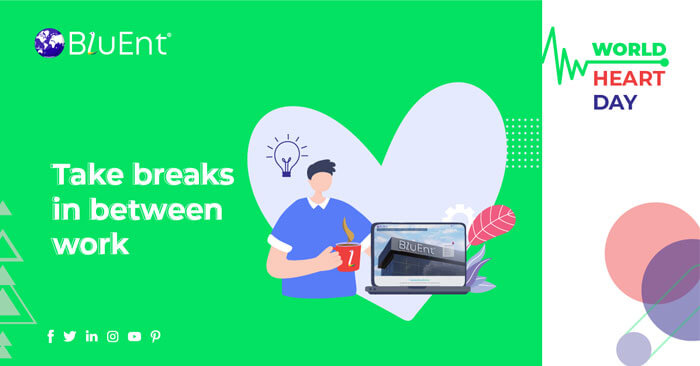 3. Separate Office & Personal Time:
Make sure to set time aside for your personal fulfilments. Spend quality time with friends & family on a regular basis. Set clear boundaries between office and family time.
Be available for a crisis at work after office hours, but don't deliberately work too late without good reason. It will be counterproductive in the long run. Plan activities after work that make you happy and give you personal gratification.
In case you are working from home, keep a separate workspace, if possible.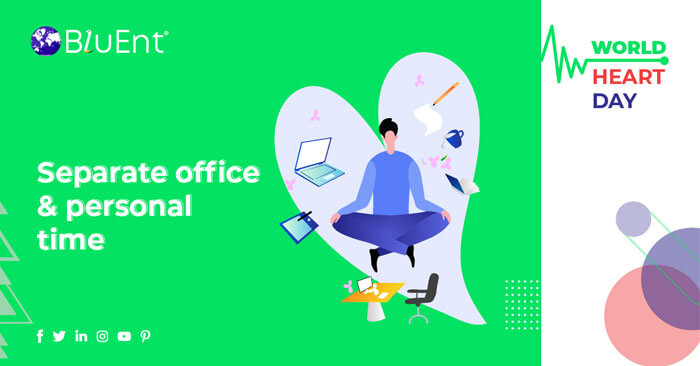 4. Exercise & Meditate
Engage in moderate physical exercise at least three times a week. A brisk walk, short-run, or morning yoga can make a world of difference. Exercising accelerates the production of endorphins, which are natural mood elevators. It also reduces adrenaline & cortisol, which are stress aggravators.
Meditating is also helpful when dealing with stress & anxiety. It enables the mind to relax by focusing on a thought, thing, or state. A disorganized mind is home to stress. Meditation clears out the chaos and keeps you relaxed and motivated.
If you have been feeling burdened by work lately, this is the perfect day to make some small changes that will result in big benefits. Your heart works for you day and night. Show it some love by working for it, too.
If you are an employer, make sure that your employees have an adequate number of holidays and are able to maintain a good work-life balance. After all, they rely on the hours and rules you set.
A lot of health apps enable fitness tracking and monitor heart activities. If you also have a brilliant app idea for the health sector, BluEnt can assist you with healthcare app development.