A B2B customer portal opens the gateway for businesses to add value to their services. It takes the concept of B2C customer experience to a new level. Rather than serving customers, you partner with them.
Major global businesses have moved onto the strategy of a B2B customer portal. It intensifies the experience and challenges the business model.
Recognising the opportunities offers by the digital world is no longer a choice for growing businesses. If you want to get ahead you have to take the plunge. Leverage a B2B customer portal to accelerate business growth.
What is B2B customer portal?
A B2B customer portal is a channel which allows a business to sell to other businesses. The businesses you sell to become your customers. This puts your business higher-up in the supply chain with distributors under you.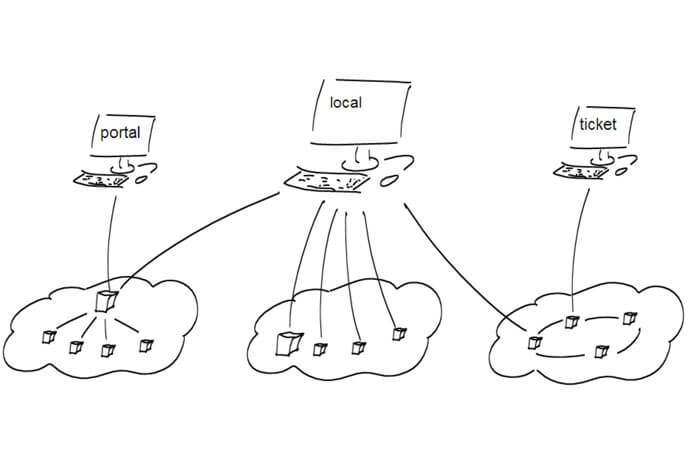 7 Reasons to go for a B2B customer portal
Keeping up with the changes in the business world involves a shift in thinking. Adopt new ways of doing business. Explore options that you never imagined considering. Your conventional business strategy needs a makeover.
Why should your company opt for a B2B customer portal? Is there any other way around this paradigm? There probably is - but what are your chances of developing a successful business model on a different course.
Let's looks at the benefits of a B2B customer portal
Scale your business: Without expanding and increasing what is your company worth? There are numerous ways to scale up. Why take the hard way when a B2B customer portal offers you the perfect methodology. The B2B approach paves the way to build a greater network under you without the effort of reaching out to direct customers.

Modern digital platform: Modernise your business operations. A B2B portal is an advanced customer management technique. A single platform which allows you to interact with your cliental. You can monitor and control multiple aspects of your business operations. It reduces manual processing with automated systems, culminating in quicker and smoother operation and reduced errors.

Build customer loyalty: Online customer service is exceptional. If you were struggling to keep up with your customer demands, your woes are over. Make each customer feel like they matter irrespective of the size of their order. The online platform enhances the customer experience.

Real-time business insights: One of the greatest advantages of web portal development is the real-time insights of business flow. You can check the status of various functions at any given point of time from wherever you are. Importantly, you know what is going on in your business.

Content and catalogue management: A digital portal eases the ordeal of managing your catalogue and the related content. You can easily add new products and remove products from your online catalogue. Orders can be processed quickly and stock records updated instantly with dispatch. Handling bulk orders becomes a part of the regular supply chain. Payments are automated and up-to-date sales reports can be generated easily. At any given point of time you know how much stock you have and your sales figures.

Round the clock sales: Open your doors to around the clock sales platform. Your customers don't have to wait for your working hours to place an order. The web portal keeps the orders coming while you are sleeping, playing golf or watching the big game.

Build Brand awareness: The online platform offers many channels for your business to build brand awareness. One of the best methods is to leverage social media. A sound online marketing strategy can bring more customers to your portal. The web also allows you to expand your customer base to other towns and states.
How to go about web portal development?
Getting a B2B customer portal is a next step for your business if you want to take it to the next level. The end to end customer experience must be kept in mind when developing a B2B customer portal. Choosing the right web development company is a tough call. They can either help propel your business or leave it stagnant.
Learn more about Intranet Portal Design Services .
First meet and discuss your customer portal development. There are some key factors that need to be incorporated into the web portal. Design and development are one of the primary factors. An attractive web design, which is easy to use and manoeuvre, encourages sales. User experience is crucial if you want your customer to keep coming back to you. It is essential to keep in mind the checkout process. While security is important, a long drawn out multi-screen payment process can be a great deterrent.
Sales begin with an online web search. This means your content and SEO strategy is pivotal for greater online visibility. What kind of online marketing strategy is the web development company offering you? Is it in line with your company marketing plan?
The experience of the web portal development company counts towards the cost and how soon you can go live. The competency of the development team should not be overlooked.
How do you know when you've found the right B2B customer portal development company?
When you meet the common ground and have a clear understanding of what the business transformation process is going to entail.
Conclusion
BluEnt an app development company lays it all out on the table for you. We have a highly skilled and competent team of developers. Our business success speaks of our performance. Get in touch with us to discuss how we can help to transform your business. It is all a matter of expertise and know-how. We have the experience and required skillset.
Recommended Reads:
Maximum Value. Achieved.