Mobile app developers can easily say today 'Honey, I shrunk the world.' Who knew we could communicate so easily from the north pole to south pole. A conversation is a 'ting' away.
Messaging apps have completely transformed the mode of communication using the mobile devices. There are various successful instant messaging apps like Facebook Messenger, Skype, WhatsApp, Viber, WeChat or so on gave serious competition to SMS or Short Message Service industry.
On an average, smartphone users have 2-3 chat apps installed on their devices. Increasing demand in the market encourages a lot of people to replicate the idea of these successful apps.
Then, why do so many ideas fall in vain before they even open their wings to fly?
Do you think the market has saturated for such apps? Or, are we repeating the same formula from the existing market?
We got to find out the answers to develop another game-changing app. The market saturation isn't an issue as the increasing growth of smartphone users fills the confidence in the newcomers to challenge the market titans. There is a lot of scope for new innovations and ideas in the field of instant messaging apps. Stick for some more time to note the key factors which help in creating a mobile chat app.
Research on the story of previous successful apps to create your own unique story
You should know your competition before you create a better idea. Whatsapp is a legendary instant messaging app that changed the entire chatting world. Few basics WhatsApp followed which brought crazy downloads and popularity.
Learn more about Chat App Solution .
WhatsApp has initiated the mobile-first approach, whereas most of the chatting services were desktop based such as Skype.

Ad-free application

WhatsApp eliminated SMS from the picture. As it has become plausibly affordable in comparison to the conventional messaging forums.

Marketing relied on the unique benefits of the app. WhatsApp had the lowest cost spent on promotion and majorly relied on the good word of mouth.

Multi-platform availability

Constantly improving to add better features for the audience.

This app has been a concoction of the perfect recipe for success, but repeating the same step would lead you nowhere. Yes, get over it and figure out what would make YOU legendary.
Fundamental list
We know you have a great idea and you can't wait to launch your perfect chatting app. But don't show all your cards in one go and start with a launch of a Minimum Viable Product (MVP) which is developed with the sufficient initial features. You need to understand your audience's feedback and improve your app eventually. This will help your initial cost in check. Deciding platforms could be tricky. You need to make this decision based on your ideas of creating an app.
You could go for Native or Hybrid depending upon your target audience, region and the ultimate idea behind the app. Native apps are comparatively faster, safer and smarter. You can choose to be native to one platform and eventually develop in multiple operating systems. User Experience and User Interface design (UX/UI) make it or break it. Your app should communicate your idea clearly to the target audience. It should be simple yet interesting. Think before choosing a designer and developer working on your app.
How your chat app is unique?
Repeating the same idea in different colors and designs won't make your messaging app any different. You need to be more specific and creative with your chatting app.
Figure out your creative agenda behind the app and work towards it. We all know about the variety of apps available in the market connecting friends, professionals or specific community. Your app can get successful if you are targeting the right audience with the clear goals. For instance, the communication app for the special need people or for the certain community of the professionals or society. Your idea has no boundaries. It can achieve success as far as you have your focus and knowledge checked.
Apps are region-specific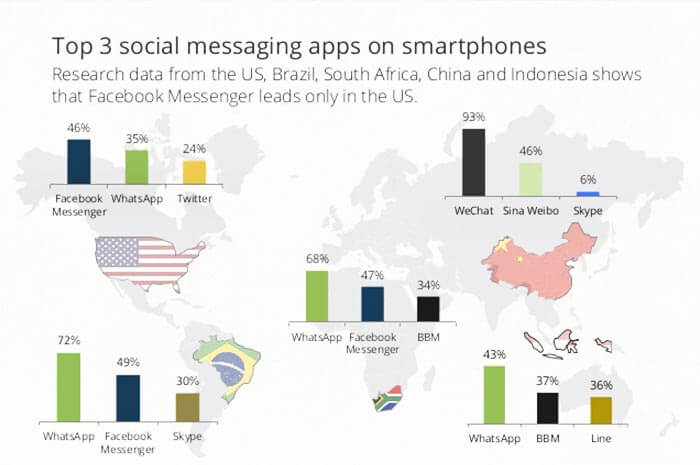 Some ideas might be excellent in one country, but they would not work in the other. WhatsApp is quite famous in South Africa, on the other hand, WeChat is most popular in China. Region and target audience choose their app wisely. You could develop your app idea locally first (since you understand it better) and then focus on the global market.
Hands down, the future of the communication industry depends upon the technology. Instant messengers have taken the place of SMS. Who knows what would come next to replace the current chatting apps. Technology is persistent in nature and doing better every passing day. Don't hesitate in taking chances to flourish your idea.
We, at BluEnt, crave for developing creative and challenging projects. If you would like to create a successful instant chatting app or need a guide through it, drop us an instant message.
Maximum Value. Achieved.