How can real-estate mobile app development benefit your business?
Apps have infiltrated every area of the market. There is a steady growth in the number of people using them in all spheres, and the real estate sector is no exception.
Are you a realtor contemplating real estate mobile app development? You are probably wondering if this investment is going to make a significant difference to your business. Will it justify the costs involved?
There is no denying the quest for real estate. There are new buyers and sellers every day.
A real estate mobile app allows buyers to find available properties at the click of a button. They can select and view various properties before deciding which ones they would like to consider.
What does real estate mobile app development offer?
Wider reach, increased interest, and user engagement are just a few things. This culminates in higher lead generation and greater conversion rates.
Benefits of Real Estate Mobile App Development
What do you get out of real estate mobile app development? It is worthwhile exploring the benefits before diving headlong into getting an app:
Extended reach: A real estate mobile app enables potential buyers to look for properties. They do so by using your real estate app to check the listings.

When they find something suitable, they contact you. A real estate mobile app is not only for property buyers. Sellers are also keen to take advantage of your app users and list their property for sal

e. One of the best real estate mobile app features is that the app helps people to connect with you.

 

Instant deals: Your app provides a common platform for buyers and sellers to connect. This meeting point helps to clear doubts and queries and encourages faster decision making.

Through your real estate app, buyers can get a fair idea of the current market trends, while sellers can access the popularity of their listing. Some real estate mobile app features such as mortgage calculator, maps, updates regarding bids and other push notifications can increase user engagement.

 

Integrating other listings: The option to integrate multiple listing services (MLS) can benefit your marketplace standing. Buyers and sellers can access listings of other real estate agents through your app as well.

This will not only expand your client reach but also help you to earn a commission on their transactions in a fair deal.

 

Brand equity: Create a name and reputation for your business through your real estate app. Make your business name popular and reap the rewards of business growth and increased income.

Real estate mobile app development leads users to recognize the brand name associated with your app. Your app creates a business identity for you.

 

Build client base: Your app serves as a constant reminder of your business to those who have installed it on their portable devices.

Most app users tend not to delete apps, in case they might need it in the future. It is easy to build a regular client base in this manner.

It is probable your app users will share your information within their circle. You can ask regular users to share your app.

 

Provide users with locality information: A real estate mobile app can help users understand geographic location with the help of a map.

It can also assist users with information about the locality and surroundings, as well as information about distances from essential services.

This information can be vital in helping clients make a decision regarding the property.
Push the limits of your real estate business by investing in real estate mobile app development. Give your clients instant access to the information they seek through your app.
Learn about Android App Development Services .
Why Real Estate Mobile Apps are Important
Investing in real estate app development is a choice governed by many factors.
Apps are the current trend. To get a market share in the business, you must keep pace, or better still, stay one step ahead. Do your competitors have a real estate mobile app?
Perhaps no one has a real estate mobile app yet. Are you going to be the first and gain an advantage over your competitors?
Breaking into a market early on is easier than breaking into it later. When there is little or no competition, you can quickly get a high number of downloads.
Taking advantage of this space has a few challenges pertaining to awareness and user comfort. Once these are overcome, it is smooth sailing.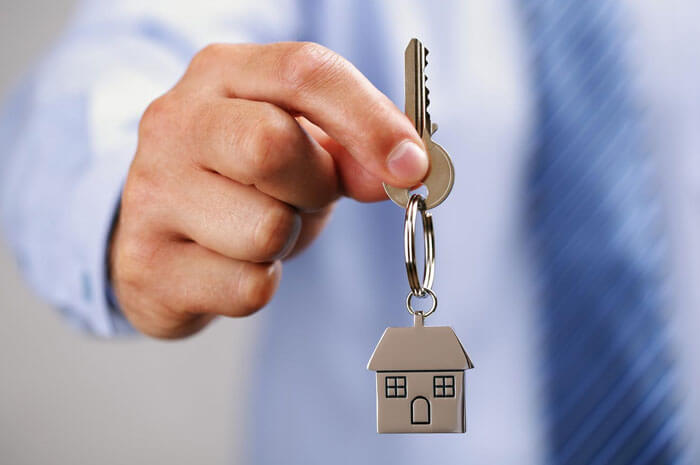 What Kind of Real Estate Mobile App Should You Get?
Real estate mobile apps are relatively new. At this stage, a basic app will serve you well. However, you need to keep in mind the future needs of your clients and your competitors.
As experienced mobile app developers, we at BluEnt advise you to invest in an impressive app. This will continue to serve your clients well into the future without further investment.
Some essential real estate mobile app features are:
Interactive app: The app can prompt the user for options and offer suggestions.

Easy to navigate: Anything that is complicated is going to remain unused. An easy-to-navigate app is one of the secrets to encouraging people to use it.

Attractive: An app with a rich and appealing design enhances user experience.

Notification option: Your app should offer notifications, especially about new properties for sale or queries about properties. The user should be able to select the kind of notifications they would like to receive.
As we all know, the features are what categorize an app as "good" or "bad". You need to ensure that your app covers a wide variety of functions that fulfill the users' requirements.
Conclusion
Real estate mobile app development will take your business to a new level. It offers your clients a service they can avail from anywhere.
How do you go about real estate mobile app development? The first step is to get in touch with an experienced mobile app development company in the USA.
BluEnt's highly qualified team understands your requirements. We will apprise you of features and options that will make your real estate mobile app unique, useful and popular.
Maximum Value. Achieved.