The importance of system integration is evident from its prominent benefits, which include boosting efficiency and improving the caliber of business operations.
This software solution not only lowers operational expenses and speeds up data flow, but is also responsible for boosting connectivity. This is mandatory to work through the hardware and software obstacles posed by these processes.
Currently, one of the biggest challenges is that the benefits of adopting system integration are often overlooked and only realized by firms when it's quite late.
In this blog post, we will deep dive into the significance and enormous advantages of system integration and how long-term software solutions can help.
Table of Contents:
What is System Integration?
As your company grows, you and your team will require additional software tools to keep a tab on the information gathered, clients, and performance.
Without a doubt, a significant portion of your everyday load will include using a variety of applications and software packages.
Although many firms choose to employ the most useful software package, there is a lack of cooperation between each of these systems. The company's data is dispersed across several systems instead of being in one location.
This is where system integration holds massive significance.
In order to maintain efficiency and ensure precise analysis of data, system integration unifies constituent sub-systems into a single functional structure and guarantees that all the prevalent elements perform harmoniously.

The kind of information that gets synced includes customer queries, manufacturing lines, orders, etc.
Let's look at the types of system integration available to help you gain more clarity on what this software entails.
Types of System Integration
Data integration
Many businesses keep data in several databases or sources.
Data integration, as the name implies, enables you to compile data from multiple systems, combine it, and provide a single access point for collaborative presentation.
B2B integration
In business-to-business integration, all communication and processes across different firms are automated. This helps organizations to work collaboratively without any hassles.

They are able to connect with their stakeholders, including customers, other business associates, and even contractors in a more efficient way.
Electronic document interchange (EDI)
The distribution of important company documents between organizations using an established format is known as EDI.

Another way to think of EDI is as the accepted automated system that businesses practice to substitute the usage of paper documents like bills and orders.

Companies may save time by computerizing paper-based operations, and they can also eliminate pricey mistakes that could arise from manual paperwork.
Legacy system integration
To avoid interfering with their daily important operations, many firms continue to employ obsolete legacy methods to carry out critical business processes.

Using legacy system integration, an effective system integrator can help organizations overcome issues that crop up by using the old system.

They can facilitate a fluid interaction network by incorporating the latest technological advancements and informational techniques, making it possible to modernize outdated systems.
Enterprise application integration (EAI)
As firms grow, they frequently add newer enterprise apps to improve the efficiency of their workplace operations.

This means that there are several uncooperative apps that store large amounts of information independently and it is impossible to merge them.

These several subsystems are pooled into a unified environment via enterprise application integration.

EAI makes it possible for diverse systems to exchange information in real-time, allowing more comprehensive access to a large volume of data.
Now that we have clarity on what system integration is truly responsible for, we will explore all the benefits of adopting any integration platform early on in your organization.
Why is System Integration Important?
Uninterrupted automated exchange of accurate data
Multiple applications and systems can share accurate data consistently and automatically thanks to systems integration.

Let's take an example to understand this better. A buyer's current updated name and residential address may have been changed in one system, but it's possible that it hasn't reached the other applications.

System integration ensures that any obstacle posed during this collaboration is diminished to allow consistency of information flow throughout.

Hence, an integrated information system aids in boosting the value, quality, and efficiency of all the processes and techniques.
Make quicker decisions
There was a time when companies would manually add the same data into several systems quite frequently.
As a result, data moves relatively slowly across the company. Frequently, the data is backed up and ready to be manually added on a regular basis.
The key advantage of system integration is that crucial information is more rapidly accessible throughout the firm thanks to integrated systems.

This enables the teams and the whole organization to make quicker decisions that can tremendously impact growth and stability.
Clear and dependable communication
If the system is not automated, once the business starts growing, the information stored in the different systems may not match and can lead to several costly issues in the later stages.

It can even make the communication between teams, stakeholders, and customers a lot more challenging.
This is where system integration helps in mitigating the misunderstanding that inconsistent data can cause.
Transparency, valuable insights, and innovation
Uninterrupted exchange of accurate data between divisions and the whole company promotes innovative developments and a greater value proposition.
The communication within the company is more clear, reliable, and direct and it helps in connecting more authentically with clients and other stakeholders.

This integration platform also aids in transforming business operations in a massive way by offering access to accurate and beneficial information.
Let's say a customer is keen on buying a specific product that can be delivered quickly. The systems integration enables them to view the current stock availability status as well as the estimated delivery date, helping them to make better decisions when making the purchase.
This layer of transparency boosts trust in the company and shows that system integration is essential to generating value, even when it is hidden from the customer.
Increases sales through data connectivity
Unfailing and transparent data communication between different divisions in your organization can benefit your buyers enormously and persuade them to buy the items that are on their wish lists or carts.
Your buyers have definitive information and communication points available to them and systems integration ensures that they have uninterrupted access to data that is most helpful, greatly simplifying the purchase process.

Consumers can efficiently see what and how much of what they want is available along with the estimated delivery date on your online platform, allowing them to make accurately informed decisions.
Systems integration is a highly useful software for any e-commerce platform. Transparency, one of the core advantages of this system, is a very successful tactic when it comes to a client or buyer making reliable choices.
Reduces costs and is hassle-free
Instead of spending more money to develop a whole new system, you have the option to combine your current ones at a reduced cost.

Replacing the current numerous systems with one massive, pricey new software can not only make you spend a lot more money, but it can also be quite challenging to work with.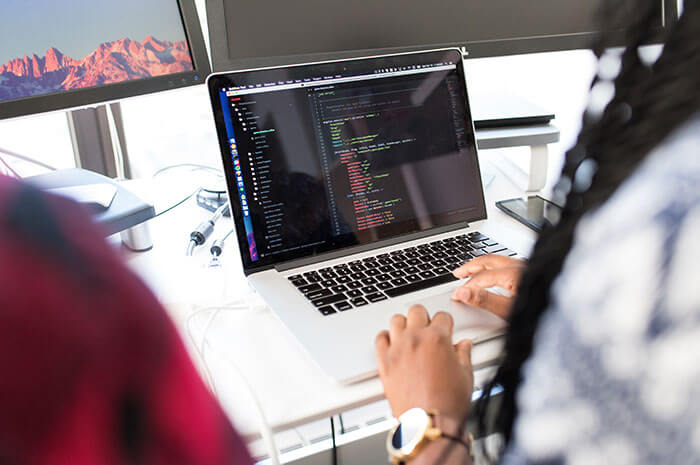 A person using a credit card to make an online purchase on the smartphone by Olya Kobruseva
The rising requirement for organizations to increase efficiency and the caliber of daily business operations is the primary driver behind system integration.
The other IT services market, which includes system integration, software installation, and support, is expected to generate US$0.33 trillion in sales in 2022, according to Statista.
The ultimate target through system integration is effective communication between company IT systems and other divisions, increased productivity, and sales and acceleration of accurate, uninterrupted data flow.
Hence, it's significant to hire one of the best system integrator companies to make the adoption of integrated software in your business processes a successful one before it's too late! The rising requirement for organizations to increase efficiency and the caliber of daily business operations is the primary driver behind system integration.
Conclusion
BluEnt concentrates on long-term software solutions. To deliver the best minimal viable product, our team uses efficient and speedy coding techniques.
Outsourcing software development and collaborating with a seasoned professional like BluEnt can lessen risks, complications, and downtime.
We want to understand how your organization operates so that we can create a strategy that supports your corporate goals and enhances its value.
Please browse to gain more information on our enterprise software solutions, technology and software consulting, software development services, data analytics services, and data insights solutions.
Let's help you get the most out of system integration solutions. To get started, contact us now!