The enterprise application development process is changing at a rapid pace. A growing number of businesses are beginning to depend on latest techniques of enterprise application development to expand their operations.
Each business has its own enterprise application development process. It deals with creating applications which meet certain business needs. It is imperative to ensure that the
The enterprise application development process is comprehensive and satisfies the required criteria. While every business understands the need for enterprise application development, it is crucial to understand that streamlining the process is vital too.
How will streamlining your enterprise application development process benefit your business? The application development process involves the use of various resources. Streamlining can help optimize the use of these business resources.
An enterprise application is critical for addressing various issues of a business. Large businesses are especially dependent on enterprise applications to ensure smooth functioning of their organization. To derive maximum benefit from your application you need to start by streamlining the development process.
What is Enterprise Application Development?
An application designed and developed to meet a specific need of a business constitutes enterprise application development. An Enterprise Application assists a business to achieve its goals.
Enterprises are dependent on applications. They use using numerous application development tools and techniques. These applications facilitate and enhance various business processes. Some of the more common effects of enterprise application development can be seen broadly in customer service, resource planning and communication, online selling platforms and business process management. Applications are the most effective form of getting across to consumers.
The enterprise application development process allows an organization to tap into the huge available resources within their organization. There is a large number of enterprise application solutions open for businesses to leverage.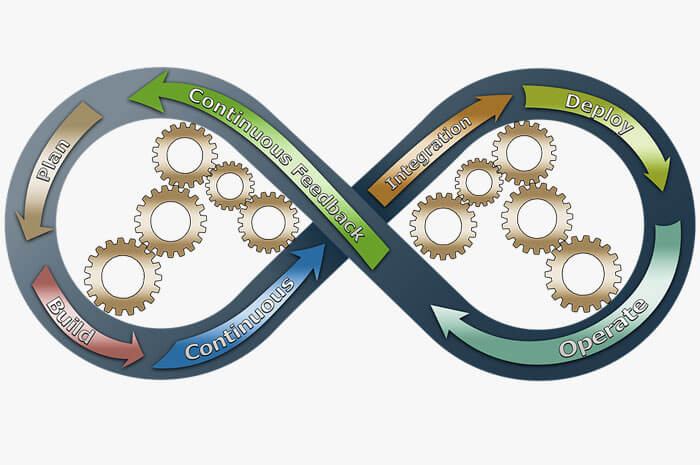 Tips For Streamlining Your Enterprise Application Development Process
There are various considerations which have to be given forethought before embarking on an enterprise application development process. These tips can help to ensure that your business is following the right protocols for application development. Let us take a look at some of these factors.
Application platform: Decide on a platform on which your enterprise application should be developed. The selection for the application platform is influenced by the type of device it is designed to run on and the features of the app. Once the application is ready it can be deployed on multiple platforms. If you are not sure how to select a platform, we at BluEnt will be happy to help.

Plan ahead: The design and features of your enterprise app should be clear before you even decide to start the enterprise application development process. Planning includes estimating the scope of the project, the timeline, the budget required, the work involved and a realistic project schedule. BluEnt can help with the planning and designing of your enterprise application. Planning before starting the app developmen can save you time and money.

Application development software: There are several traditional application development software. With the advancement in technology these traditional software are not able to cope. It is essential to select the most modern application development software which has the latest features.

Latest Trends in Application Development: Your enterprise application development process should include new and emerging trends. For a better impact on your business it is necessary to ensure your app is in vogue.

Scalability: Not much importance is given to scalability in the enterprise application development process. It is important to understand the need for your app to be able to cope with the growth of your business. The app should be able to handle a sudden growth in the number of users.

Secure Application: The enterprise application development process must take security into consideration as one of the founding factors. Security features need to be built into the application to prevent any kind of compromise on customer as well as company data. Multi-level password, data encryption, and firewalls are some of the techniques commonly used. Advance threat detection is another feature which is very useful. It is important to explore the available security techniques before initiating the application development process.

Development Team: It is essential to have a team comprising of the right skillset. You need a balance of hard skills and soft skills. Getting together the right team with the appropriate required skills is core to the enterprise application development process. First select your team then proceed to finalize the application design. Your team may contribute some vital information at this stage which should be incorporated into the app design and development.
Learn more about Application Development Services .
Enterprise Application Development Services
The Enterprise application development process has moved away from the concept of an in-house team. The huge costs involved, lack of required expertise, expensive infrastructure and development tools are some of the main reasons to seek professional services.
Partnering with an IT company like BluEnt can greatly benefit your business in more ways than you can imagine. We will upgrade your apps to keep pace with the changing trends. You will always have the latest technologies incorporated in your enterprise applications. There is no point getting caught up in the gamut of the different trends related to modern application development. Just let the professionals deal with it.
There are numerous reasons businesses prefer to hire professional services for their application development. Cost of enterprise application development is greatly reduced when a professional company like BluEnt does the job for you.
Conclusion
Streamlining your enterprise application development process is imperative for every business. Without it you could end up spending money and resources without achieving the desired results. BluEnt is an experienced enterprise mobile application development company in USA. With years of experience we have a perfect understanding of business requirements.
Get in touch with us for your enterprise application development requirement and partake of our expertise.
Maximum Value. Achieved.