When it comes to smartphones, there is one war that is unending - Android vs Apple. Every startup faces the perineal question in the cut-throat competition today: Should I go for Android app development or iOS app development?
There is a lot to debate on the merits and demerits of both these platforms, making the decision to choose one all the more difficult.
Per a study by dailytekk, the lifecycle of an average smartphone device is approximately 12 to 18 months. Users download most of the apps during the first 3 to 6 months and the following six months are marked by a declining interest in using mobile applications. This means that you only get a few weeks' time to showcase the services and products you offer through your app to your target audience.
Both iOS and Android have their own merits and demerits. According to a study by DazeInfo, Android owns a majority of the market with 80.2% while Apple owning only 14.2%. You should not judge iOS lightly from these figures though. Apple's services are focused on premium customers in a mature market while Android is used by every type of consumers. The same study reports that iOS users are more loyal than their Android counterparts. They stay with the operating system longer than Android users. iOS users also have more spending prowess and have a higher income than the Android users.
This is all so overwhelming. What should I do?
We understand that it becomes difficult for a new startup to focus on branding and marketing strategies before they even come up with their service and product offerings. But, truth be told, how you position yourself as the market leader is important. It paves the way for the brand image of your company in the future.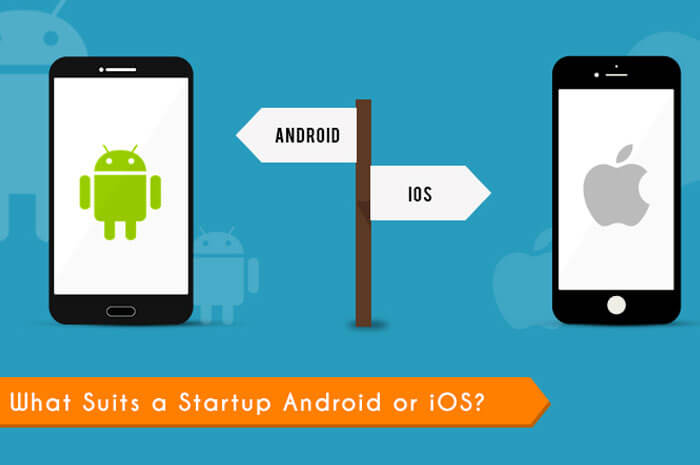 Image Credit - singsys.com
And therefore, it becomes essential to outsource mobile application development to teams who have the relevant expertise and will be able to guide you in the right direction.
In BluEnt's experience, there are a few key parameters which you should take into consideration and discuss with your mobile app developer team.
Read on to find out more about these parameters:
Resources and Project Development Budget

There are more than 5000 Android operating devices in the market today. All these devices use different Android releases rather than running on one. Thus, Android development is fragmented and Android applications take longer to develop. You will spend more and utilize more resources to create an android app. When compared to an iOS app for business, the developmental costs will burn a smaller hole in your pocket – reason being the platform already having multiple pre-crafted interfaces. iOS apps run on fewer devices too. This will automatically bring down maintenance and developmental costs. The Android apps are more prone to bugs and do not feature a similar finish as the iOS apps. Android apps only outweigh the iOS apps in the launch department. For publishing, iOS store costs around $99 annually while it is $25 for the Google Play store. Clear winner: iOS

Demographic reach and geo-targeting

Your target audience demographics must be analyzed carefully based on the services that you offer. This gives you more clarity on what kind of platform you want to use for publishing your mobile app for business. Before initiating application development, parameters like age, income, geographical location and spending habits must be studied carefully. According to research by IDC, Android reaches out to more than 80% smartphone audience. This clearly increases the probability of your app to reach more and more users. Android devices are popular among lower to medium income groups. Alternatively, higher income groups prefer iOS devices. Based on geographic data, Europeans and Americans prefer iPhone and Indians and Chinese nationals prefer Android. You need to be clear about the kind of audience you want to target through your mobile app. Clear Winner: Android

Convenience of Launching

The Apple Play store has strict approval guidelines and benchmarks for publishing new apps. There are several policies which make approval and release of an app time-consuming. Android Play store, on the other hand, has simple approval guidelines which make for quick and easy release and launch of apps. Clear Winner: Android

Application Revenue Model

Before you decide on the framework for your business mobile app, you should have a clear objective and revenue strategy for your app. This will help in choosing between Android and iOS. If you plan to leverage the power of adverts, then you should consider Android app development. However, if your business offers services for the audience that has greater buying power, then go for iOS development. Your consumers would be happy to purchase your app and do the in-app transactions. Clear Winner: Depends on your revenue source

Security

The Android app is open source – this means that the apps are open to collaboration from different sources. The APK files can be downloaded from multiple sources as well. This makes Android apps prone to viruses and other security breaches. The iOS apps, on the contrary, are available to be downloaded from a few select sources. They cannot be freely developed, which makes them even more secure. So, if the security of your app is the pivot point, then go for iOS app development. Clear winner: iOS
 

iOS App Development

Android App Development

Time and Money

Quick to develop

Not a very expensive development process due to the presence of pre-crafted interfaces

High quality and less prone to bugs

Costly launch of iOS apps ($99 per year)

Longer to develop because of fragmentation

Expensive development process

Low quality and more prone to bugs

Cheap launch of Android apps ($25 per year)

Ease of Launch

Strict approval policies

Long review process for the official app store

Simple policies for approval on Google Play Store

Short review process, leading to quick feature on the store

Target Audience Behavior

People with more spending power in developed countries

People with less spending power in developing countries

Security

Not open source and restricted sources available for download

Less prone to security threats and viruses

Open source with the possibility to download Android apps from various sources

More prone to security threats and viruses

Demographic Reach

Smaller reach to a niche audience

Wider reach to the massive audience

Revenue Generating Capability

Paid apps and in-app purchases
To sum up, both platforms have numerous benefits and demerits for mobile app development. It is up to you to decide on the parameters which govern your business before you give the green light for app development.
A good outsourcing company can help you make the right choice. BluEnt is your one-stop shop for custom mobile app design, iOS, and Android app development. With offices in USA, Canada and India, we have a skilled team of mobile and web application developers. Get in touch today to know more about the services we offer!
Maximum value. Achieved.