Social media handles have become an epitome of creating the brand persona. Facebook has proven to be one of the strongest marketing tools for the variety of businesses and everyone wants to create a riveting Facebook business page post for the social media audiences.
Facebook astonishingly has more than 2 billion active monthly users and still counting. It would be a shame to not use this tool to influence your brand image.
To most people, it doesn't sound that hard because all they have to do is to create a profile, right? Just stick some beautiful pictures and quotes together. This would bring the customers to your door and become your company's fan. We know this doesn't work because we all have been there.
Click Here
Give us a shout!
Some people get really frustrated because the game of being "creative" and attracting people's attention becomes unattainable sometimes. You don't know what would work for your business, and we mostly end up disappointed. All of us need some direction for creating a buzz on our social media page. So, that's why we have researched and gathered important Facebook post strategies to create a noticeable, likable and buzz-worthy Facebook business page post.
Ramp up the "creative quality" of the post yet keep things simple
High-quality creatives are most likely the ones which hook and engage your viewers.
Social media is majorly about the visual content as it clearly initiates the interaction between the post and the viewers.
You should always have some creativity at the display, like an image, short video or GIF, with the rich quality. We have seen some excellent posts which aren't appreciated due to blur images or video content. This unconsciously demeans your brand identity and authenticity in your viewer's mind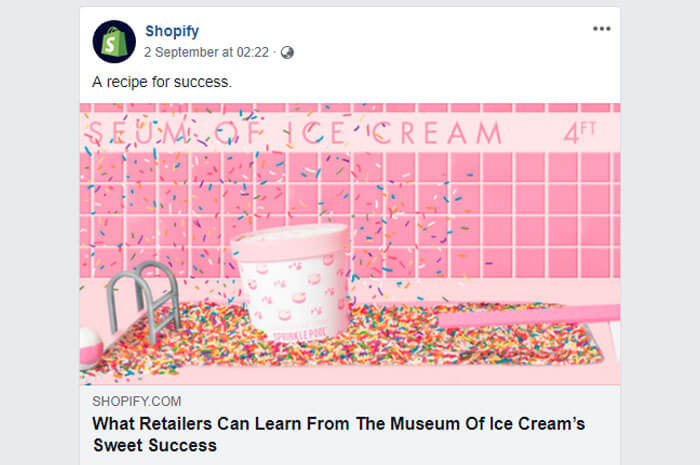 Another important factor in creating an outstanding post is clean and simple creative post. You should adhere to the consistent color theme on your Facebook business page post and keep it simple to understand. Make these visual contents relevant and recognizable. Try keeping the post description short, precise and highly impactful.
Interact directly with your audience by asking pieces of advice or discussing problems
Talking directly to your fans through an authentic post about asking for the business-related advice or suggestions. This would mostly create an excitement and consistent activity on your Facebook page.
People enjoy reading about the problems faced by businesses and would hook to your page for either answering the question themselves or wait for someone else to answer. This undoubtedly increases the engagement on your Facebook page post.
Questions could be as follows:
What kind of blogs do people want to read?

Reviews on the industry services.

Recommendations with the creative images.

Share your Ideas and ask if your fans would like similar ideas. It could be anything like a quiz, an image/video theme, facts and details about the industry etc.
The sky is the limit in this strategy and it works most of the time with your loyal customers.
Storytelling always catch attention
"Stories" are not considered as a covert strategy just for Facebook, it's loved on most of the social platforms for the personal and influencer marketing.
Storytelling has its own charm of reaching the audience personally and make an impact on them.
Facebook has become home for thousands of posts, comments, and statuses updating every second. On top of it, businesses are flooding the pages mostly with mundane and promotional information. Stories have always been an authentic and fresh way of marketing.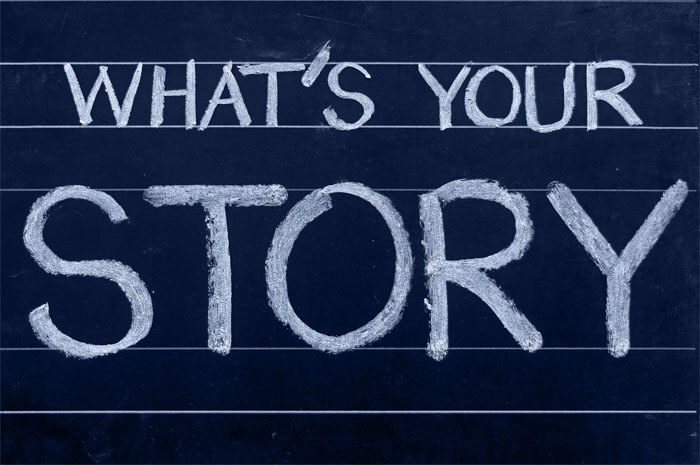 You can add formal updates or casual information about your workplace or business life. This makes you more human and relatable to people that artificially crafted graphics.
Everyone remembers good stories, even if they vanish after some time. That's the power of a story.
Some of the creative ideas which might help your business:
Share a snippet about the origin of your company or idea.

How the certain ways or products helped you overcome the difficult issue?

How did your services or products add value to your customers?

A bit of personal life angle to connect with your audience and be trustworthy.
There is so much more you can talk about. If you have a good idea, let us also know because it might help us too.
Posting time
Some statistics say publish the post at 12 PM, others say post at 7 PM. People eventually end up trying everything and see whether it works or not.
Every research would bring different outcome because the best time for posting content on Facebook differs and it is based on the country, industry type, and the target audience.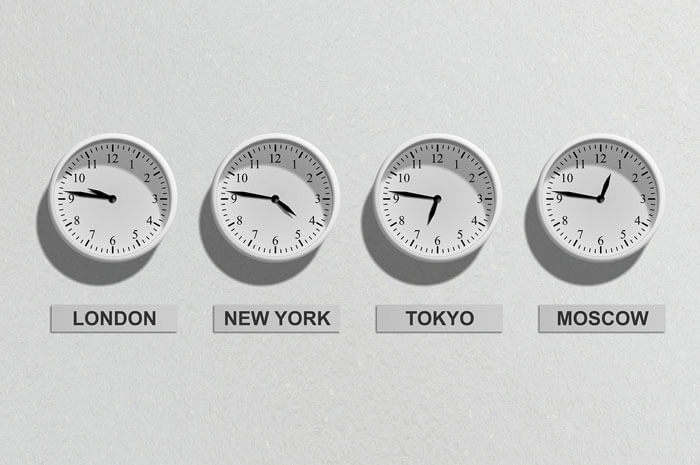 You won't be able to understand the exact time for the Facebook post until you analyze the behavior of your audience. There is an in-built Facebook Insights tool which helps in creating the analytics for your audience and audience in general. This tool would immensely help you in literally serving the content right in front of your audience.
Videos/Go Live
Video sharing is one of the most popular things on Facebook. More than 8 billion video content posts are being watched every day on Facebook.
To attract more traffic to your Facebook Business Page Post, you can create a video shooting your team official set up with the team members, talking about the interesting facts about your services or products. Bottom line is to bring out the creative side of yours authentically on a video.
Facebook live videos are more popular than normal videos as they are proven to attract 6x interaction than other videos.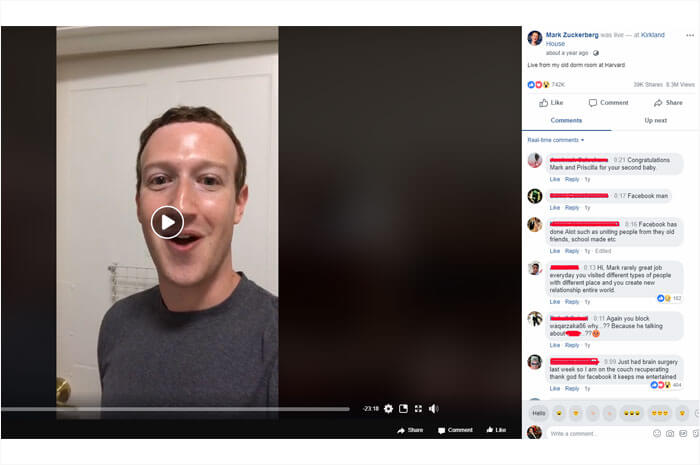 However, most businesses find it challenging to pull off the great live video, but it isn't impossible. We are living in a world of creativity and almost everybody is using social media for their personal branding. Anyone can easily do this with some confidence and a good agenda in mind.
Selfies
Selfies weren't just a stunt orchestrated by Ellen DeGeneres at the Oscars 2014 for the celebrities, it has become a sensation among people of all backgrounds. If done right, a good selfie with the business faces can do a lot to the Facebook engagement.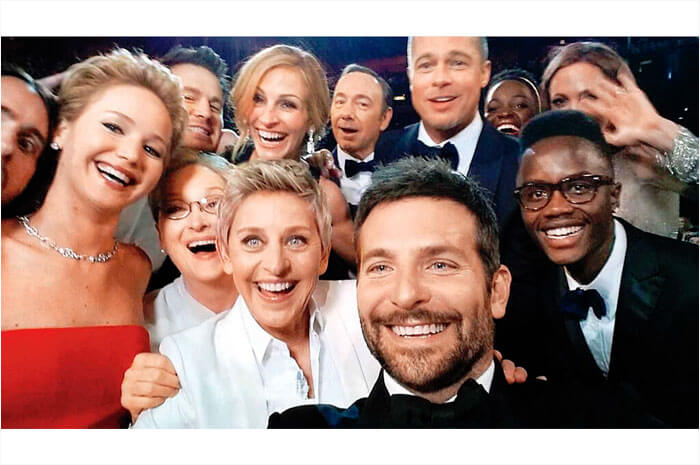 Survey or Poll
Surveys and polls are the great strategies for increasing interactions as well as getting valuable insights from your audience.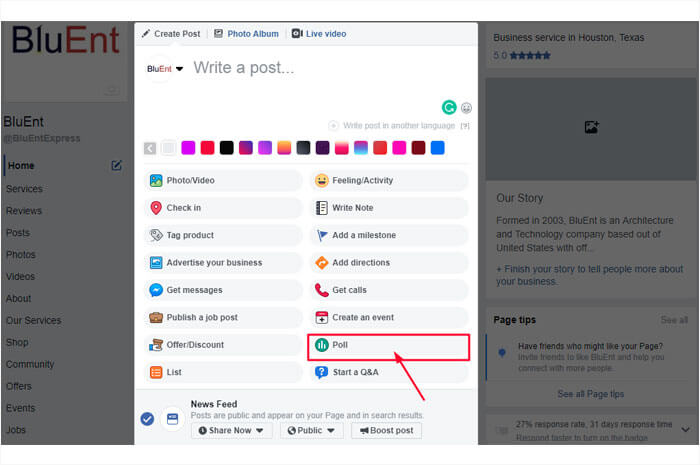 Creating a poll has become a cake walk. Simply go to the posting option of your Facebook business page, click on "…" more options and then, click - Poll.
At the above box area which has "Write a Post", write down your question about the poll and provide people with some options related to this. Add relevant photos in your post. Choose the date when the poll should end and finally click on the post. That's all you need to do to start a poll.
Some ideas are:
Challenges with your services or products.

Ask your audience about the products choices next season.

What are the best alternatives to customer service?
Anything can work as far as it interests your Facebook audience. You can also share the results if it creates more buzz.
Conclusion
An engaging post showcases the content that makes people learn, entertain, think, and provide value to their lives directly or indirectly. Before you post anything on your Facebook page, understand the worth of your post in your audience's mind.
BluEnt is a digital marketing company in New York City. We have a team of millennials who are constantly researching on the Facebook post marketing and online digital marketing to enhance the brand value and profit. If you need any assistance on your social media marketing strategies, reach out to us.
Maximum Value. Achieved.