Google's algorithm, Penguin 4.0, is all about rewarding white hat SEO.
According to the company, the goal of the update is to allow webmasters to focus on "creating amazing, compelling websites".
But how is this task accomplished, and what does it mean for the SEO specialist?
The ultimate goal of SEO is to optimize your brand's online presence to meet the needs of your target market and obtain more leads.
And it's not just relevant for B2C organizations. The majority of B2B consumers begin their buying process with a broad web search, instead of going right to a company's website. So a successful content marketing strategy is paramount no matter what your business does.
Despite digital marketing taking off (and not coming down) in the past few years, there's still confusion over the relationship between SEO, content marketing and UX, and how they can boost your sales and establish trust in your company.
We'll break it down into three relationships to make the information digestible: UX & Content Marketing, Content Marketing & SEO, and finally SEO & UX.
What is White Hat SEO?
White hat SEO is the opposite of black hat SEO, which uses tactics that are deceitful or harmful for users.
Examples of black hat SEO strategy include buying links, content automation, keyword stuffing, cloaking, and creating pages with duplicate content.
It can be easy to slip into the shadows of black hat SEO, so a good litmus test is to ask yourself this question: Do your techniques add value for your customers, or do you just want Google to rank your page higher? If you answered the latter, it's black hat SEO.
Such tactics can get your website banned from search engines. If you'd like to know more about how you can avoid black hat SEO, you can check out Google's webmaster guidelines.
White hat SEO, on the other hand, offers quality content and easy navigation, is mobile-friendly, and uses meta tags that are rich in keywords. (Different to keyword stuffing!)
Still have doubts? You can reach out to an SEO consultant, who will be happy to clarify them.
UX & Content Marketing
Content marketing and user experience design are not separate branches of study that happen to interact with each other.
There's a lot of of debate as to the definitions of these two terms. The ones BluEnt prefer were coined by the Content Marketing Institute:
Content Marketing: "A strategic marketing approach focused on creating and distributing valuable, relevant, and consistent content to attract and retain a clearly-defined audience — and, ultimately, to drive profitable customer action."

User Experience: "UX encompasses the behaviors, emotions, and attitudes of the people using a product, system, or service … The common principle in the UX field is empathy for the users — really understanding what they want and need."
You can't miss the connection between the two statements: How can you create valuable and relevant content without understanding what users want and need?
And on the flip side, how can you create an excellent customer experience without tailoring the user interface to the content users are consuming?
UX & UI and content marketing strategies should be built alongside each other, trading information back and forth to maximize both teams' results.
If you want an idea of how good this can be for your business, content marketing by itself costs 62% less than traditional marketing and still produces about three times as many leads.
Here are a few ways you can put this methodology into practice:
Create intuitive click paths that lead from one type of content to another in a way that drives profit

Facilitate better customer support experience based on communication flows

Embed social content product pages, or social links on contact pages
Content Marketing and SEO
Neil Patel, a New York Times bestselling author and called one of the top 10 marketers by Forbes, once compared content marketing and SEO to peanut butter & jelly. The two flavours are delicious on their own, and they're even better when you combine them.
A helpful way to think about the relationship between these disciplines is to picture every interaction as part of a cycle, one action directly affecting the next.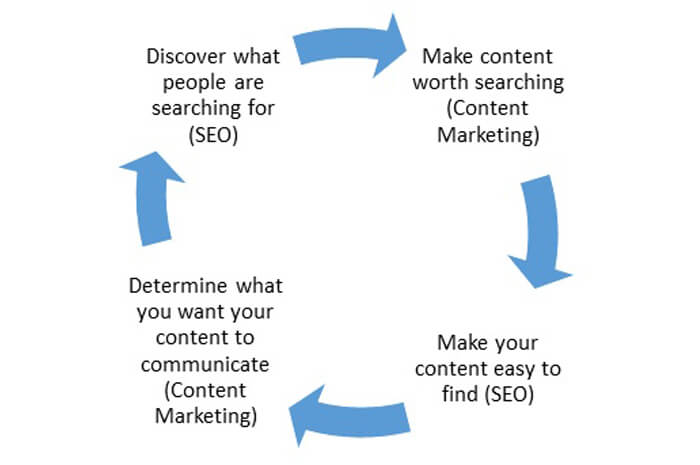 You should& start with an on-page analysis of the website, followed by strategic content optimization planning and implementation.
Not sure how an on-page analysis would work? You can take advantage of an SEO agency. They'll do all the work for you while you focus on running your business.
Here are a few ways you can put this methodology into practice:
Create blog topics based on trending keywords your visitors tend to look for

Use search engine ranking reports to improve your overall content marketing strategy

Create sitemaps tailored to your site content
SEO & UX
How do search engines discern great user experiences?
Rather than a classic give-and-take system, SEO and user experience fit together in a large interconnected web, in which SEO concerns are UX concerns and vice versa.
There's little detailed information on how exactly UX design influences search engine algorithms, but it's clear that Google crawlers understand page layout and penalize low-quality pages.
Using keyword data provided by SEO, UX designers can infer patterns in how people navigate to and from the topics they're searching for.
This is invaluable information during wireframe prototype designing. The designers can create easy-to-use web design that delivers precisely what customers need.
A perfect example of this is responsive design. This is proven to rank higher in search engines, as sites are increasingly accessed on mobile.
Fast-loading, rich user interface has proven to provide SEO benefits as well as a positive user experience for customers.
Another way SEO and UX development work together is in resolving website malfunctions. Broken links, URLs structures and error pages are significant issues when it comes to search engine optimization, but they also pose problems for the users interacting with them.
Landing on an error page when you expected a solution to the problem you searched for doesn't leave a great impression.
Cracking a search engine algorithm only gets you so far. Bringing SEO and UX & UI together is how you create traffic that really drives customer satisfaction and profits.
The Road Ahead
What are the white hat SEO trends you need to keep an eye on?
After the upheaval that was 2020, experts are expecting an increase in voice search, personalization for users, interactive imagery and content, and more emphasis on authority and trustworthiness.
Needless to say, if you offer digital marketing services, you're going to have your work cut out for you.
Conclusion
SEO, content marketing, and UX are all different ways of achieving the same goal: creating amazing, compelling websites.
If you've read till here, you're interested in cultivating an exceptional web presence with an SEO strategy, and so approaching these disciplines separately isn't an option.
Luckily, you don't have to go it alone. BluEnt's SEO services cover all three fields, which means more benefits for your business.
We offer on-page analysis, content marketing, business listing, detailed reporting, and more. And of course, white hat SEO is a must in all our services.
Don't take our word for it, though. Check out the work we've done for other businesses, including HBO and JOI Media.
Ready to reach your audience and turn them into loyal customers? Contact us now!
Maximum Value. Achieved.