Have you ever wanted to send a visual of the progression of your project to a team member halfway across the globe – with no idea how?
We feel you.
The effective way to communicate your ideas and works in progress to your team, boss, or client is the free Markup Tool extension. BluEnt has recently released the free Markup Tool extension for the public. It lets you easily send edits, requests, and changes via recorded videos and notes.
In short, it's the smart way to ensure solid teamwork.
What is the Markup Tool?
The Markup Tool is an extension you can add on your Chrome browser on iOS or any Windows desktop. Whether you're in web and app design, millwork, interiors, architecture, CAD, or 3D modeling, the Markup Tool will simplify your job.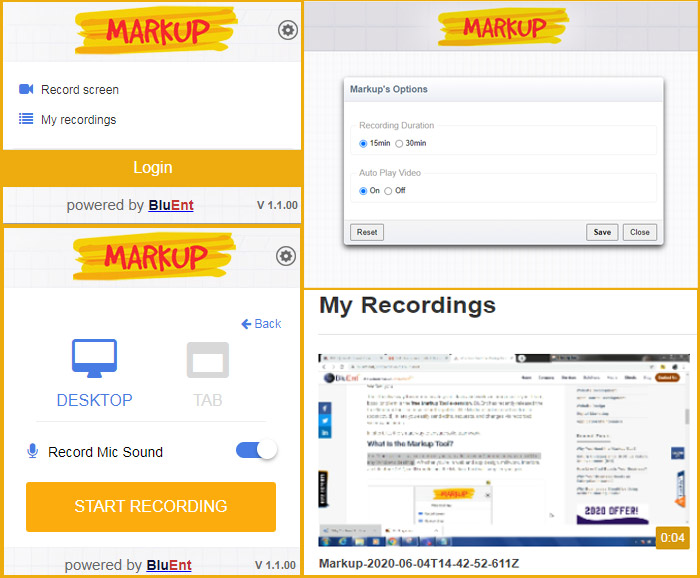 Features
The free Markup Tool works like a social media application. Its interface is simple and clear, ensuring that you can complete your work without spending an hour trying to figure out where which feature is.
As soon as you click on the extension, you are given the options of 'Record screen' (you can choose desktop or tab) and 'My recordings', so you have everything in one place, where you need it.

Easily record your work on your screen. This is automatically saved as soon as you stop recording.

You can speak while recording.

Upload all your videos to Google Drive or download these files as per your convenience.

You can draw over images using other tools, write text to explain your markups, click pictures of material samples, sketches, etc., and shoot videos to send across

You have the option to set recording duration to 15 minutes or 30 minutes.

Turn auto play on or off as you please.

Login is optional and only for those who want to integrate with project management tools.
We can customize and integrate more features as per your requirements, for instance:
You can have the extra option of 'My markups' in the menu.

You can integrate the Markup Tool with other project management apps to sort or push markups by project codes.

You can communicate with your team members, project managers, etc., within the tool.

As you send videos and images, the app can convert them into tasks or markups and allows you to track their status, i.e., whether or not they are complete.

The app can automatically store and manage the tasks grouped by job or project code.

Recording duration can be set to 15 minutes, 30 minutes, 1 hour, 2 hours, or 3 hours.
Conclusion
The cost of not being able to communicate your ideas is high. Furthermore, with COVID-19 changing the business landscape – probably for good – the Markup Tool is more necessary than before.
Simplify your work from home routine and ensure you maintain a high level of productivity with the Markup Tool Chrome extension.
Got any requirements? Get in touch with us and we can customize the Markup Tool according to your needs.
About BluEnt
BluEnt builds software-based business solutions including video conferencing tools, collaboration tools, time and invoicing management tools, lead and content management solutions, and so on to make life easier for enterprises across the world.
We simplify processes for industries, and we don't stop at IT – we take it all the way to the architecture, engineering, construction, healthcare, and manufacturing industries.
From defining key strategies to achieving business objectives, BluEnt has you covered.
Maximum Value. Achieved.