Businesses around the globe are hunting for IT solutions to make the distribution of information to their customers easy and cost-effective.
A web portal is one such solution that is transforming the way both B2B and B2C companies communicate and conduct businesses. Let's discover what web portal development is and in what ways it can help your organization.
What Is Web Portal Development?
Web portals are websites that make a business's data repositories accessible over the internet to visitors. Employees, clients, and customers gain access to a myriad of information and applications, giving them a unified, interactive gateway.
B2B portal development companies allow businesses to give authenticated individuals access to sensitive data through the cloud system.

In a B2C business, it is consumer data that is made accessible to employees and clients.
Website portal development can boost sales and develop more revenue, as it offers innumerable benefits to the customers. It's also become a part of the marketing strategy for businesses to meet consumer needs and demands.
We will deep dive into the benefits of web portal development.
Advantages of Web Portals in Business
There are two ways of exploring the benefits of web portal development: the user's standpoint and the organization's standpoint.
Benefits from a user's standpoint
Offers an amazingly interactive user experience
A user's emotions, when interacting with your website, are dependent on multiple elements. They respond to the web portal design, the responsiveness of the website, and the content that is shared with them.
The interactive process matters for the consumers as it enhances the user experience.
According to WebFX, if the user experience is unsatisfactory on any website, then almost 89% of the consumers immediately purchase products from a competitor.
Improved functionality and speed
Every business strives to deliver the best user experience and to achieve this they regularly keep adding services and features.
Web development companies use high-end plugins to improve the speed, functionality, and user experience, and facilitate seamless integration.
According to WebFX, almost 2.6$ billion in revenue is lost every year if companies have slow-loading websites.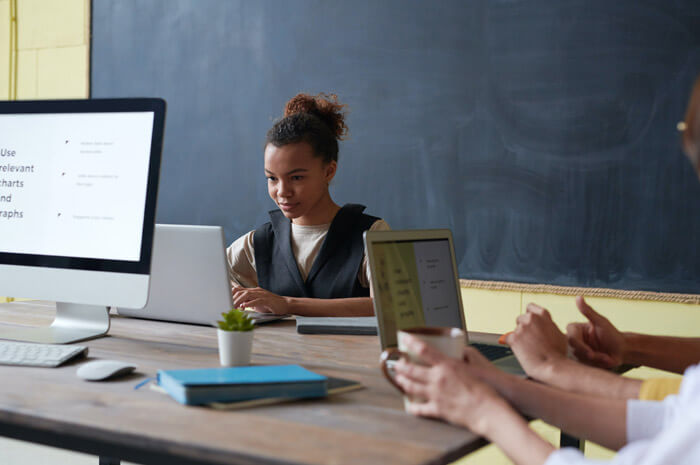 Employees working on laptops and desktop by Fauxels
Enhanced customization
Customers and clients love customization, and this is where web portal development can prove to be a game-changer for your company.
According to Forbes, if consumers find content on a website that is based on their needs and preferences, at least 34% of them will surely make an unplanned purchase.
Web portal development allows organizations to manage the content in a simpler way and help them to provide their loyal and potential customers with a personalized user-friendly experience.
Benefits from an organization's viewpoint
High-end security and access to accurate information
Web portal development integrates authentication functions and custom access ensuring great security to the organization's data. This is not only worthwhile for the customers but quite beneficial to the businesses as well.
Analyzing the data becomes a lot easier with web portals. Your organization will be able to keep a close watch on overall performance and gather data on opportunities and improvements for growth.
Accessible across multiple platforms
Web portals can help your organization to deliver an immersive experience for your users through an omnichannel presence.
This means your consumers can access your website on different devices helping you gain a competitive advantage.
Automation of processes making it cost-effective and profitable
Web portal development reduces the customer service workflow as it enables customers to access data and carry out activities independently. They don't need to keep contacting your company for the same.
It helps in significantly reducing the expenses by decreasing the number of people you'll need in the administration team.
The marketing team finds it easier to develop customer-specific strategies and plans because of the customization of user data.
This implies that the team takes lesser time and resources to work on the marketing plan making it both cost-effective and profitable.
Web portal development facilitates effective internal communication through meticulous real-time project management and seamless collaboration.
Internal communication system via web portals reduces the requirement for face-to-face meetings and elevates productivity.

Irrespective of where the employees are working from, the web portal enables effective communication through one single unified system which makes every data accessible.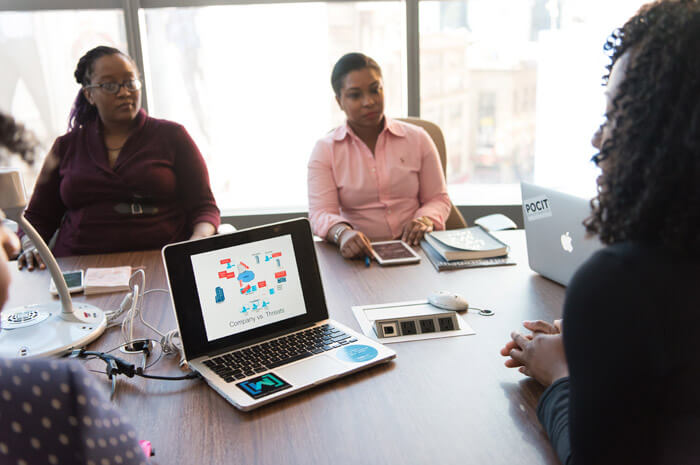 Women sitting and holding a meeting by Christina Morillo
Customer loyalty and retention
Communication with web portals is one of the biggest advantages as it paves an additional way for your consumers to connect with your business.
Web portal development will allow your organization to send well-timed information regarding product or service queries and other similar matters.

Customization of information by understanding users' behavior and preferences motivates them to use the services more effectually.
Drawbacks That You Need to Consider
Yes, there are several advantages of web portal development, but it is not without drawbacks. To ensure that web portals will be a perfect fit for your business, you need to rule out a few disadvantages.
Web portal development solutions do not always offer device capability variances and for this reason, businesses do go for desktop application development as they receive better outcomes.
It is significant to find the right web portal development, and this can be a perplexing task.
Depending on what your business entails, web portal development can be extremely complex because of the frequently changing systems.

It is important to get one that is simpler to update and has negligible usability concerns.
While these are minor apprehensions, considering them before choosing either a web portal or desktop or web application solutions is important.
Conclusion
Irrespective of the minor drawbacks we discussed, you can see how web portals can be quite beneficial for your organization.
It can help in boosting your business by communicating effectively with your customers, employees, or clients, and even facilitating optimum efficiency enabling you to reach greater heights.
Whether you are looking for B2B web portal development or B2C portal development, BluEnt can help bring your business vision to life. BluEnt's business presence and expertise can help you be on par with global standards.
We have a team of highly skilled developers who can help you create a web portal for your organization that will drive massive business growth and success.
If you require web portal development services, we are just a click away.
Ready to boost your business with web portal development solutions? Contact us now!
Maximum Value. Achieved.