SAP SuccessFactors is a system that assists global businesses, both mid-size and large, in successfully administering their HR and payroll process.
How do you triumph in the ever-aggressive "talent battle"? In today's interconnected digital environment, to stay ahead of the competition, you need the best people working to their maximum ability all the time.
In this blog, we will help you to understand how SAP SuccessFactors can help you to achieve that and if indeed it is the right move for your business.
Understanding SAP SuccessFactors
According to Statista, core HR and people management software is the largest specialized section of the core human resources applications market, with a total sale of roughly 5.8 billion US dollars in 2020. With 4.7 billion dollars, payroll software is the second-largest segment.
A successful business is a result of onboarding the right talent efficiently and ensuring that they are properly engaged. A company's role is to work on harnessing the employee's skills through training sessions, performance evaluation, and ensuring they deliver high levels of productivity.
For an amazing employee experience, businesses require a comprehensive HR solution like SAP SuccessFactors, a leading cloud-based management suite.
Companies are using technology and software consulting services to keep up with this swift evolution of novel technologies. Organizations find SuccessFactors to be the most popular and lucrative suite since it saves them both time and money.
Workforce analytics can help in identifying the top talent through a systematic performance evaluation.
SuccessFactors help workers understand their values and drive them to do their finest work.
It even empowers HR to enhance company results via the best talent in the organization.
This tool includes diverse SuccessFactors modules to help organizations efficiently carry out HR functions. You can begin with any of the components and work your way up based on your exclusive needs and difficulties.
We will briefly take you through only a few of these modules to help you gain clarity on how SAP SuccessFactors works.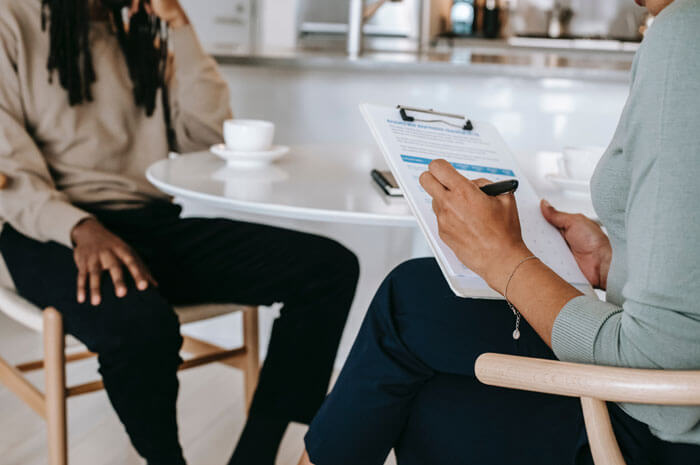 An interviewer and jobseeker going through an interview by Alex Green
A Brief Look at the SuccessFactors Modules
These are a few features that are assisting organizations to execute the HR processes effectually.
End-to-end recruitment solutions: SAP SuccessFactors incorporates a broad set of selection and analysis tools that helps in employing the best candidates for a specific profile.
A structured onboarding system: Through this feature, the hired Employees get immediate access to essential data and documents, the ability to communicate with the appropriate team members, and easily adjust and fit in.
SAP SuccessFactors reduces the time to productivity and allows the company to achieve its goals sooner.
SuccessFactors Employee Central: SAP SuccessFactors Employee Central is one of the most powerful modules in this system.
It is used to store every single employee's information, time tracking, attendance, payroll, talent data, and self-services.

SAP Employee Central can assist in managing the whole staff from a single location.
All-Exclusive Learning Management Solutions: This feature helps businesses to create a comprehensive SAP SuccessFactors learning strategy. It gives an opportunity to the employees to augment their skills and abilities.
LMS portals can be accessed on the SuccessFactors app or web.

It provides course suggestions to both employers and the workforce, assisting them in selecting the best course for their growth.
Of course, there are other exclusive features such as succession and development, workforce analytics and reporting, and performance and goals.
While these few features give a perspective on how treasured the SAP SuccessFactors system is for the organizations, let's deep dive into the layers of benefits.
Essential Benefits of SAP SuccessFactors
Innovative HR Solutions
It offers cutting-edge HR strategies and solutions that allow reevaluating and reorganizing of HR using intelligent services like machine learning and digital assistants.
SAP SuccessFactors is updated every quarter, and employers may take advantage of novel and groundbreaking structures and capabilities through these automated releases.

It is indeed simple to improve an organization's performance with these modern technologies.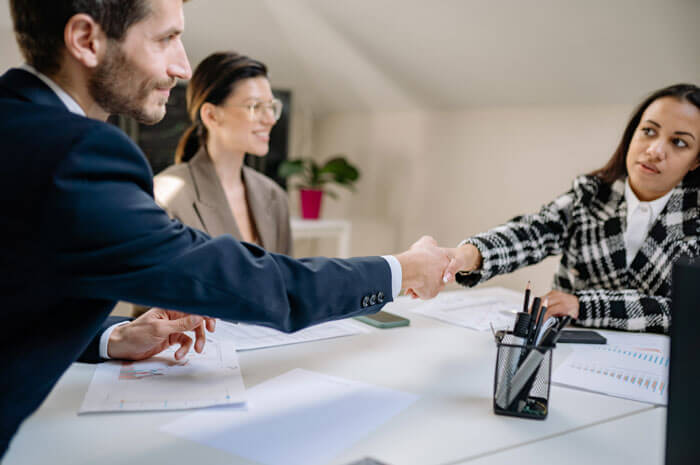 Two people doing a handshake post a discussion with the team by Yan Krukov
Streamlined User Experience
SAP SuccessFactors comes with a contemporary, user-friendly interface that is well-like, accepted, and offers engaging experiences to all the employees. It can be accessed from any location because it is a cloud-based service.
It engages the workforce successfully by assisting them in completing activities according to their preferences.

Employees can interact and communicate with one another. They can use these interfaces to share information, expertise, and ideas pertaining to their jobs.
Flexible deployment and quicker implementation
SAP SuccessFactors provides enterprises with a variety of deployment options, as well as speedier implementation and value recognition.
It seamlessly integrates with all SAP applications, allowing users to access data from across the organization.
Dispensing services in SaaS
SaaS (Software as a Service) is a cloud-based technology that allows the workforce to access services through the internet, from any location. SAP SuccessFactors is often provided in a safe and highly scalable design.
This service does not necessitate any software installation or upkeep hence there is a reduced cost on administration as well.

Employers can utilize SaaS to efficiently operate their businesses by tailoring the software to their needs. Users may control their own accounts, permissions, and fields, among other things.
Automated compliance management processes
SAP SFSF production facilitates worldwide compliance by using currencies, time zones, and custom fields that are specific to each geographic area.
Depending on local regulations, SAP SuccessFactors allows you to gather all the indispensable information from fresh recruits. Any new regulatory variations automatically get replicated in the system.
Facilitating strategic evaluations, resolutions, and decisions
SAP SuccessFactors is a distinctive system as it delivers practical action-oriented and insightful workforce data.
Employers have been using these data insights to make improved and better decisions.

This results in magnified employee satisfaction and experience which in turn increases both productivity and revenue.
A Few Drawbacks of Working with SuccessFactors
Like all technologies and software, SAP SuccessFactors isn't perfect and comes with a few candid challenges. Before you decide whether to go for this technology, just having a basic knowledge of these hitches is significant.
SAP SuccessFactors has a high implementation cost. It is pricier than the competitors that offer almost similar features but probably at a lower cost. SuccessFactors sells, implements, and upholds the system through a third-party network, which might result in additional consultancy fees.

The program has so many capabilities and features, that it can be time-consuming to master and isn't always as intuitive. They need to provide more online training and assistance.

Functionality is good, but customization can be difficult. The system's limited add-ons can bound your capacity to link it to other software products.

The 'manager reports' feature in SAP SF is only accessible if you pay for it and it does not come with exciting features for administration.

Companies with less than 2,000 workers are more likely to use a multi-vendor model since SuccessFactors does not offer core HR (payroll, benefits, and time).
Of course, SAP SuccessFactors has some extremely valuable and distinctive qualities which are also important considerations, particularly for medium and small organizations. So, in the end, it comes down to your company's requirements, budget, and other factors.
Conclusion
BluEnt's HR renovation drill has long included SAP SuccessFactors, which offers a comprehensive approach to personnel management and uses SAP SuccessFactors to facilitate growth and the overall worth of the company.
Our company is well-known for its SAP SuccessFactors deployments. Our rapid implementation solution will assist you in prioritizing your objectives and customizing your deployment. Working with a seasoned pro like BluEnt will help you to minimize any complexities, risks, and downtime.
We aim to learn how your company works and accordingly design a digital renovation plan that aligns with your business objectives and maximizes the value of your company.
Please feel free to browse through our portfolio to learn about our enterprise software solutions, software development services and data insights solutions.
Now is the ideal time to get started with SAP SuccessFactors in the cloud. Contact us today!